Slack's Odd Complaint
I read the news that Slack filed a competition complaint against Microsoft in the EU on July 22 with a mixture of mirth and despair. Mirth because of the allegations advanced by Slack; despair because a company like Slack would resort to such a tactic.
Slack's complaint says that "Microsoft has illegally tied its Teams product into its market-dominant Office productivity suite, force installing it for millions, blocking its removal, and hiding the true cost to enterprise customers." Slack's General Counsel is quoted as saying, "They created a weak, copycat product and tied it to their dominant Office product, force installing it and blocking its removal, a carbon copy of their illegal behavior during the 'browser wars.'
Tying to Office
Let's test these allegations to see if any truth exists. First, "illegally tied its Teams product into its market-dominant Office productivity suite." There's no doubt that Teams is heavily integrated into Microsoft 365 (not just Office 365). In fact, Teams uses more Office 365 and Azure components than any other application out there. "Tied" implies that Teams was created and then linked to Office 365, but the fact is that without Exchange Online, SharePoint Online, OneDrive for Business, and Azure Active Directory (to mention just the headline services), Teams wouldn't exist and couldn't function.
Forced Installation (and Easy Removal)
"Force installing it for millions" probably refers to the way that Teams is installed along with rest of the Microsoft 365 enterprise apps click-to-run suite. It's true that Teams is installed, and annoyingly so without anyone asking for it to be put onto a PC. However, it's also true that it is very easy to remove Teams and stop it ever reappearing on a PC, which undermines Slack's allegation that Microsoft blocks the removal of Teams. If Teams is left on a workstation, the desktop client updates itself automatically to make sure that the client copes with new functions introduced in the server, like the 7×7 large gallery view or "together mode."
Where's the Cost for Enterprise Customers?
Slack says that Microsoft hides the true cost [of Teams] to enterprise customers. I think Slack would be on stronger ground here if Microsoft had increased the monthly license cost for Office 365 licenses since it introduced Teams, but it hasn't. In fact, the monthly license fees have remained remarkably stable since the launch of Office 365 in 2011, even though other new applications (Yammer, Stream, Planner) and many enhancements have appeared since. Instead of increasing base prices, remarks by CFO Amy Hood at many earnings calls indicate that Microsoft focuses on increasing revenue earned per user by upselling customers to Office 365 E5 and Microsoft 365.
Another thing to consider here is that Teams replaces Skype for Business Online (the switch was announced in July 2019 and will happen in July 2021), so it could be regarded as a swap of one application for another within the Office 365 portfolio. Skype for Business Online has calling and chat functionality, just like Teams, and it was the latest in a line of Microsoft unified communications products going back to the ill-fated Communications Server launched with Exchange 2000 in 1999 and including the Office Communications Server and Lync.
I don't know where the cost Slack is worried about is being hidden from enterprise customers. As far as I can see, Microsoft is replacing capabilities which have always been part of Office 365 with a modern take that is designed for the cloud instead of based on on-premises roots, as is the case with Skype for Business Online. The fact that Teams has much better audio and video functionality, is a better chat platform, more integrated with other Office 365 and Azure components, and more expandable is simply due to the evolution of software engineering within the Microsoft 365 ecosystem.
Copycat Products
Slack calls Teams a "weak, copycat product." The question here is what Teams is alleged to be copying. Slack is certainly a fine chat product, but there are other examples available, like WhatsApp and (more pertinently), Workplace from Facebook, an offering that Microsoft was much more worried about some years ago than they are today. At that point, Workplace was deemed to be a real danger to Yammer (it's not today), so the need to create a better competitor to Workplace must be included in the decision mix that Microsoft went through before they decided to build Teams.
Chat Applications are Not Innovative
Maybe Teams is a copycat of Workplace, but given that Teams is so integrated with Exchange Online (for compliance and calendar), SharePoint Online and OneDrive for Business (for document management and sharing), and Azure Active Directory (for anything from directory services and authentication to conditional access), that it's hard for me to compare it to the chat-only nature of Slack. Chat applications are not new technology or especially innovative. I worked on what would now be called a chat application (VAX Notes) in the 1980s, so I struggle to think of Teams as a copycat of Slack.
Even so, it's true that once competition is joined in a space, companies who consider themselves to be players will look at and learn from each other. The appearance of private channels in Teams is a direct response to much the same functionality in Slack. But then again, Slack has done work to allow its products to take advantage of Teams, like integrating with Teams calling. The point is that companies learn from each other and make sure that they're not placed at a competitive disadvantage in terms of functionality. It's what happens in a vibrant, open market.
Fast Development Caused Slack Problems
The fast and broad development of Teams since November 2016 must have come as a surprise to Slack. Then, although an acknowledged competitor for Slack, Teams was simpler and hadn't started to exploit the Microsoft 365 ecosystem the way it does today. If Teams had remained a chat-only application (like Slack), it wouldn't be such a successful work from home platform.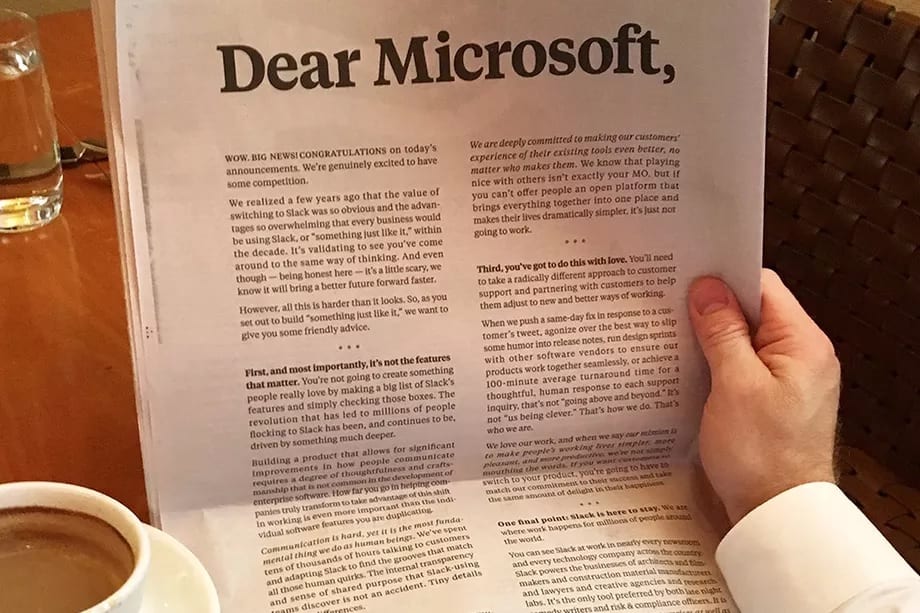 To deliver comparable functionality to Teams today, you'd need Slack plus Zoom plus a document management/sharing application, some way to handle compliance requirements like retention, data loss prevention, and secure access. And then you'd need the time and energy to stitch everything together. This is Slack's problem in a nutshell: Teams in 2020 is totally unlike the Teams they welcomed in the infamous "Dear Microsoft" ad in the New York Times (Figure 1 – the text of the ad is still online). The game has changed. Slack has failed to keep pace.
Not Much in the Slack Complaint
Slack throws a lot of brown smelly bovine material in its complaint, not least the attempt to associate Teams with the shameful tactics used by a younger and more immature Microsoft in the "browser wars." That was then and Microsoft deserved every sanction it earned for its browser shenanigans. This is now. You've got to judge things on the facts of a matter, and what I see so far leads me to believe that the Slack complaint is a last-gasp effort filled with leading statements and lacking proof.
Scared of the rapid growth in Teams usage, Slack might hope that its complaint will attract the attention of Office 365 tenants to its product so that they consider using Slack instead of Teams. I wouldn't recommend that you do, but it's a free market, so go ahead and make your choice.