SharePoint, the endpoint for many roads in Microsoft 365, is the bedrock for the company's collaboration platform and it continues to entrench itself deeper into the productivity world with tools like Teams and Viva. But sometimes classic SharePoint is where your heart lives and building a site for your users is an afternoon well-spent.
And to keep it to an 'afternoon', starting in later this month, Microsoft will begin rolling out scenario-based site templates for online and mobile that will expedite the creation process. Each of the new templates will be pre-populated with content and web parts that are fully customizable to help bring the specified content to your users.
With these new templates, the creator will have the ability to construct a new site or more importantly, apply a template to an existing site. Simply select the template, deploy it, and make sure everything appears as expected and you are done.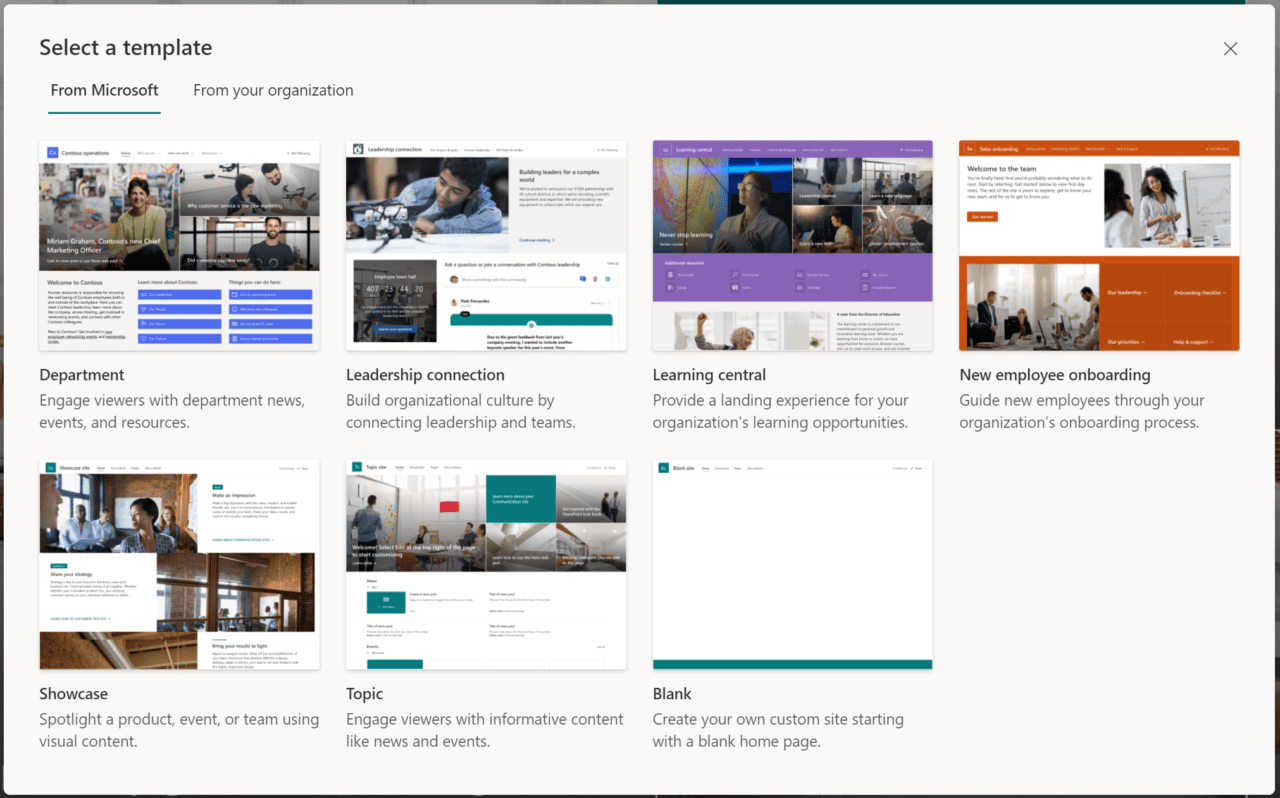 The reason I think that applying to exiting sites may be a popular option for many is that updating SharePoint sites can sometimes be a burden for inexperienced users and moving a templatized solution – should streamline the update process. Not to mention that by using templates, you have a consistent user experience across your intranet.
Of course, net-new pages shouldn't be overlooked and Microsoft is going to have several templates ready for release when this functionality reaches your tenant.
Communication site templates:
Department – Engage and connect viewers with departmental news and resources.
Leadership connection – Build community by connecting leadership and team members.
Learning central – Showcase learning and training opportunities.
New employee onboarding – Streamline and refine new hire onboarding process.
Showcase – Spotlight a product, event, or team using visual content.
Topic – Engage viewers with informative content like news and announcements.
Blank – Create your own custom site starting with a blank home page.
Team site templates:
Event planning – Coordinate and plan event details with your team.
Project management – Create a collaboration space for your project team.
Training and courses – Prepare course participants for learning opportunities.
Training and development team – Plan opportunities to help others learn and grow.
Team collaboration – Manage projects, share content, and stay connected with your team.
SharePoint will continue to be the focal point inside the Microsoft 365 ecosystem when it comes to document and information sharing. These new templates, when they roll out, will also make it significantly easier to build SharePoint sites that focus on your specific requirements.