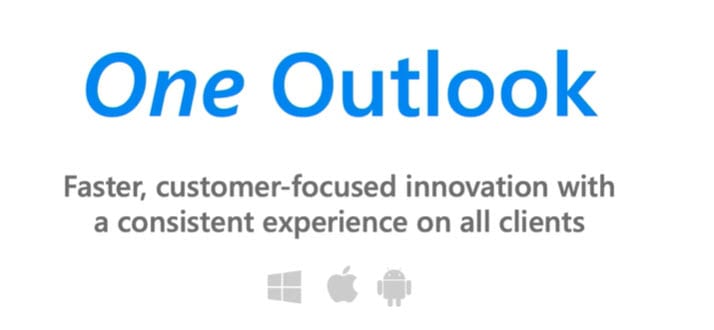 Last October, I wrote about One Outlook, Microsoft's vision for the future of its family of email clients. The basis of the story was a collection of three technologies deemed critical for the long-term development of Outlook: OWA Powered Experiences (OPX), Microsoft synchronization technology, and the augmentation loop.
Mary-Jo Foley's recent story about the Monarch project and its relationship to One Outlook (based on an original piece by Windows Central) caused further reflection as to what Microsoft is doing. I asked Microsoft and was told: "we are building Outlook on a common platform to provide a consistent, performant experience. There're no plans to change our focus and investments."
Early Stages of Development
Clearly Microsoft is at an early stage of development for whatever One Outlook will deliver. I imagine that they're grappling with the question of how to solve some major challenges such as:
Rationalization of the current client set to a more manageable number.
Acceleration of delivery of new functionality to customers.
The need to serve different constituencies such as the corporate users of the traditional Outlook client plus those who buy the perpetual version (now Outlook 2019) rather than the click-to-run variant in Microsoft 365 apps for enterprise (Outlook 365).
Bringing the ISV community along so that the many add-ins and extensions written for Outlook (desktop mostly) continue to work with One Outlook. Email signature management for corporations is a good example.
Any change causes a peak in support calls. Given the number of Outlook users, the need exists to make the transition as seamless as possible to keep support costs under control.
Taking what's been said before (at Ignite 2020), the current situation, and what seems to be going on in the Monarch project, it seems likely that we're on the path to:
OWA Takes Center Stage
The replacement of the Windows 10 email and calendar client with a version of OWA, probably installed as an Edge app. Some work is needed to make OWA handle IMAP4 and POP3 connections to non-Microsoft email servers, but that's well-understood (antique) technology which shouldn't be a problem. At that point, Microsoft will have four variants of OWA:
OWA is the fulcrum for One Outlook. The trick is to bring the goodness of OWA into the desktop clients.
Outlook Desktop
Outlook 97 shipped a very long time ago, but the foundation for the modern Outlook was set by Outlook 2003 and the introduction of full mailbox synchronization. Outlook 2003 came along when people were slowly moving from the tyranny of dial-up connections to Wi-Fi. Access to everything in a mailbox even when disconnected was a ridiculously luxury then and essential now, even with the 100 GB enterprise mailboxes available to Exchange Online enterprise users.
Outlook is changing, but its structure and development model means that change happens much more slowly than in OWA. Microsoft's solution is OPX, a way to take code developed for OWA and run it in clients like Outlook desktop. My forecast is that Microsoft will start to transfer subsystems in Outlook desktop to OPX gradually, starting with the calendar and tasks (now powered by To Do anyway). We'll end up with a UI skeleton that looks like Outlook desktop with a bunch of OPX plug-ins for email, calendar, tasks, contacts, and so on.
Outlook desktop still needs full offline capabilities, and the Microsoft synchronization technology now used in Outlook mobile and Outlook for Mac will move to Outlook on Windows to replace MAPI over HTTP. It might not be possible to configure Outlook to work online in the future and all clients will work in cached mode. Given that many have been doing this since Outlook 2003, that shouldn't be a big problem.
Outlook for Mac is ahead of Outlook for Windows in some areas, behind in others. Eventually the two should be much the same because both will use OPX for features and the Microsoft synchronization technology for communications.
Outlook 2019 and the other Office apps available under perpetual licenses and mostly used by on-premises customers are due to be refreshed in 2021. Outlook 2022 (or whatever it is called) is likely to remain based on the current framework because the release timeframes don't line up for anything different. Where this goes afterwards is anyone's guess – if another release of Office happens in 2024.
Outlook Mobile
The $200 million spent to acquire Outlook Mobile from Acompli in November 2014 must rank as one of Microsoft's best buys. At the time, Microsoft's mobile email strategy was based on OWA for Devices, (here's a strategy deck on the topic from the MEC 2014 conference), which ran OWA in a browser wrapper on mobile devices. Suffice to say that the acquired technology was far superior and has proven to be a winner.
The heavy lifting to move Outlook mobile to the Microsoft cloud platform, increase security, and implement the new synchronization protocol is done. As a result, Outlook Mobile has pumped out updates over the last few years like support for shared mailboxes, delegate access to mailboxes, and sensitivity labels. I don't see a lot more architectural change in Outlook Mobile. In the near term, expect to see new features continue to appear to please its 100-plus million users to keep track of what's happening in OWA.
Moving to One Outlook
As other commentators have noted, it's unlikely that we will see much public change until the end of 2021. Lots will happen inside Microsoft and rumors and speculation will persist. But given the need to keep everyone happen during a period of significant change for a very popular set of clients, I don't see Microsoft making a big splash about One Outlook until they're ready to deliver. The foundation technologies are known. Building just takes time.