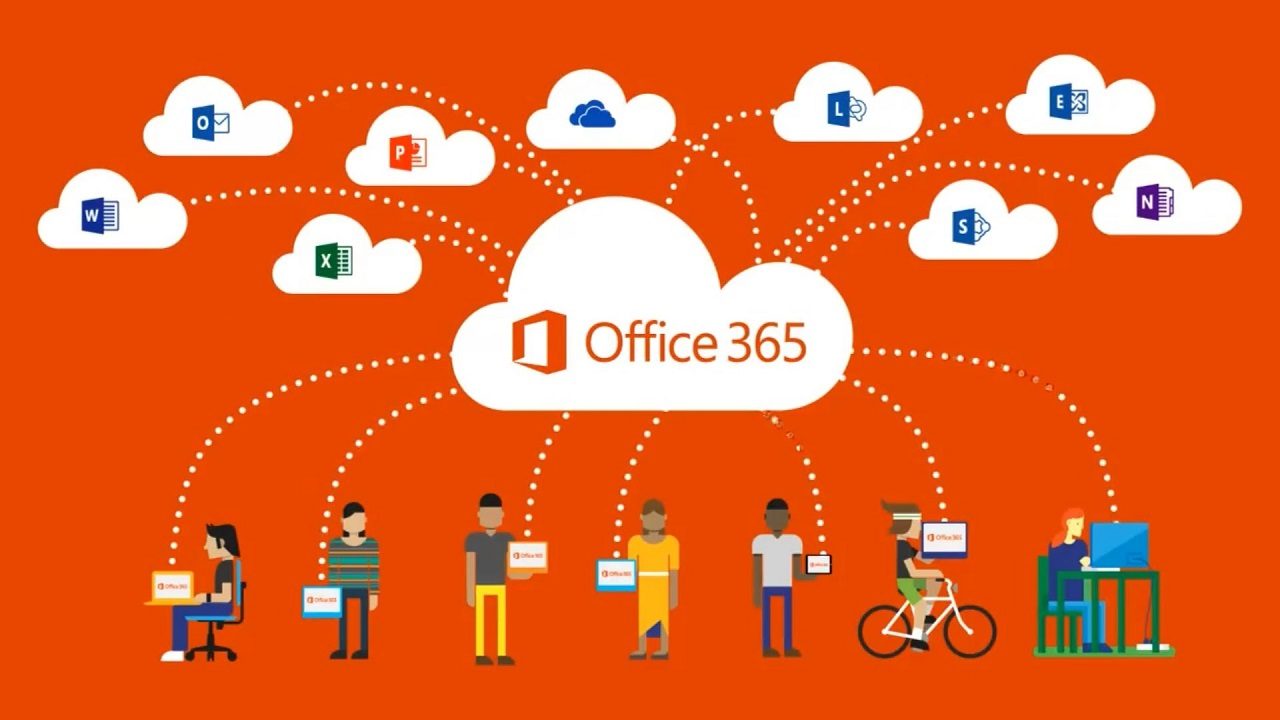 Lots of Change in Office 365
At the Ignite conference in Orlando, Microsoft revealed that they had rolled out 150 changes in Office 365 in the last year. These are roadmap features and Microsoft acknowledged that some smaller features find their way into production without much fanfare (or notification).
Microsoft also made a series of announcements about changes in Office 365 administration that you can expect to see over the next year. This article covers the announcements about Office 365 administration to help you know what to expect in Office 365 Admin between now and mid-2018. Of course, given the ever-changing nature of the service, other changes will happen too!
New Usage Reports
Microsoft is naturally keen that tenants understand how much use people make of different Office 365 applications and includes usage reports for Exchange, SharePoint, OneDrive for Business, and Yammer in the Reports section of the Office 365 Admin Center. Microsoft Teams is a relatively new kid on the block, but when Microsoft announced external access for Teams, they said that 125,000 Office 365 tenants now use the technology. A new usage report for Teams is coming, which will tell you the activity in channel conversations, private chats, meetings, and calls. You can expect to see the Teams reports in about two weeks.
Available now is the ability to assign a new reports reader role so that people can access Office 365 reports without having administrator permissions (Figure 1). This is a welcome step forward. Users with the report reader role can access Office 365 reports (all of them – no filtering is available) and the data used for the Office 365 Power BI content pack (see below).
Microsoft has deprecated the old reporting API used by ISVs for programmatic access to report data for tenants. In its place, we now have the Microsoft Graph-based API for Office 365 reports, which has been in preview since March. Today, data is returned in CSV format and a second update due later this year will output JSON data. Holders of the new reports reader role can access information returned by the API, which means that ISVs can pick up the role and use it in their products.
Office 365 Usage Analytics
Microsoft launched a preview of Power BI content pack for Office 365 in May 2017. The content pack is due for general availability in early 2018. When this happens, it will support usage data for Teams (Figure 2) in a new focus on how social collaboration occurs within a tenant. At the same time, Microsoft is renaming the content pack to "Office 365 Usage Analytics" to better reflect what it does. The content pack is available to all Office 365 business tenants.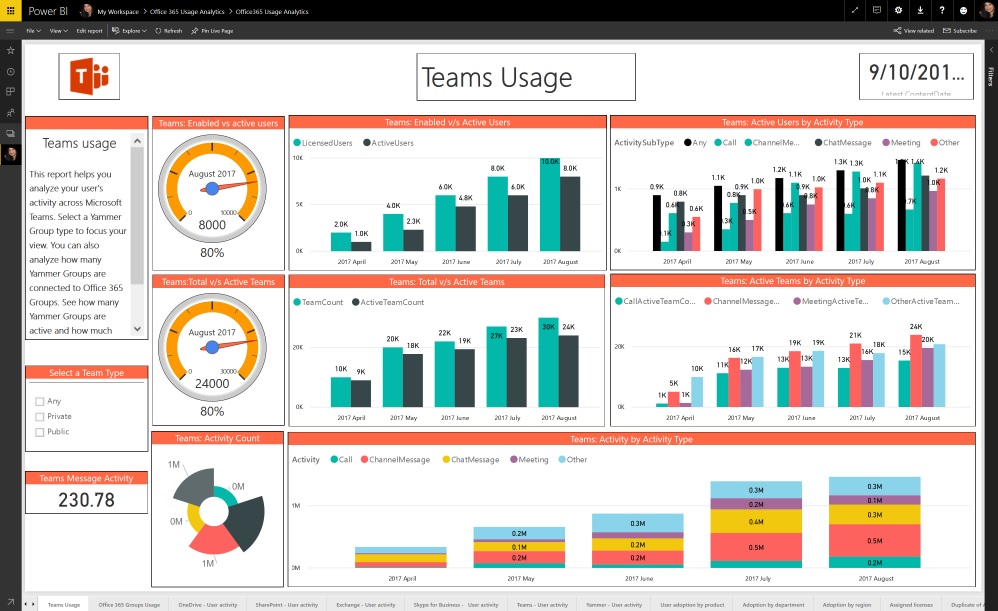 Usage Score
Microsoft already offers the Secure Score service to help administrators understand how secure their Office 365 tenant is. Next on the list is a "Usage Score" to show how much use of functionality a tenant makes. The score also considers how deeply a tenant uses functionality. For instance, a tenant has a low score for storage if they only store files in OneDrive for Business and SharePoint sites. They get a higher score if they exploit those files with functionality like sharing and co-authoring. Office 365 generates recommendations to help tenants exploit the software better based on user activity. Of course, whether users will respond to the advice is entirely a different matter.
Guides
Another way that Microsoft is trying to help Office 365 administrators be more effective is through the introduction of "guides," or wizards that help admins work their way through tasks like preserving information when someone leaves the company. Experienced administrators will have their own processes and procedures. However, many Office 365 tenants belong to small companies with part-time admins, which is the real target for wizard-type processes. Expect to see guides appear in late 2017 or early 2018.
Scoped Administration
Office 365 Admin will soon support for scoped administration using Azure AD administrative units. Essentially, you define groups of Office 365 users (for example, everyone in North America) and can then assign the ability to manage those users to specific administrators. When those administrators sign into Office 365 Admin, they only see the users that come within their assigned scope.
Scoped administration is in preview and PowerShell is the only available tool to create and manage the units. For now, administrative units are limited to user accounts and do not include any form of groups. One important detail is that Azure AD administrative units require an Azure AD Premium P1 license. However, given that the tenants interested in scoped administration are likely at the large end of the scale, they probably have these licenses, possibly because they use the Enterprise Mobility and Security (E3) plan or one of the new Microsoft 365 plans.
New Admin Centers Coming
A new SharePoint Admin Center is on the way and is due in early 2018. You can opt-in to have access to the preview by registering at https://aka.ms/joinAdminPreview. Make sure to include your tenant name.
Microsoft is also refreshing the OneDrive for Business Center to include analytics about usage of OneDrive (by user and file volume) and new controls for sharing.
The administrative settings for Microsoft Teams are currently buried in the Services & Add-ins section of the Office 365 Admin Center. Given the plan to replace Skype for Business with Teams, it comes as no surprise that Office 365 will soon have a new Teams and Skype Admin Center, which will include analytics, call quality, and control over per-user settings.
Health Notifications
Microsoft posts information about service health issues in the Office 365 Admin Center. However, they know that it is all too easy for an administrator to miss out an important notification (the Office 365 Admin mobile app is a good way to keep an eye on incidents when you're on the go). To improve matters, you will be able to sign up to receive emailed notifications when service health degrades. You can opt-in for the preview by sending email to [email protected].
More Admin
Like other cloud systems, Office 365 is in a state of constant change. The team responsible for administration tools admitted that they have a long backlog of work to do, Expect more to come as Microsoft works through the backlog and check off roadmap commitments in the coming year.
Follow Tony on Twitter @12Knocksinna.
Want to know more about how to manage Office 365? Find what you need to know in "Office 365 for IT Pros", the most comprehensive eBook covering all aspects of Office 365. Available in PDF and EPUB formats (suitable for iBooks) or for Amazon Kindle.