Key Takeaways:

The new Outlook for Windows is set to integrate several new features, including Copilot integration, offline access, Message Recall, POP3 account support, and dictation.
Microsoft is committed to ongoing performance improvements and visual enhancements, addressing specific feedback on features and overall user experience.
The transition from the classic Outlook desktop app to the new Outlook client is expected to take place within two years for organizations.
Earlier this year, Microsoft launched its new web-based Outlook for Windows client, which combines the functionalities of email and calendar in a unified application. The company has recently outlined a range of upcoming features slated for integration into the new Outlook experience in the next year.
Specifically, the new Outlook for Windows will support auto capitalization, conditional formatting, Copilot integration, and dictation. Microsoft will also introduce a file tab in Outlook search, EML/PST/MSG file support, folder reordering, offline access, Outbox folder, Message Recall, S/MIME, POP3 account support, and picture formatting. Other capabilities include:
Shared calendar notifications for work accounts
Save as for attachments
Preserve declined meetings
Teams tab in search
Drag and drop emails and attachments to the desktop
Save as for attachments (choose folder to save to)
Collapsible headers in the message list
Inking (Draw tab) while composing an email
"In addition to features and capabilities, we also hear and highly value feedback about performance and the overall experience. We are deeply invested across our teams in dedicated and ongoing performance improvements, ranging from focused optimizations to larger platform investments. We are also investing in several visual and user-experience improvements," the Outlook team explained.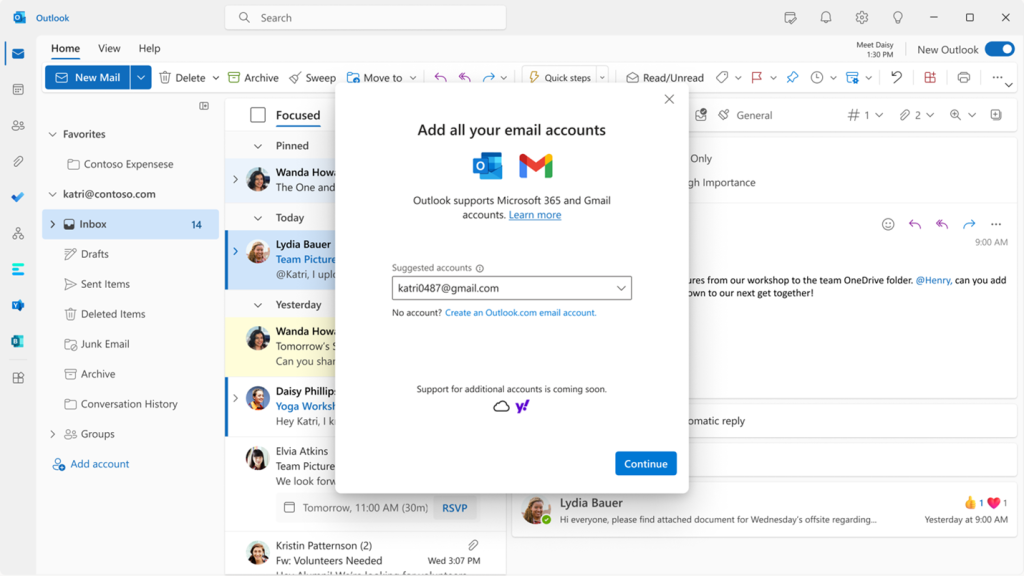 Microsoft's two-year plan to replace classic Outlook with new Outlook for Windows
Over the past few months, Microsoft has released several improvements for the new Outlook for Windows client. The company encourages users to try out existing features like ICS file support, schedule send improvements, quick steps, and a reminders window. Microsoft has made it easier to find related messages and search folders with options such as "unread mail", "flagged", or "sent directly to me."
Microsoft's new Outlook for Windows is currently available in preview for commercial customers. It will eventually replace the classic Outlook desktop client, but it could take over two years for the transition to be finalized for organizations. Microsoft encourages IT admins to check out this blog post for more details about how to control the rollout of the new app within their tenants.