Companies of all shapes and sizes have run into many challenges regarding keeping their employees efficient and happy; the transition to virtual education and training over the past 18 months caught many off guard.
The Microsoft Forms team was excited to release Polls in Microsoft Teams meetings in November of 2020 to address some of these challenges. This allows meeting organizers to educate their attendees with engaging insight using polls.
Here we'll share tips on '4' distinct types of polls in Microsoft Teams. The end goal is to better assess meeting participation, membership information retention, overall focus of attendees in your meetings, and the openness of traditional in-person human interaction.
Microsoft Teams – Using Polls for Better Engagement in Teams Meetings
Always of the 'work-in-progress' mindset, Microsoft has heard your questions regarding employee engagement, effective information presentation, and education. It's relatively straightforward in a conference room or huddle space to exhibit and absorb that 'human' interaction, but the 'virtual reality' of hybrid workplaces adds a layer of ambiguity about how effective meetings and their purposes can be.
Goal #1: Engage your audience early
Task: Poll attendees at the beginning of your meeting to reduce psychological distance and set expectations
How can we help attendees feel included in the meeting?
Ask a multiple-choice icebreaker question. Today, Polls in Teams meetings often automatically suggests such questions as you prepare for your polls.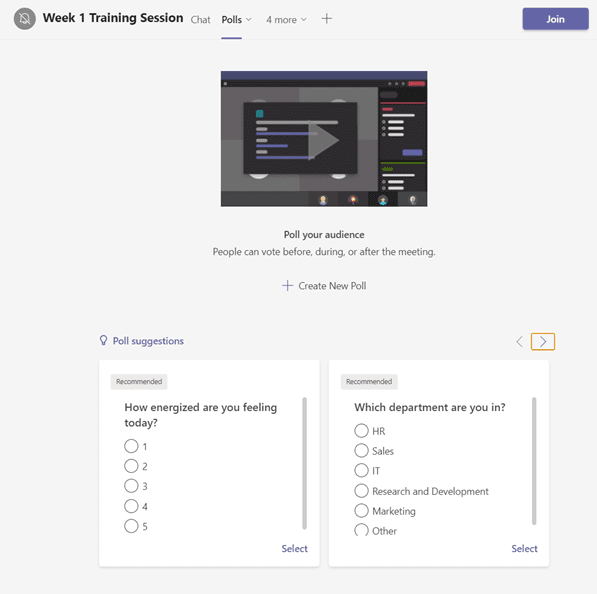 2. Collect questions they have for a class or training session. Using a Word Cloud poll is an excellent way to allow for free expression.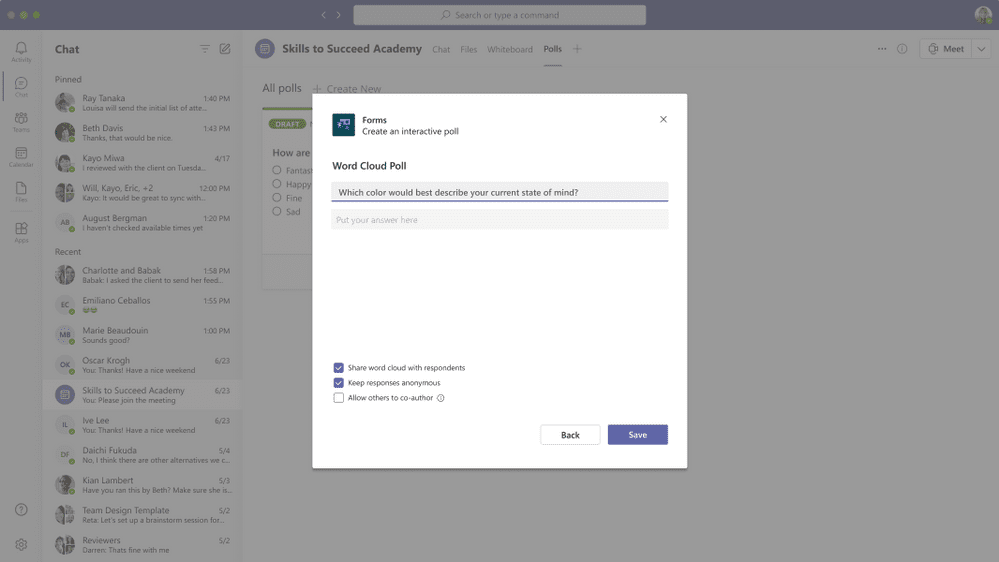 3. Ask a multiple-choice knowledge check question related to the information about to be presented.
4. Setting expectations at the start of the meeting can also encourage engagement. You could add a Word Cloud poll question like, "What are you hoping to get out of today's tutorial session?"
Goal #2: Help your audience reset and re-focus
Task: Poll attendees during your meeting to recapture wandering attention
Getting distracted can be very easy. Especially when working from home…you have your work browser tabs, your personal browser tabs, you have your children asking for just one more cookie, etc. Studies have shown that adults' attention spans last around 20-30 minutes. Long class or training sessions could lead attendees to drop their concentration and fire up that Xbox Series X!
To help your attendees regain their focus on the topic at hand:
Ask a fun question, allowing them to 'come back to the room.'
Check the status of your meeting attendees – ask them what they've learned and retained thus far.
Goal #3: Evaluate audience understanding of meeting content and encourage engagement
Poll attendees during the meeting for a quick knowledge check
During this meeting, keep in the mind the value of instant feedback. Immediate evaluation can enhance one's sense of order and state of concentration. Use this to your advantage and launch a quick knowledge-check poll based on the information you've already covered. This will encourage attendees to stay engaged. Plus, you can always offer a dollar or two incentives for correct answers! 😉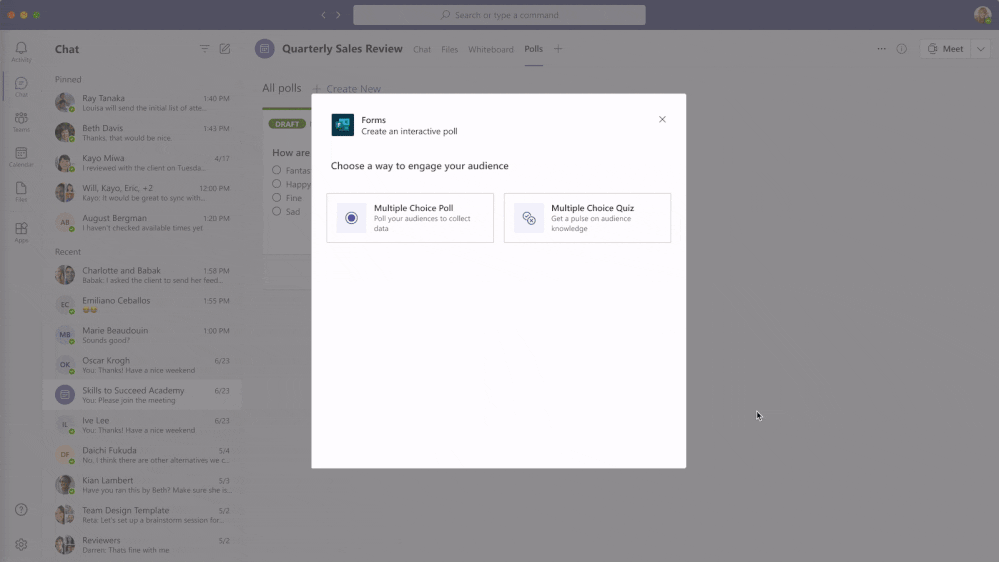 Goal #4: Provide your audience with a sense of belonging and encourage future engagement
Task: At the end of your meeting, poll attendees by asking for honest feedback
Keeping that mantra of audience participation and worth/value throughout the meeting time, it would behoove you to present a poll at the closing of your meeting. You're signaling how you want to include your meeting participants' perspectives. This will likely give your attendees a sense of worth and enthusiasm for future meetings.
Multiple Choice Polls are a quick win – "On a scale from 1 – 5, how useful was the content presented in this meeting? On a scale of 1-5, how satisfied are you with today's presenter? You need to make a choice here – Kirk or Picard?"
You can also use Word Cloud Polls to ask more open questions like, "What questions do you still have, or feel weren't addressed in today's meeting?"
Next Steps with Microsoft Teams Polls
We hope that these four tips, presented around the four goals to engage and assess your audience, provide guidance on the advantage of polls throughout the learning aspects of your organization. If you want to learn more about how to use Microsoft Forms (Polls) in Teams meetings, please visit this support page.
Related articles: