Microsoft Teams is getting a new Meet app that should make it easier for users to track and manage meeting activities and content. The company announced the new app on its Microsoft 365 Admin Center yesterday, and it will exclusively become available for customers on the new Microsoft Teams (preview) client next month.
The Meet app will provide a centralized hub to help users prepare for meetings, catch up on missed details, and find meeting content, chats, notes, agenda, and recaps. Once installed, users will see the "Up next" and "Recent sections" in the app.
The Up Next section offers content suggestions powered by AI to assist users in finding relevant files and documents quickly. It will also enable participants to view meeting invites and alerts, as well as resolve meeting-related issues with a single click. These include request recording, no RSVP, and notifying co-workers about running late to a meeting via meeting chat.
In the Recent section, Microsoft Teams users will be able to view a list of meetings scheduled within the last 30 days. It's also possible to find invitees, transcripts, recordings, and attached/presented/shared files. Users can quickly access past meetings with filters, meeting labeling, and a search box.
Microsoft Teams Meet App to bring AI meeting insights to premium customers
With the Meet app, Microsoft Teams Premium customers will be able to view AI-powered meeting insights. These include personalized suggested tasks, mentions, and missed meetings. If you haven't done it yet, you can sign up for a 30-day trial license of Microsoft Teams Premium on this page. Microsoft plans to roll out the new Meet app in mid-August, and it will become generally available in mid-September.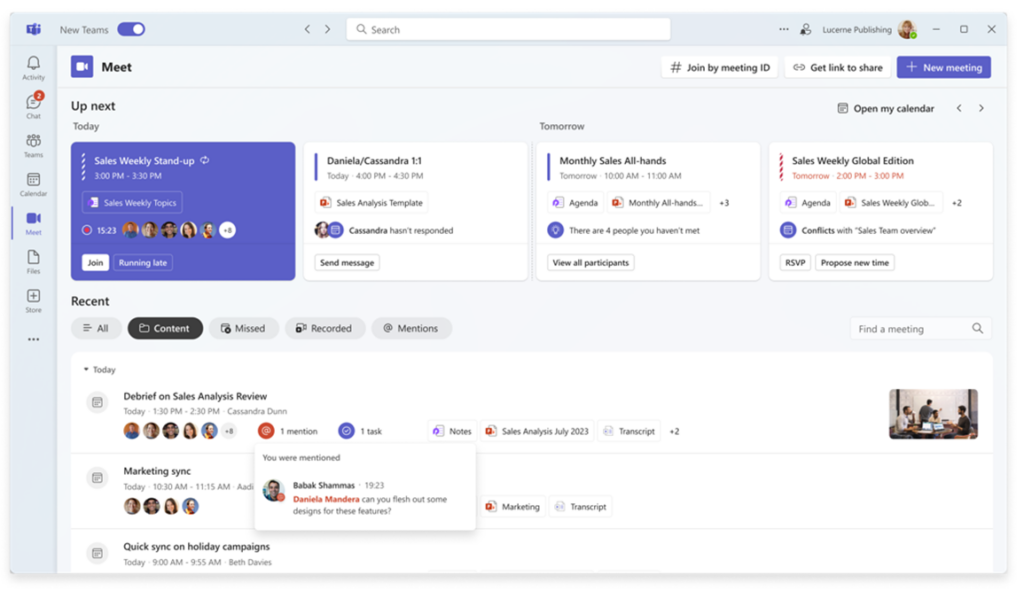 Microsoft launched the new Teams 2.0 client in public preview back in March 2023. The company has designed the new app to be faster and less resource intensive as compared to the existing Microsoft Teams desktop client. It offers various features such as an Activity feed, live captions and transcriptions, and support for multiple accounts. The new Microsoft Teams app is expected to become the default client in September 2023.