Microsoft is getting ready to make its new Teams 2.0 client available for all users. As of today, the new app is available via a toggle in public preview, but the same toggle will become generally available for customers in September.
Microsoft launched the new Teams 2.0 client in public preview in March 2023. The app has been rebuilt from the ground up to make it two times faster and consume 50 percent less memory as compared to the classic Teams desktop app. Microsoft Teams 2.0 is no longer an Electron-based application, and it leverages Microsoft's Webview2 technology instead.
At launch, the preview version of the new Teams 2.0 client lacked several features that are available in the classic Teams desktop app. Since then, Microsoft has been working to add support for third-party apps, line-of-business (LOB) applications, and advanced calling and meeting capabilities. These include 7×7 video, breakout rooms, call queues and voice-enabled channels, as well as survivable branch appliance (SBA).
Microsoft Teams 2.0 deployment schedule
Later this month, end users will be able to switch between the new Teams client and the classic app with a toggle button. This change will be applicable to tenants where the admin policy setting of "UseNewTeamsClient" is set to Microsoft default. Microsoft will let IT admins deploy new Teams directly to all devices in their organization in mid-July.
"We're still working on this version, so some things aren't available yet. It's easy to toggle back and forth between using the classic and new Teams, so you can take advantage of the new Teams performance enhancements on some days and switch back to the classic Teams when you need to," Microsoft explained.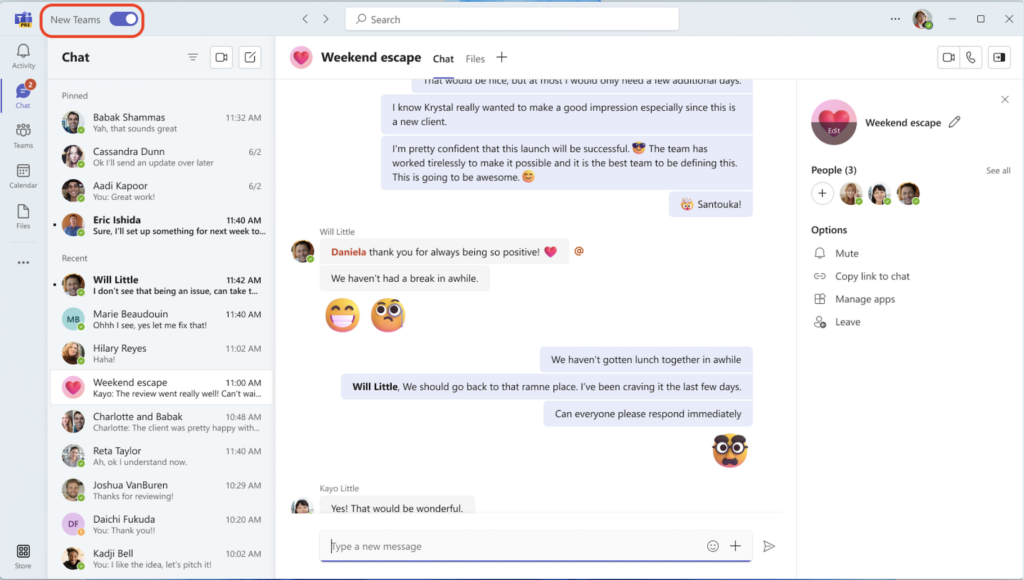 Microsoft expects to make Teams 2.0 the default client for all customers in late September. The upcoming update will be available for both enterprise and business (Business Basic, Business Standard, Business Premium, and Teams Essentials, etc) customers. Microsoft recommends IT admins to start preparing users for this upcoming change in Fall 2023.
Currently, Microsoft Teams 2.0 is only available in preview on Windows PCs. Microsoft has confirmed that the new Teams client will launch on macOS, VDI, and Web later this year. Let us know in the comments below if you have switched to the Microsoft Teams 2.0 preview app.