Microsoft Teams is getting a new update that enables users to create a special chat with themselves. The chat with self feature was first announced at Ignite 2021, and it has finally started rolling out to Teams desktop and mobile users.
Microsoft highlights that the new chat with self feature is designed to help users stay organized, and this capability is also available on Slack. Just like regular chats, users will be able to send themselves messages, notes, files, images, and videos. The feature could be useful for creating drafts to capture quick ideas/reminders and prevent users from accidentally sending incomplete messages.
"Previously, the user wasn't able to directly send themselves messages. There were workarounds, however, where a user could start a meeting with themselves and utilize the meeting chat as a self chat. Another workaround was if everyone in a group chat left, and the user was there alone," the company explained in a message on the Microsoft 365 admin center.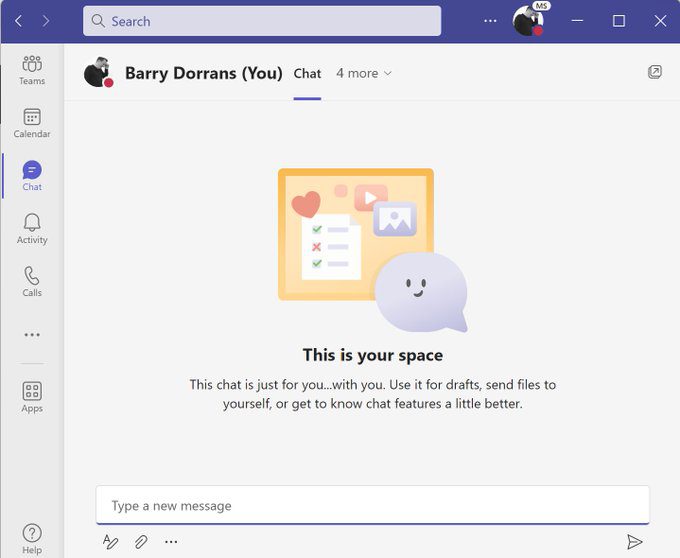 How to use the chat with self feature in Microsoft Teams
To try out the chat with self feature, users will need to install the latest Microsoft Teams update on their device. Click the New chat icon in Teams at the top of the chat list. Finally, type the name in the To field to start a conversation with yourself.
It is important to note that users will not be able to add more people to this special chat to turn it into a group chat. However, it is possible to create a Loop component in the chat and share it with other colleagues for collaboration. Users will not be able to change the name of this Teams chat.
Microsoft expects to make the new chat experience in Teams generally available by the end of this month. In case you missed it, Microsoft has also released new AI-powered audio and video enhancements for Microsoft Teams. These include echo cancellation, de-reverberation, background noise suppression, and content-specific optimizations.