Microsoft has shared a roundup of improvements made to its Teams collaboration service in October 2022. The major highlights of this release are suggested replies for group chats, pop-out support for shared content in meetings, new Teams-certified devices, and management features, so let's dive into it.
First up, Microsoft detailed new chat and collaboration features added to Teams. The suggested replies feature that was previously available in 1:1 chats is now coming to group chats. The video clips feature is now generally available in the Microsoft Teams desktop app, and it's coming to iOS and Android users by the end of this year. The feature allows users to record, edit and send short video messages in Teams chats.
Additionally, Microsoft is rolling out the ability to pop out the scheduling form in a separate window. It eliminates the need to jump between apps for multitasking in the Microsoft Teams calendar. IT administrators can now set Adobe Acrobat as the default experience in the Teams admin center. This release lets users view and edit PDF files without purchasing an Adobe Acrobat subscription.
Pop-out shared meeting content
Microsoft Teams rolled out a new update that allows users to pop out shared meeting content into a separate window. Microsoft has released another new feature that lets presenters and organizers assign seats to meeting participants.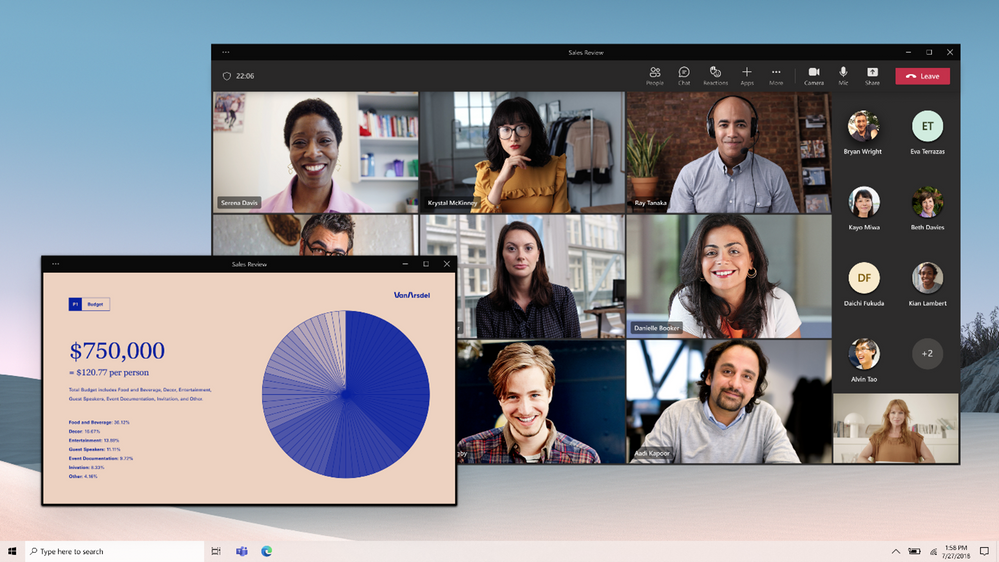 Microsoft Teams introduced new AI-powered Live translated captions support in 40 different languages. The Live translated captions feature is currently available for all customers. However, Microsoft plans to limit this capability to Microsoft Teams Premium subscribers in the coming months.
Detailed call history and new Teams devices
Microsoft mentioned a new feature that enables users to view detailed call history in Teams. Users can now see participant details for group calls and a list of all forwarded and transferred calls. A new Timeline section provides additional information about the recipient, call duration as well as the start and end time of the call. Microsoft Teams now allows users to create contact groups and edit the membership of existing groups in the calls app.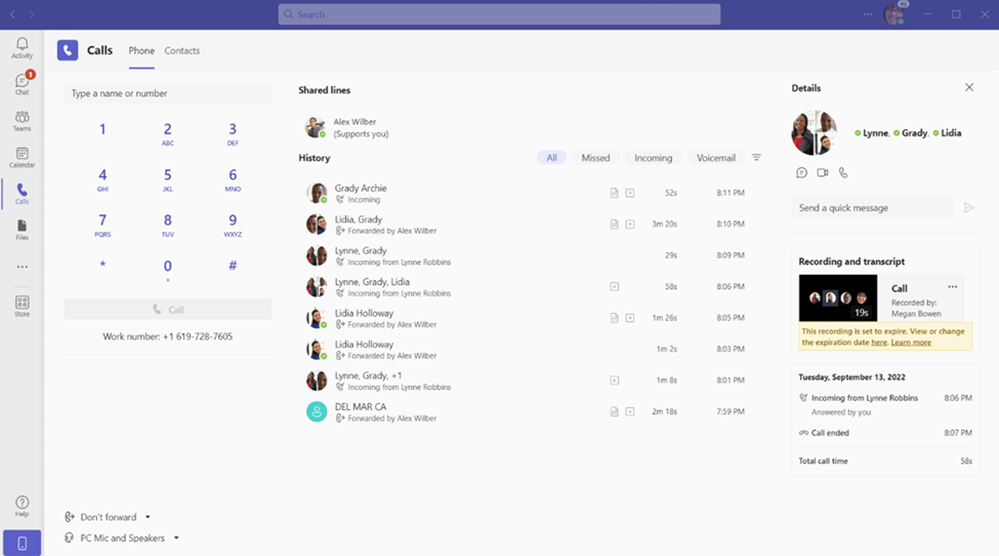 Microsoft has announced a few new Teams-certified devices this month, including Crestron Flex and Sony YY2969 Earbuds. There is also a portable personal video device called "Neat Frame" that is designed to pair with desktop computers and laptops.
Last but not least, Microsoft has announced some new management features for IT admins. This release brings improvements to the app usage reports, such as support for Tenant level install trends, line of business (LoB) apps, as well as tenant-wide usage data of Microsoft, 3rd-party, and LoB apps. Microsoft also released some updates for frontline workers and government customers, and you can check out the blog post for more details.