I've always thought that Microsoft Surface was a beautifully designed and manufactured product, but I never believed that Microsoft knew how to make the business a success. Things have changed and suddenly everyone is very positive about the Surface — HP and Dell want to sell it, and Apple wants to make one. What happened? I'll explain what changed in this article.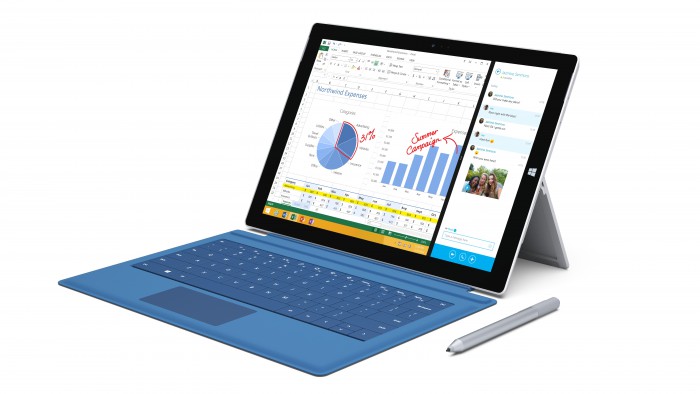 Beating Trends
The story of the Microsoft Surface truly is a tale of rags to riches. I remember watching the lines at TechEd North America 2013, where Microsoft was selling of Surface RT at a massive loss. I work in the channel, so I knew what was happening; Microsoft had too much stock and they had to virtually give it away. In July 2013, Microsoft announced that the Surface business was making a negative $900 million "inventory adjustment." In other words, they had product that no one wanted, and Surface 2 was about to replace Surface RT.
Windows RT, the OS that powered the consumer tablets, was eventually deprecated by Microsoft — anyone who knew the history of Microsoft's ventures to non-x86/x64 processors guessed that this was inevitable. What was surprising was that Surface Pro was doing OK, not great, but OK. While Apple said that any tablet that required a stylus or a keyboard was doomed, Microsoft pitched the idea that Surface Pro wasn't a tablet or a laptop, but a new form factor that could do mobility and productivity. And you know what? Business users got the idea, but unfortunately not that many could buy a Surface Pro.
In April of last year, I explained that the biggest problem for Surface was how Microsoft brought it to market. Microsoft limited distribution to large retailers like Best Buy in the USA or DSG International (PC World/Dixons/Currys) in the UK and Ireland, and a handful of international distributors. Those distributors are huge, but they are poor at dealing with the broader market of resellers that deal with commercial customers — the Surface Pro is priced as a business machine, and it is a natural fit in a commercial space. Few businesses ever buy from retail; BYOD is the VDI of the 2010's — a concept that keeps Gartner speculators in a job, but never really takes off. In other words, business users liked the idea of Surface Pro, but they hadn't a reasonable way to buy it.
But something started to happen in the last year. Surface Pro has business has been growing, increasing 117% year-over-year in Q4 FY 2015 (Q2 2015) with $888 in sales. Surface is now a multi-billion dollar business for Microsoft. This is at a time when iPad sales are falling (down 23% year-over-year in April) and tablet sales are also declining (down 7% in July). What changed?

Increased Tablet Sales
Two years ago, the news was filled with stories of enterprises purchasing thousands of iPads. I remember having a conversation with an IT manager in an airline around this time. Many companies of his industry had chosen to deploy iPads in the cockpit to replace heavy, unwieldy flight and aircraft manuals. But these early adopters faced a significant problem. The operating system of the iPad was designed for the single-person consumer experience. Management, multi-user. Security and compliance were never things that were baked into the core design of iOS; they are after-thoughts. These large companies had built up systems and experience for managing thousands of PCs, but the iPad was outside the scope of management. This IT manager envisioned that a Windows device would be easier to manage because at it runs the same Windows OS as the PC, making it easy to absorb into the IT ecosystem.
Can you imagine giving a $500 tablet that is notoriously delicate to a child with absolutely no control over content? Schools have been acquiring iPads to replace PCs and paper books for several years. Some have realized, due to cost and damage, that this wasn't necessarily the best choice. Many are now buying Chromebooks, but these devices face the same management issues. Surface 3, a more affordable device powered by Intel Atom, is the device that Microsoft is targeting at schools — it fits in perfectly with their larger ecosystem, including MultiPoint that's designed for educational markets, and it's powered by Windows making it easy to manage by school IT departments or Microsoft partners.
Surface Pro 3 was released with great acclaim. Microsoft subsidiaries did a great job of putting the device into the media (TV shows, journalists, TV/radio presenters), pretty much copying what Apple did when they launched the iPod. In the last year tablet, including iPad, sales have fallen..
What Changed?
In my opinion, the Surface Pro was always a business device first, and the clue is in the name. But Microsoft made it very hard for businesses to buy a device they wanted. Most probably had this conversation:
Customer: "I'd like to buy 100 Surface Pros please."
Reseller: "I can't sell them to you – how about some laptops or tablets made by X?"
A few resellers found a clever way to supply Surface Pros to their business customers. They went to large retail chains that were stocking Surface (direct from Microsoft) and bought using some of the cash-back and rebate chicanery that exists in the channel. This allowed those resellers to sell Surface Pros to their business customers at retail price, or slightly higher if there was a value-added service.
Microsoft quietly started to increase the number of distributors and authorized resellers of the Surface brand in early 2015. This program increased the breadth of Microsoft's reach to resellers, and therefore to business customers. I saw first-hand the success of this program; the few authorized resellers that existed were doing deals for hundreds of Surface devices.
At Worldwide Partner Conference (WPC) 2015, Microsoft announced that they would start distributing Surface to thousands of partners around the world and start to recruit Microsoft Authorized Device Resellers (ADRs), companies that would be permitted to resell Surface devices to business customers. According to Microsoft the ADR program is:
… designed for resellers that have a focused device practice, belong to another OEM reseller program, have sales and technical teams with Windows expertise and sell to commercial customers.
Any Microsoft partner that wants to become an ADR can contact an Authorized Device Distributor (ADDs) to inquire how to become an ADR. That list of ADDs is still small but I expect it to explode very quickly. My employers have had a lot of resellers inquire about ADR status, and this makes me believe that the potential to grow Surface business is there.
And recently we heard the news that Microsoft was to start selling Surface through hardware rivals such as Dell and HP, giving Surface the potential to sell (1000+ devices at a time) to large enterprises that normally only deal with large suppliers.
The Future for Microsoft Surface
The market has learned that the iPad isn't a great business machine and they want a Windows alternative, and Surface is probably the best-of-breed hybrid device. The Surface brand had a very rocky started, probably crippled by the damage done by Windows 8 and a misadventure with Windows RT/ARM. Microsoft tried to sell Surface to consumers but Microsoft's strength has always been the enterprise. For some reason, Microsoft tried to make Surface impossible to buy as a commercial customer.

But now, Microsoft is reaching out to the channel and making Surface available to resellers that supply those commercial customers. And the recent news that Microsoft is going to resell via the likes of Dell and HP (more fence mending by Satya Nadella) means that Surface could sell a huge rates into government and Fortune 500 customers. In my opinion, the future of Surface is bright … now I wish they'd just make an Ultrabook!