Microsoft Surface Studio Dials it up to 11, as Apple Weeps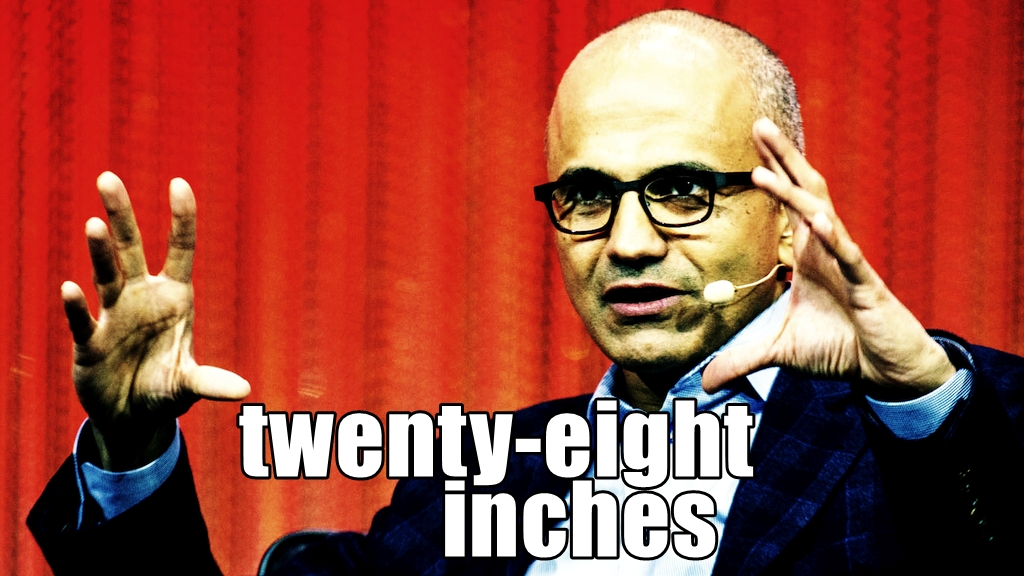 Microsoft launched its Surface Studio all-in-one desktop at the Windows 10 event yesterday. Here's what people are saying.
Just don't mention the iMac. In today's IT Newspro, we mention it once, but we think we got away with it.
Your humble newswatcher curated these news nuggets for your entertainment. Not to mention: Madge vs. Zep…

What's the story? Paul Thurrott has Microsoft Announces Surface Studio All-in-One PC:
As expected, Microsoft rolled out its new All-in-One PC. … But at $3000 and up, Surface Studio will appeal to a very limited audience.
…
Microsoft was quick to note [its] aspirational qualities. [And] I'm sure it would like to see other PC makers ape [the design] in their own less costly machines.
…
And it is a stunner. … Aluminum… a gorgeous 4.5K display…28 inches…3:2 aspect ratio. … You [can] recline the screen so that it looks and works much like a drafter's table.
…
More soon.

How soon? How about now? Brad Sams got Hands On in NYC:
[It] is not cheap but it…packs in a lot of features. [It's] made of high-quality materials.
…
The hinge, which…is critically important, feels confident. … It is quite easy to raise and lower.
…
The dial is also a quality peripheral. … It has a good feel to it but [I] was expecting it to be heavier in my hand.
…
Microsoft has built something unique that should stand out.

What's the official word? Microsoft's Mollie Ruiz-Hopper hops in: [You're fired -Ed.]
Surface Studio is a new class of device that transforms from a workstation into a powerful digital canvas. [It] unlocks a more natural and immersive way to create on the thinnest display ever built.
…
[Its] 4.5k ultra HD screen…delivers 63 percent more pixels than a state-of-the-art 4k [display]. [It] is available for pre-order today.
…
Surface Dial…integrates with Windows 10 to work with any Surface device for a faster and more intuitive way to scroll, zoom and navigate. [It] also enables a set of unique experiences exclusive to Surface Studio.

What of the iMac fans? Veteran Apple-watcher John Gruber channels a Chinese curse:
Very cool looking stuff. … It certainly comes at an interesting time.
…
Creative professionals are feeling largely ignored by Apple. [But] Microsoft is targeting them specifically.
…
I'm not sure how useful the horizontal mode will be for people who aren't illustrators. [But] it sure does seem like a groundbreaking form factor.

But where's the snark? Predictably, Iain Thomson calls it a Surface Studio desk-slab:
After sitting through two hours of presentations…the results are surprisingly good. … Microsoft's engineers positively salivated about the attention to detail [in] the Studio design…down to a custom-fitted…patent pending power supply cord.
…
The Dial…is something designers will most likely fetishize. [It] is a hockey-puck design with a customizable interface. [It's] the kind of thing Apple should have come up with.

So is it only for designers? Not according to 0laf, who predicts a few games of Executive shiny:
[It] won't be long before we have senior peeps demanding access to these toys for reasons. … Looks quite nice but at that price it's a vanity purchase.

Who's behind the development? Mark Sullivan talks to Panos Panay, Pete Kyriacou and other 'softies:
Panay oversaw development of all previous Surface devices. … An energetic, bearded 40-something, he can be a little intense at times. … But you get the feeling that it's all coming from a good place.
…
When the device was lifted up [by] product lead Pete Kyriacou, my first reaction was, "Does the world really need another all-in-one PC?" [But] With its kneeling display…pen and Dial…the Studio seriously stretches the definitional limits of the [AIO] term.
…
Senior mechanical engineer Robyn McGlaughlin explains…that the chrome hinge is loaded with 11 springs. … Ralf Groene, who leads Industrial Design, [says] he believes users will use the drawing-board…position for detailed work. … "Part of the philosophy is that the computer creates a stage for software, and we keep everything else quiet," [he] says.
…
Stevie Bathiche…whose title is "Distinguished Scientist/Director of Research, Applied Sciences Group,"…talks fast, but…not quite fast enough to keep up with his brain. … But it's already clear that Microsoft has brought fresh thinking to the desktop PC.

Can't we hear from someone who's used it for more than a minute? Mike "Penny Arcade" Krahulik has been beta-testing it for a week:
Just to be clear, I don't get paid to do any of this stuff.
…
The monitor is…absolutely gorgeous and only more amazing when you consider…that you get to draw on it. … Drawing on [my] $2500…Wacom Cintiq 27″HD…now felt like drawing on a piece of dirty plexiglass [on] a CRT monitor from 1997.
…
The feeling of drawing on the Studio's screen…feels wrong. Like you're going to get in trouble because you clearly are not supposed to drag a ****ing stylus across [it. But] it has gone from feeling naughty to just plain magical.
…
[It's] my dream computer. … A generational leap forward.
Buffer Overflow…
More great links from Petri, IT Unity, Thurrott and abroad:
And Finally…
Main image credit: Le Web (cc:by)