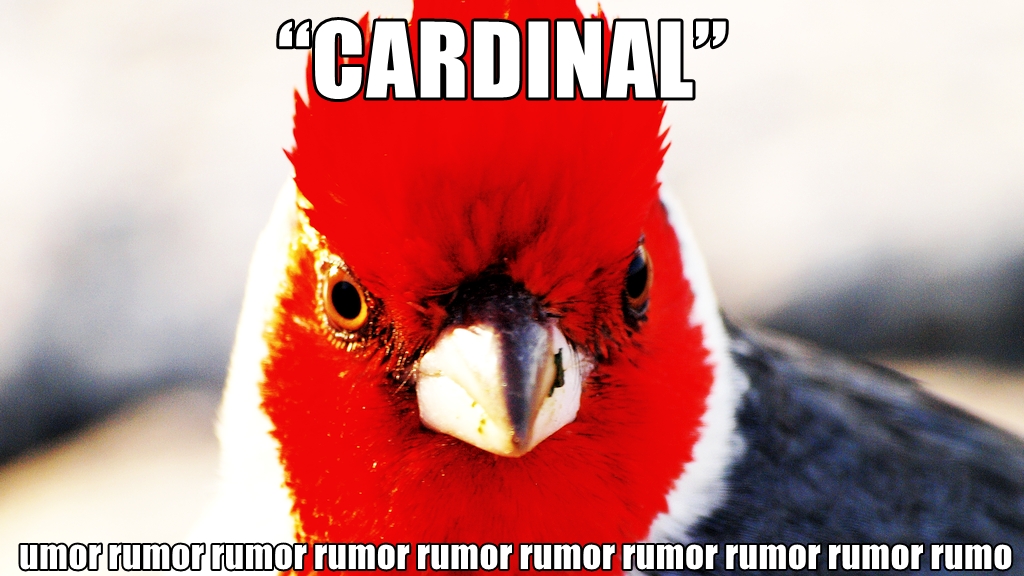 Microsoft is said to be launching a new Surface, codenamed Cardinal. The new device will be a one-box desktop PC—i.e., an all-in-one (AiO), as popularlized by Apple's iMac.
The avian-themed rumor seems credible and well-sourced. And an October hardware event would fit with Microsoft's previous form. But beyond that, everything is mere speculation. None of which stops us from some amusing Friday musing.
This should ruffle a few feathers. In today's IT Newspro, we go all in.
Your humble newswatcher curated these news nuggets for your entertainment. Not to mention: Holy holes…
What's the craic? Mary Jo Foley keeps her ear to the ground—Surface all-in-one PC said to headline October hardware launch:
I'm hearing [Microsoft] will take the wraps off a Surface-branded device…known as "Cardinal" [and] can turn your desk into "a studio." … ("Cardinal" is a codename…I'm betting.)
…
I've heard that Microsoft will also highlight a bunch of OEM devices. … One of my contacts said [the] launch day has its own codename…"Project Rio." … Microsoft, predictably, isn't…even acknowledging there will be such an event.

Are you intrigued? Mark Hachman is, concluding an All-in-one PC may lead a Microsoft hardware refresh:
October 26 might be the date. … Microsoft still appears to be preparing to launch a…trio of standalone PCs—possibly from 21 inches to 27 inches.
…
This would be Microsoft's first entry into the desktop class. … Is the PC market crying out for a Windows desktop?[But] I'd be intrigued by a monitor into which a Windows phone could be slipped.

So no new Pro 5 nor Book 2? Andy Weir lets it all flow over him: [You're fired -Ed.]
Those hoping for the Surface Book 2 and Surface Pro 5…look set to be disappointed. [But] Cardinal is said to be akin to…Microsoft's Surface Hub, its gigantic touchscreen…for workplace collaboration.

But what else is happening around that time? Paul Thurrott bemoans the poor timing—Possible Microsoft Fall Hardware Event:
The worst part of this news [is it's] rumored to be happening on October 26. That's the week Mary Jo and I are in Las Vegas for Dev Connections.
…
To be clear, I have no first-hand knowledge…nor have I ever heard from my own sources. [But] I've long argued for [a] desktop Surface.

Do you remember the original 30-inch Surface, from 2008? David Ramos does, and he admits to being excited:
I am admittedly excited as this AIO will be the closest fulfillment of the 'Surface' concept to date. The surface branding was originally meant to be… well a larger surface.

Will it be just a "Surface iMac," or something more? That's just ThatsJustHowISeeIt sees it:
Hope it is [an] all in one with a touchscreen display, plus digitizer, and battery for limited mobility within the home and office for presentations. I wish the Yoga Home came with a digitizer and a 4K display. If the Surface PC come with a large 4K screen, along with a battery, and digitizer with stylus, it would make for the ultimate work and home PC.

Any other smart suggestions for Microsoft? Niatona has this one:
If they put the power button, card reader, 3.5mm jack and some USB ports anywhere but the back of machine, then they'll have made an all in one ten times more desirable…than any iMac.

What else needs fixing? PJ Henry proffers a guess:
My guess is the Surface AiO will somehow make it easier to use a touchscreen on a PC. Until now, even if a PC comes with a touchscreen, it doesn't really get used, 'cause the form factor doesn't work with the human interaction (arm gets tired holding it up that long). My guess is this somehow easily swivels or something between a mouse/keyboard setup and a touch setup.

Argh! All this rumor and speculation is so frustrating. In slightly-sarcastic agreement, here's laluh:
Yes, it is unfortunate that Microsoft will not share details about an unannounced product…
Buffer Overflow
More great links from Petri, IT Unity, Thurrott and abroad:
And Finally
A Hole in a Hole in a Hole [plus extra holes]


Main image credit: Shanthanu Bhardwaj (cc:by-sa)