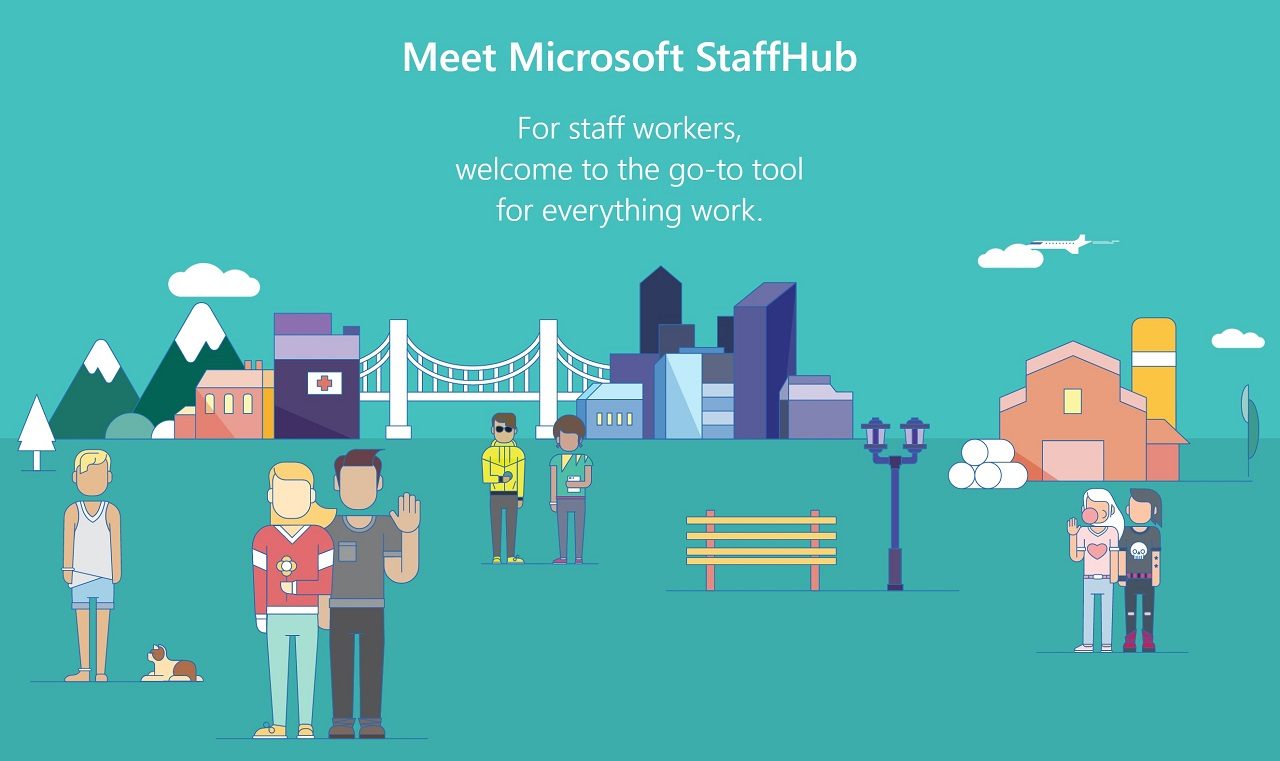 StaffHub Now Generally Available
After appearing in preview in September 2016, Microsoft has released StaffHub, a new Office 365 application, to all Office 365 tenants who have enterprise and education plans, including the kiosk plans.
According to Microsoft, "StaffHub is a cloud-based platform designed for employees whose job requires them to be on their feet or on the go. Examples include baristas, hair stylists, waiters, bus drivers, and so on. Microsoft StaffHub helps you create and manage work shifts, share files, and communicate important information with team members.
Brad Sams covered the StaffHub announcement yesterday. I want to look at what makes StaffHub tick.
[Author note: text updated on January 16 to reflect new knowledge about the relationship between Office 365 Groups and StaffHub]
StaffHub Portal
StaffHub is enabled by default for tenants, but tenant administrators can disable the application by going to the StaffHub Admin portal (Figure 1) and moving the switch to Off.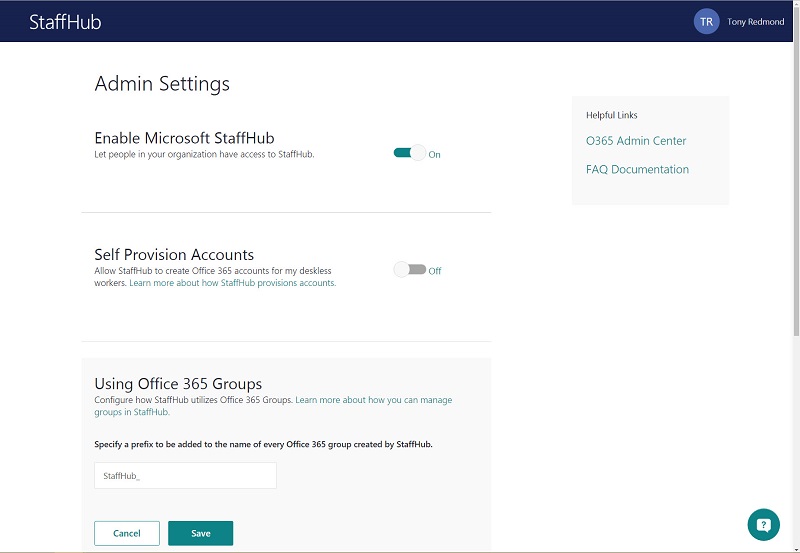 The Admin portal holds a section about Using Office 365 Groups. This is because Office 365 Groups provides a partial identity and membership service for StaffHub teams, which is different to the way that Groups interacts with other applications like Microsoft Teams and Planner.. And like those applications, the data created by StaffHub is not stored in Exchange or SharePoint. I assume StaffHub uses an Azure-based service for its data.
The relationship between StaffHub and Groups is different to that of Planner and Teams. StaffHub has a relationship with Groups while Planner and Teams depend on Groups. In other words, a StaffHub team can exist and work without the presence of an associated group. In this scenario, the team members can share a schedule and communicate with each other, but they cannot use the Files feature because that depends on SharePoint Online and the access granted through the group identity.
What all this means in practice is that any Office 365 user can create a StaffHub team, but only those permitted by the Azure Active Directory policy for Office 365 Groups to create new groups can create groups to allow StaffHub teams to use file sharing. The SharePoint Online team site for the group provides storage for the Files that StaffHub members access. The intention here is that Files should hold information such as training material or operational procedures that workers need at their fingertips. Only team managers can upload files to the document library.
If someone who is not allowed to create new groups sets up a StaffHub team, they will see the warning shown in Figure 2 any time they access the Files feature. The dependency on the AAD policy also means that if you have disabled Office 365 Groups for your tenant you must reenable the creation of groups before you can use groups with StaffHub.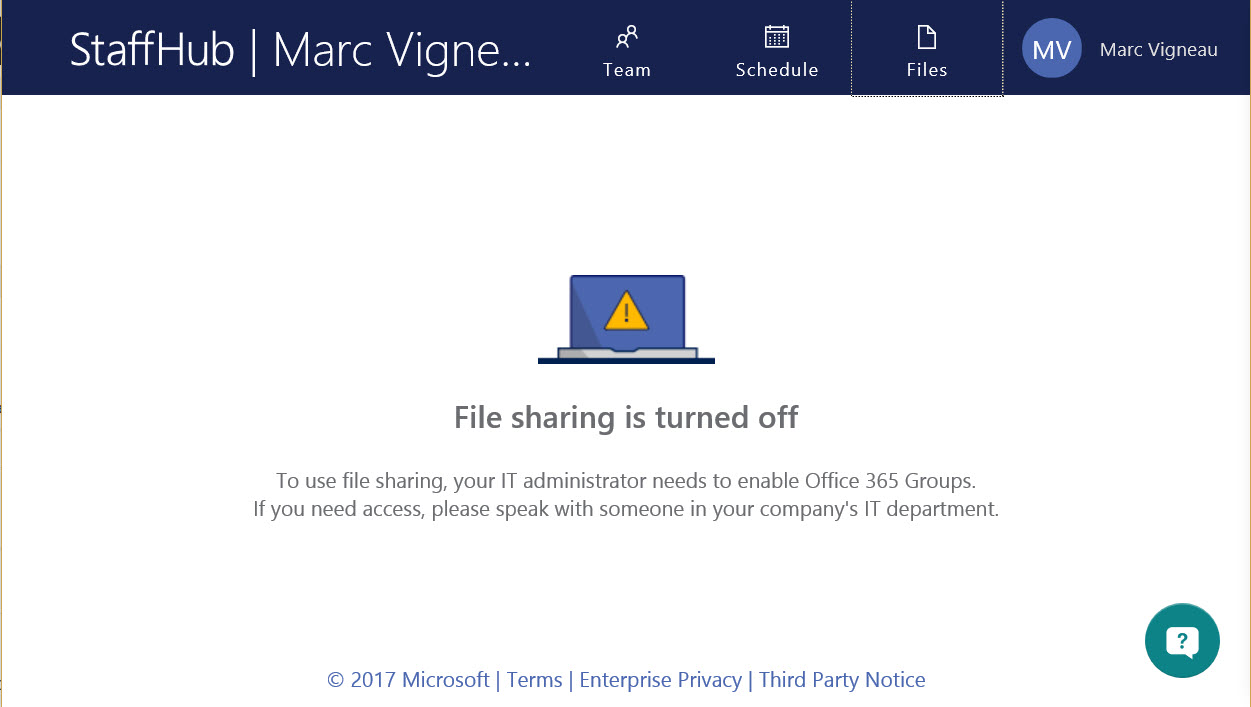 StaffHub teams linked with Office 365 groups can access all the resources typically provisioned for a group. Users receive welcome messages to the group when they join a StaffHub team, perhaps to encourage the workers to use the collaborative features available to the group. Although the group mailbox includes a shared calendar, StaffHub does not store schedule information.
Account Provisioning
Anyone who wants to use StaffHub must have an Office 365 license. To help workers join Office 365, the admin portal offers the ability to self-provision accounts. This means that workers who join a team are automatically given an Office 365 account (which must be licensed). Office 365 adds the self-provisioned accounts to a DesklessWorkers security group to allow administrators keep track of license allocation (and cost).
Using StaffHub
StaffHub teams split into managers and users. Managers, who are owners of the Office 365 group, have read-write access to create and publish schedules for their teams through a browser app. Users can only read schedules and cannot update them without manager intervention. Once managers make changes to schedules like adding new shifts or accepting requests for time off, workers receive relevant updates that affect their schedule. The online schedule for a team is always up-to-date, a major advantage over traditional paper-based schedules.
The browser interface is very easy to use and obvious in its intent. Figure 3 shows how I used it to set up a writing schedule for a team of authors, all of whom will promptly ignore my attempt to organize their activities. As you can see, you can include different types of work in a schedule, which can use different colors to show various activities like time off. StaffHub refers to the different sets of workers as "groups" (note to self: Office 365 has too many kinds of group, couldn't Microsoft have found another word?).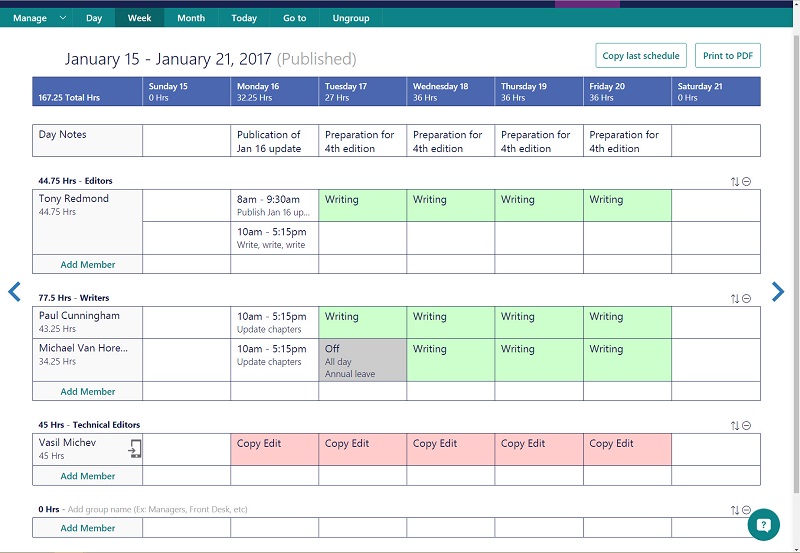 A manager can set up multiple teams (groups), each of which spans a different set of employees. Employees can belong to different teams too and the browser and mobile apps allow easy switching between teams.
The online documentation for StaffHub is sometimes confusing when it comes to groups. You must remember that when the documentation refers to a group, it means a section of a team. A reference to an Office 365 group means the underlying group infrastructure that supports StaffHub. It's all as clear as mud.
Mobile Workers
While managers use the browser to set up schedules, the expectation is that workers consume published schedules and interact with each other through mobile clients. After all, the target is people who are "deskless workers", so they don't have PCs. However, a team member can sign into StaffHub with a browser, in which case they have read-only access to their schedules.
When you add a user to a team, you add their mobile phone number to allow StaffHub to send a text message with a link to download the mobile app. Users must have unique phone numbers. A verification code also goes to the phone to confirm that the person has been invited to join a team and, if necessary, to create a self-provisioned account in the tenant. If self-provisioning is not enabled, accounts must be created for workers before they can sign in to the account.
The mobile app is available for iOS and Android. In a sign of the times, there's no trace of the app for Windows 10 Mobile. A quick run through the mobile app for iOS (Figure 4) revealed no immediate problems. Everything worked as expected. Users can see their schedule and communicate with co-workers and managers via a chat-like interface that is based on Teams. Video and voice chats are not supported and StaffHub teams don't show up in the Teams application.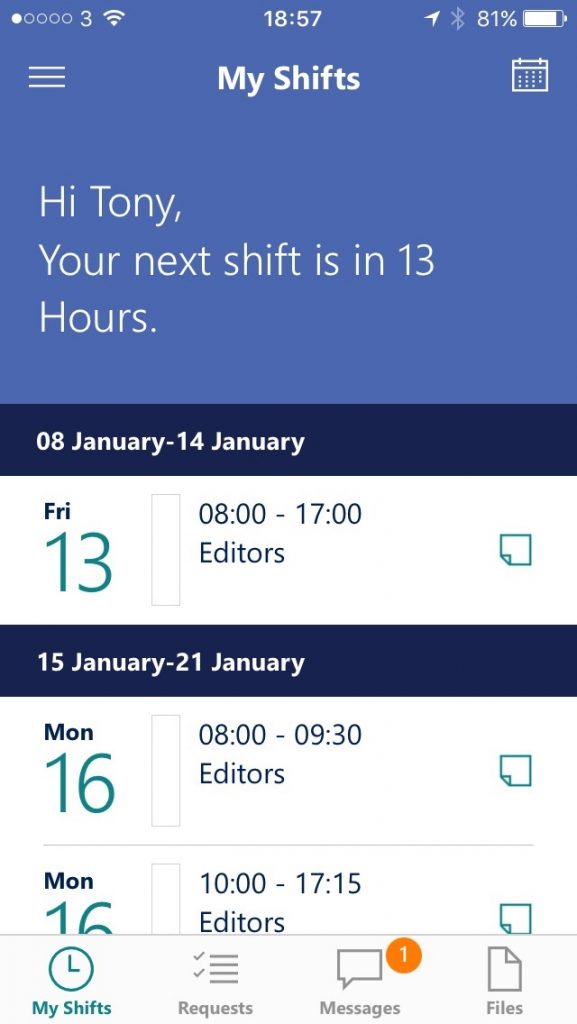 Apart from providing access to schedules, the application allows users to create vacation requests that flow to managers for approval. They can also ask to swap a scheduled shift with another worker, which also needs management approval.
Some Rough Edges
Although StaffHub is a reasonably straightforward application, I see some rough edges. The biggest (and dangerous) rough edge is buried in the Settings section of a manager's dashboard (click Team, then Settings), where the Delete team option lurks. Deleting a team deletes the schedules associated with the team. Although StaffHub issues a warning when a manager deletes a team (Figure 5), there's always the potential for that Delete button to be pressed in error.

Microsoft does not have a good track record with the deletion of data belonging to many Office 365 applications. Teams, Planner, StaffHub, and Office 365 Groups all share the common problem that no soft-delete capability exists to allow administrators to recover information should a mistake occur. Microsoft has long promised to provide Groups with a soft-delete capability and committed to do so again at the Ignite conference, but there's no sign of it on the horizon.
A minor glitch is that the groups created by StaffHub appear in the Exchange Online GAL and are public rather than private. This means that users can find the groups through OWA, Outlook, or the Outlook Groups mobile app and join them.
Joining a group in this manner doesn't make a user appear as a team member, which is interesting. In fact, it seems like an extra step is necessary before a worker is added to the group membership  in that they must use the mobile app to connect to StaffHub. However, users who join the group through another client do gain access to Files uploaded by the StaffHub manager.
Microsoft avoided the issue of non-members trying to gain access with Teams by making these groups private, so I don't know why StaffHub groups are public. Using PowerShell to update group properties to hide them and make them private does not appear to interfere with how StaffHub works. Here is what I did:
[PS] C:\> Set-UnifiedGroup -Identity "StaffHub Team" -HiddenFromAddressListsEnabled $True -AccessType
I also don't understand the instruction to "give managers permissions to "send as" the Office 365 group." This does not seem to make sense as no need exists for a manager to impersonate the group in terms of email. All the messages exchanged within a team are chats rather than sent using Exchange.
The lack of PowerShell support for StaffHub management is another omission that I could complain about, but I won't here.
The Guts of StaffHub
Microsoft has not shared information about how they have put StaffHub together. As far as I can tell, the following Office 365 components are combined into StaffHub:
Azure Active Directory group object.
Office 365 Groups to allow access to a SharePoint team site.
An unused Exchange Online group mailbox.
Chat service similar to that found in Microsoft Teams
Azure data service to hold team schedules.
As such, StaffHub is yet another example of how Microsoft uses Office 365 as the "universal toolkit" referred to by Satya Nadella after the announcement of Microsoft Teams (Figure 5). It's pretty impressive to see how Microsoft plunges into the toolkit and comes up with new applications like Teams, Planner, and now StaffHub, and it certainly contributes to their ability to hold off Google in the struggle for cloud application suite supremacy.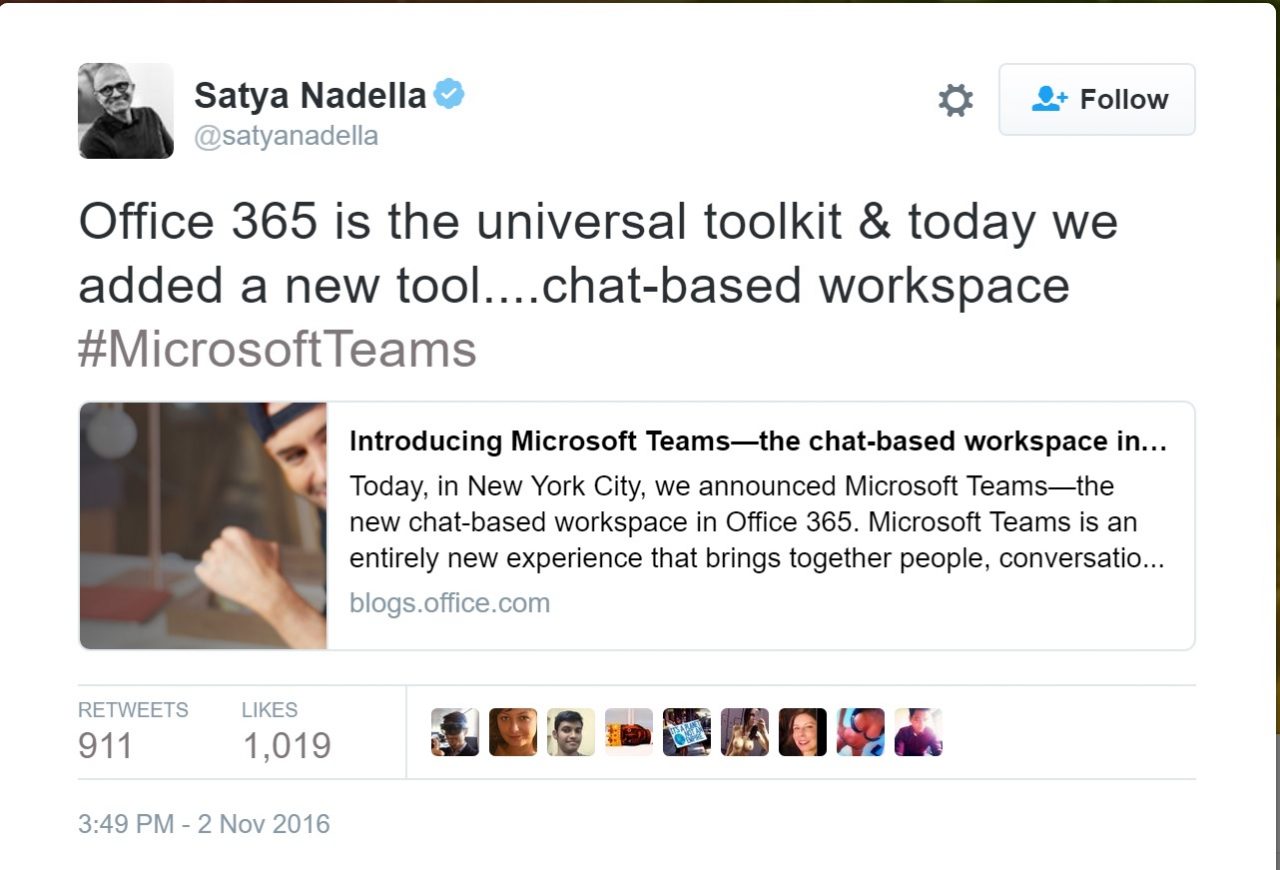 Managing the Masses
Although I admire how Microsoft has created StaffHub, I wonder just how many tenants will use it. After all, not every company employs the kind of shift-based deskless worker that Microsoft is targeting. However, even if the overall percentage is low, the sheer size of Office 365 and the diversity of organizations that use the service means that the number is likely to be in the tens of thousands. That would be enough to make any other software company to be happy with their success.
As for me, I think I will go back to other methods to manage my writing team. Threats of violence usually get action from the team. Maybe I'll use that again.
Follow Tony on Twitter @12Knocksinna.
Want to know more about how to manage Office 365? Find what you need to know in "Office 365 for IT Pros", the most comprehensive eBook covering all aspects of Office 365. Available in PDF and EPUB formats (suitable for iBooks) or for Amazon Kindle.