Microsoft has decided to unbundle Microsoft Teams with its Office software. According to a report from the Financial Times, this move could potentially help to avoid an formal antitrust investigation by EU regulators.
Slack lodged an anticompetition complaint against Microsoft with the European Commission (EC) back in July 2020. The company argued that Microsoft "illegally" includes the Microsoft Teams app with its popular Office productivity suite. Slack claimed that Microsoft abused its market dominance to force millions of users to install Teams, without providing a way to remove it.
"Microsoft is reverting to past behavior. They created a weak, copycat product and tied it to their dominant Office product, force installing it and blocking its removal, a carbon copy of their illegal behavior during the 'browser wars.' Slack is asking the European Commission to take swift action to ensure Microsoft cannot continue to illegally leverage its power from one market to another by bundling or tying products," explained David Schellhase, General Counsel at Slack.
Microsoft Teams to become optional for customers in the EU
Microsoft will now reportedly allow organizations to choose to buy Microsoft Office with or without Teams. However, it's not clear yet how the company plans to go ahead with its plans, and the matter is still under discussion. It's possible that Microsoft could sell a special version of Office for customers based in the European Union.
Microsoft did not confirm the report, but the company acknowledged that discussions are still ongoing. Microsoft said that it's open to solutions to address antitrust concerns from the European Commission. "We are mindful of our responsibilities in the EU as a major technology company. We continue to engage cooperatively with the commission in its investigation and are open to pragmatic solutions that address its concerns and serve customers well," Microsoft explained.
Microsoft Teams vs. Slack competition
The rivalry between Microsoft Teams and Slack has been intense over the past few years. It's important to note that both companies benefited from the spike in remote working during the COVID-19 pandemic. Interestingly, Microsoft Teams has outpaced Slack in terms of user adoption. Earlier this year, Microsoft said that Teams crossed 280 million active users. However, Slack had 10 million daily active users back in 2019.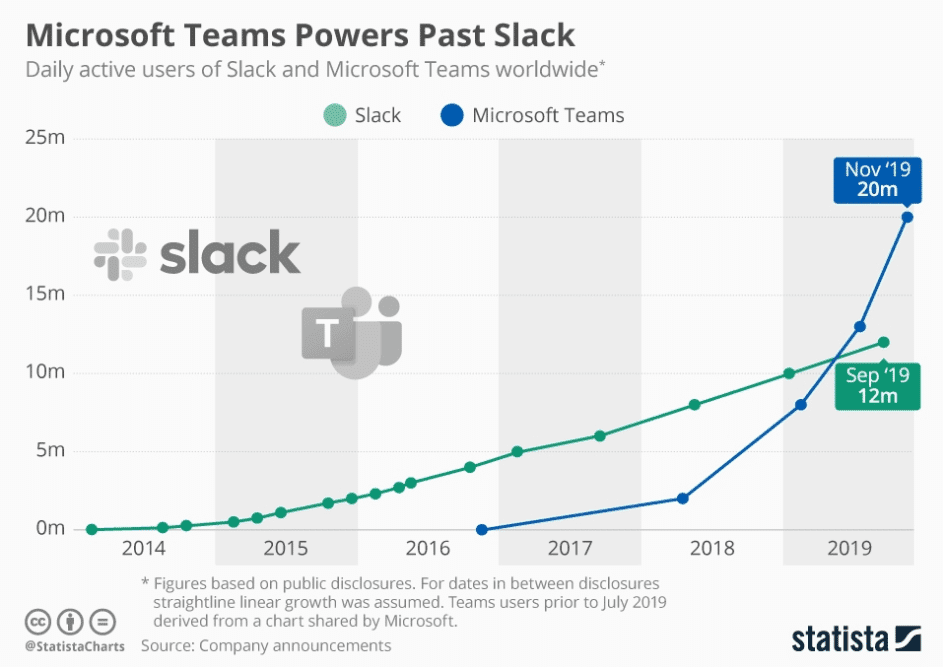 Slack claims that Microsoft Teams has an advantage of seamless integration with Microsoft Office products. However, it remains to be seen if the decision to stop bundling Microsoft Teams with Office will help to avoid allegations about Microsoft's anticompetitive practices.