Key Takeaways:

Microsoft is expanding its Microsoft Security Copilot through the Early Access Program, leveraging OpenAI's GPT-4 AI capabilities to enhance threat response.
The Security Copilot empowers cybersecurity teams with natural language commands to analyze vulnerabilities, URLs, and code snippets.
New features include integration with Microsoft 365 Defender to provide real-time malware analysis.
Microsoft is taking cybersecurity to the next level with its expansion of Microsoft Security Copilot. The company has launched the Security Copilot Early Access Program, allowing cybersecurity professionals to detect potential threats, assess risk exposure, and fortify their defences against security breaches.
What is Microsoft Security Copilot?
Microsoft Security Copilot launched in private preview back in March this year. The new AI-based chat tool is designed to help cybersecurity professionals better understand potential threats and assess risk exposure to prevent security breaches. Security teams can use natural language commands to ask questions about their environments. For instance, the service can summarise a specific vulnerability, URLs, and code snippets for analysis.
Under the hood, Security Copilot is designed to ingest the 65 billion signals Microsoft collects every day to help hunt down sophisticated threats. The AI-based tool also integrates with other products, including Microsoft Sentinel and Microsoft Defender.
Microsoft Security Copilot Early Access Program
Since March, Microsoft has been testing its new Security Copilot with various enterprise customers. Based on customer feedback, the service will move from limited testing to a broader customer base through a Microsoft Security Copilot Early Access Program.
"Security Copilot is already helping our preview customers save up to 40 percent of their time on core security operations tasks with capabilities such as writing complex queries based only on natural language questions and summarizing security incidents. Security Copilot can effectively up-skill a security team, regardless of its expertise, save them time, enable them to find what previously they might have missed, and free them to focus on the most impactful projects," said Vasu Jakkal, CVP of Security, Compliance, Identity, and Management.
New Microsoft Security Copilot capabilities
Microsoft has also announced a couple of new features in addition to the existing capabilities available for enterprise customers. Microsoft 365 Defender is getting a new Security Copilot integration, allowing customers to summarize security incidents with a single click and quickly respond to emerging threats. It's also possible to perform real-time malware analysis and use natural language queries to ask questions about security threats and cyberattack techniques.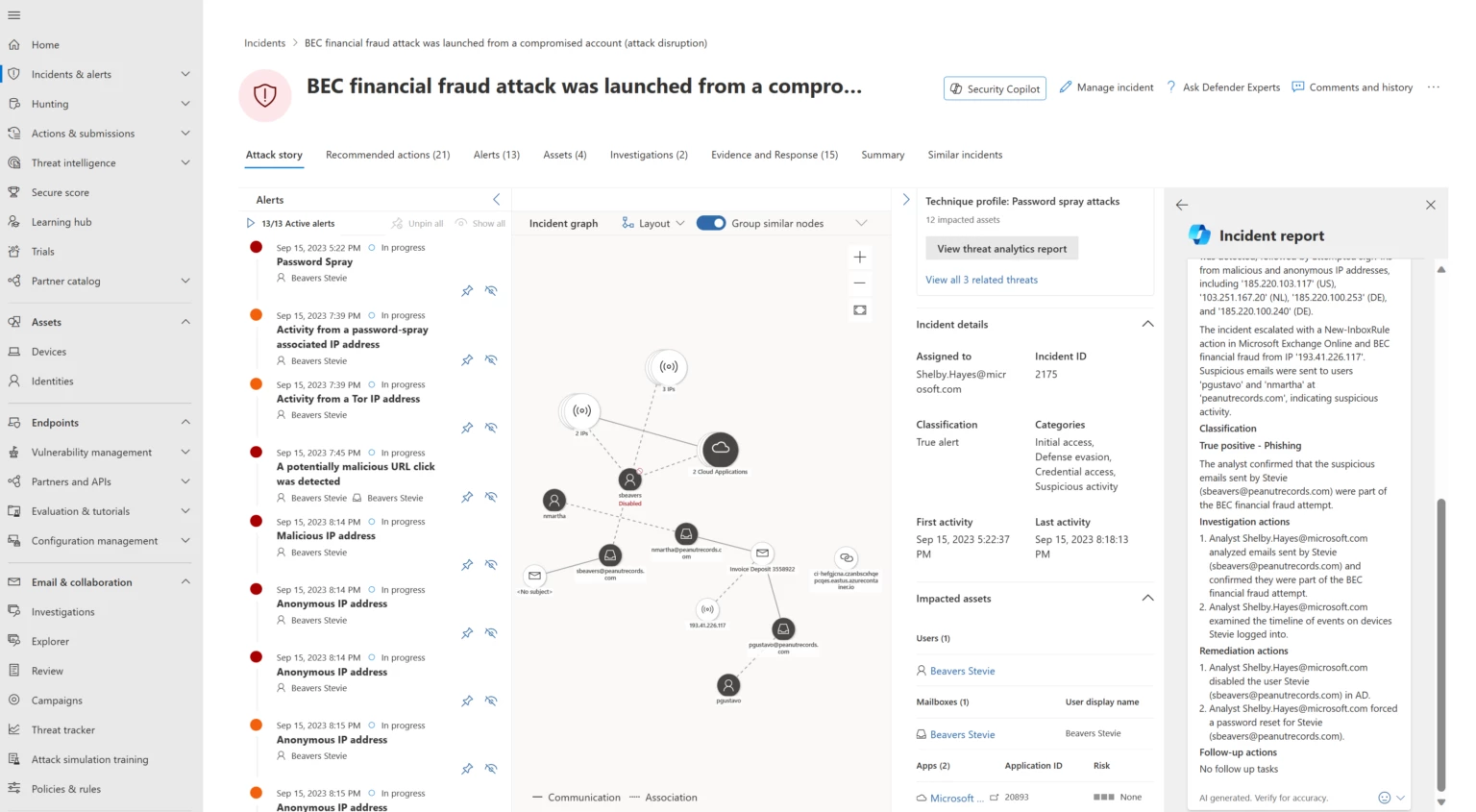 Additionally, Microsoft Defender Threat Intelligence is available for all Security Copilot customers at no additional cost. This new capability should help security professionals to speed up the threat detection and remediation process.
Microsoft has yet to announce when its Security Copilot will become generally available for all commercial customers. The company encourages organizations to get in touch with their sales representative to learn more about the eligibility criteria.