Microsoft Reveals Office 365 Roadmap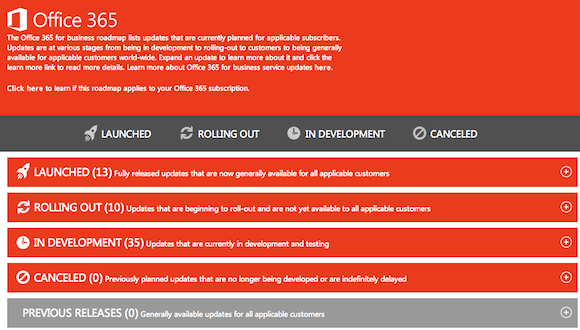 Microsoft has released an online roadmap for Office 365 which gives a clear view of Office 365's development. The document shows all the features launched, being rolled out (but not yet available for all), in development, cancelled (features no longer in the queue or delayed indefinitely), and previous releases.
Microsoft Office 365 for Business Roadmap
The Office 365 online roadmap makes it simple to see at-a-glance features so you can easily keep up to date with Microsoft's cloud-based collaborative environment solutions for your enterprise.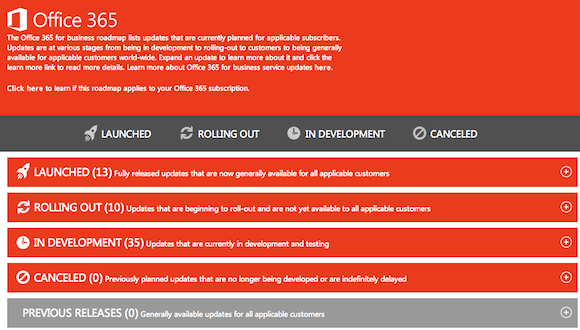 Microsoft's Office 365 roadmap should help you keep up to date on what new Office 365 features are being deployed or in the development phase. (Source: Microsoft)
I looked through the list of features that are rolling out or in development. Here is a list of my favorites.
Office 365 Features Rolling Out
MAPI over HTTP for Outlook 2013 and Exchange Online
This feature has already been released to Exchange 2013 on-premise users with the release of SP1.  It's a new transport option for connecting Outlook with Exchange, or Exchange Online through Office 365, designed to provide more robust connectivity. It's meant as a replacement for RPC over HTTP connectivity (aka Outlook Anywhere) which is long overdue for a replacement. RPC is, at this point, ancient.
Office 365 Features In Development
Clutter for Outlook Web App
This is feature will help distinguish between lower and higher priority email. It's different from a junk mail filter but rather looks at your 'legitimate' (non-spam) email as having levels of priority or importance based on your own actions. Items that are considered lower priority or 'clutter' are moved into another location for easier access to high priority mail.
Oslo and Office Graph
Oslo is the new search and discover feature for the Office 365 environment. It pulls in content to you based on an individual user's actions observed over time by the system. It is watching you and gaining insights which it uses to provide a Pinterest-like view of your information.
Office Graph is the underlying technology that helps make Oslo and Clutter possible.
Office 365 Video
Office 365 Video offers the ability to upload and share video content through your Office 365 portal solution. This feature is particularly interesting because you will be able to have your own in-house YouTube-like video sharing solution. There is a social side to this that might make some admins leery, depending on company culture. For me, those concerns are outweighed by the educational benefits for persons within organizations.
It's great to have the ability to see what's coming down the wire from Microsoft with regard to Office 365.  It was once said that, from an on-premise admin's perspective, you could see what was coming next to your on-premise environment by looking at what was being developing in the cloud. That isn't quite accurate any longer as these features require more and more cloud-compute power and very specialized configurations that simply don't seem to be feasible from a support perspective.
Some say that all solutions and features should be made available for on-premise and let the admins decide if they can or cannot support it. That's a debate for another day and for another post.