Update 2: Oct 16, 2014 – 1:00pm MT – Microsoft has combined most of their tech conferences under the Microsoft Ignite banner, with the first conference slated for May 4-8, 2015 in Chicago, IL, USA. See this updated Microsoft Ignite post for details.
Update 1: July 21, 2014 – 5:10 PM MT – A Microsoft spokesperson provided the following when asked for clarification of ambiguous and conflicting statements about the new conference made my various Microsoft employees:
"Microsoft is bringing its events together to better serve its communities and optimize for greater audience relevance and impact. This change only affects events scheduled in calendar year 2015. This year, TechEd Europe in Barcelona 28-31 October, will proceed as planned. You can find all relevant information in Takeshi Numoto's blog post. We'll share additional details, including the official event name, in the coming months."
The spokesperson also said she "…can't confirm specifics on whether the event in May 2015 will be called 'TechEd' but I'll have more to share on the naming in the coming months."
Original post below.
After several months of silence on the status of  Microsoft TechEd 2015, a post by Microsoft events Technical Evangelist Denise Begley on Microsoft's Channel 9 confirmed that Microsoft TechEd will be replaced by Microsoft's Unified Technology Event for Enterprises, a new Microsoft technology conferenced which has become informally referred to as MUTEE since the announcement.
Microsoft Replaces TechEd with Unified Technology Event for Enterprises
The news was also confirmed by an official post on the Microsoft Office blog by Office Division General Manager Julia White, who also indicated that the new conference — scheduled for May 4-8, 2015 in Chicago, IL — would replace the following existing Microsoft conferences and events:
Microsoft TechEd
Microsoft SharePoint Conference
Microsoft Exchange Conference
Microsoft Lync Conference
Microsoft Project Conference
Microsoft already folded the Microsoft Management Summit into Microsoft TechEd 2014, following a few years of rumors that indicated the two conferences would be merged together.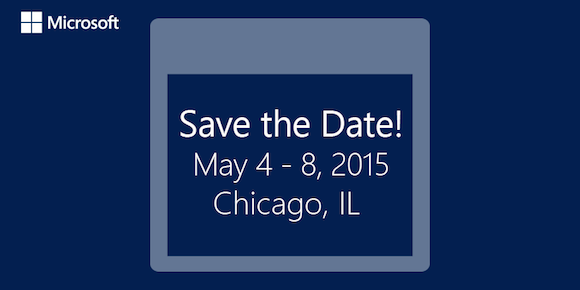 Long Live TechEd: Microsoft replaces their premier IT conference for IT professionals with Microsoft's Unified Technology Event for Enterprises, or "MUTEE." (Image: Microsoft) 
Conference Consolidation Dividends
The move makes obvious sense from a logistical point of view, as the expense and complexity of managing nearly a half-dozen major technology conferences dedicated to Microsoft products and services every year was undoubtedly taxing for the Microsoft events team. It also made choosing which events to attend for IT professionals more problematic, as spreading limited travel budgets across multiple events meant that many IT pros were only getting limited exposure to Microsoft's holistic enterprise computing message.
Merging the conferences also makes sense from a public relations and awareness perspective, as Microsoft's current disparate conference efforts result in many conferences with attendee figures in the 5,000 to 10,000 range, which looks anemic when individually  compared to the 22,000+ attendees that VMware's VMworld boasted in 2013.
BUILD and the Worlwide Partner Conference
So where does this consolidation of the aforementioned conference leave the other two key Microsoft events, BUILD and the Worldwide Partner Conference (WPC)? According to ZDNet's Mary Jo Foley, BUILD and WPC should remain unaffected by the consolidation, and should continue on as separate conferences serving the needs of developers and Microsoft partners, respectively.
So what do you think of Microsoft's decision to kill TechEd and replace it with the new Microsoft Unified Technology Event for Enterprises, aka MUTEE? I'd love to compile reader feedback on the topic for a future post, so please send me an email with your thoughts on the change, or you can also contact me on Twitter or Google+. You can also catch up on my posts in the Petri IT Knowledgebase forums.