Microsoft pushes Bing, Skype and Office 365 in the classroom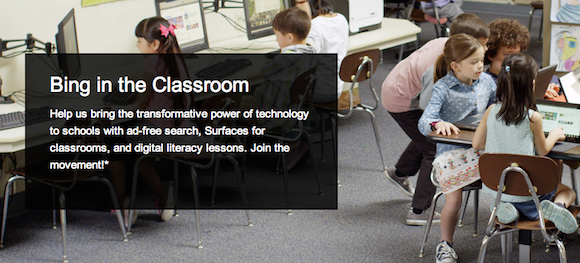 Although my primary focus as a journalist and technical consultant revolves around the enterprise IT space, sometimes my work brings me into the realm of IT in education as well. I'm a huge proponent for working with schools and helping our young people learn more about technology. This week I'll be speaking about the switch from on-premise infrastructure to the cloud at the Media & Technology Vendor Showcase for Hillsborough County School Systems (@HillsboroughFL) in Tampa, Florida, which is the seventh largest school system in the nation. It got me thinking: "What, besides student discounts, is Microsoft doing to assist young people with technology and online safety?"
Bing in the Classroom
A quick search returned information on program called Bing in the Classroom. Search engine wars aside, what I liked about this endeavor is that it provides an ad-free, private search options for all K-12 public and private schools in the US. I think that's brilliant.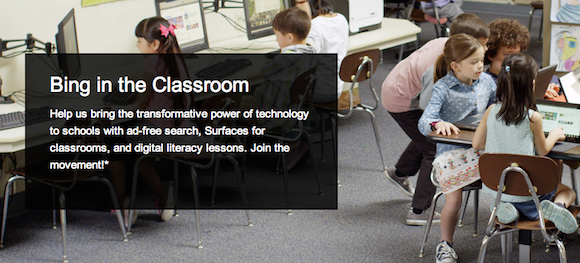 Bing in the Classroom offers an ad-free search options for schools.(Image: Microsoft)
It's a free service, where you simply register and your school network will be ad-free. In addition to ad filtering, Bing in the Classroom features automatic SafeSearch with strict filtering to assist with filtering out adult content (although I think a secondary method like OpenDNS or perhaps a web filter appliance, like iBoss, is essential as well). Enhanced privacy settings are also enforced so that students can search privately without that search data being used for ad profiling.
Beyond the ad-free browsing, Microsoft puts a great deal of effort into assisting with education as well. These include daily lesson plans for the classroom or home. From the Microsoft Educator Network, you can find over 750 lessons plans and templates for your children or students to benefit from. I checked through a few of these and they are awesome. Great for teachers who might just need a bit of a boost to their curriculum to help engage their students a bit further.
Skype in the Classroom
Another initiative Microsoft is promoting is the use of Skype in the Classroom. I thought there were some ideas here that could really benefit young people all over the world. For example, they encourage teachers to find and chat with experts in the fields of science, and so forth. Rather than bringing your class to them, which is sometimes impossible, you bring them right into your class! One fun example of this is the recent Fabien Cousteau's 31-day underwater adventure that students were able to tie into and hear from the underwater team.
Another aspect of the Educator Network includes a ton of free tools for teachers to use. I started playing around with some of these and found a variety of tools that might even be helpful for business presentations. One example is ChronoZoom, a tool that helps put historical events in perspective.
Released under the Microsoft Educator Network program, ChronoZoom puts historical events in visual perspective. (Video: West Virginia Dept. of Education) 
Office 365 for Education
Last but not least, there is Office 365 for Education. Microsoft has made it a point to offer free Office 365 solutions for both faculty and staff. It's easy to see how having email, IM, calendar, Lync video conferencing, cloud-based document storage and so forth would be incredibly beneficial for schools.
In the business world, most philanthropic acts have additional motives and certainly one would appreciate that the more young people using Microsoft tools in school the more adults will be comfortable with and rely on Microsoft tools in the next-gen workforce, but critical-eye skepticism aside, it's fantastic to have organizations as large as Microsoft providing these kinds of tools and learning resources for young audiences.
In addition to helping them stay on the cutting edge of technology, an essential key to being competitive in a globalized job market, it's also great to see built-in protective features to keep young minds safe from the nastier side to what the Internet has to offer.