Updated – Feb 4, 2014 [3:00pm MT]: Embedded a video interview with Nadella (conducted by a Microsoft employee) at the end of the post.
Earlier this morning Microsoft announced that current Cloud and Enterprise Vice President Satya Nadella has been named as the new CEO (and board member) of the company. Nadella replaces Steve Ballmer as Microsoft's chief executive, and ends the lengthy search for a CEO that began more than 5 months ago. Nadella becomes only the third Microsoft CEO — after Bill Gates and Steve Ballmer — since Microsoft was founded in 1975.
In a press statement announcing the news, former Microsoft co-founder and CEO Bill Gates stressed Nadella's credentials and expertise. "During this time of transformation, there is no better person to lead Microsoft than Satya Nadella," Gates said. "Satya is a proven leader with hard-core engineering skills, business vision and the ability to bring people together. His vision for how technology will be used and experienced around the world is exactly what Microsoft needs as the company enters its next chapter of expanded product innovation and growth."
Speaking of Bill Gates, Microsoft also announced in the same release that Gates "…will assume a new role on the Board as Founder and Technology Advisor, and will devote more time to the company, supporting Nadella in shaping technology and product direction." That move should pacify critics that have argued that Microsoft needs more of a technical visionary like Gates to guide the company, rather than the hard-charging, more sales and operations-focused Ballmer.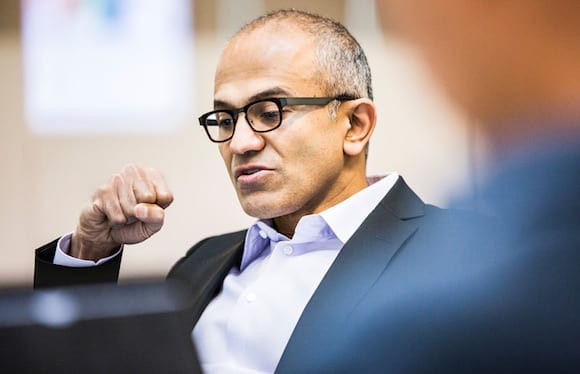 Meet Microsoft's new CEO: Satya Nadella (photo: Microsoft)
Nadella joined Microsoft in 1992 as a Program Manager in the Developer Relations group for Microsoft Windows. Since that time Nadella has worked in many roles at Microsoft, including in product development, marketing, and management positions. Some Microsoft career highlights included his tenure as Vice President of the Microsoft Business Division, and his role as Senior Vice President of Research and Development for Microsoft's Online Services Division, which includes Bing, Azure, and other web and cloud services. Most recently Nadella was Executive Vice President of Microsoft's Cloud and Enterprise group, which has posted impressive gains over the last few years, and contributed significantly to Microsoft's impressive fiscal Q2 2014 revenues.
I attended a press conference at the Yammer offices in October 2013 (see 'Microsoft Touts Fall Enterprise Push, Unveils Remote Desktop Apps for iOS and Android') at which Nadella spoke and politely deflected questions from the journalists in attendance about the Microsoft CEO search. I suggested then that overlooking the impressive Nadella in lieu of "…flashier, higher-profile candidates rumored to be in the running like Ford CEO Alan Mulally and former VMware CEO Paul Maritz…" would be a mistake.
Time will tell if my hunch was an accurate one, and if Nadella is indeed up for the task of making Microsoft a more effective competitor in many of the areas in which the company has lost (or struggled to gain) ground, including the booming markets for smartphones and tablets, which are both clearly being dominated by Apple's iOS and Google's Android mobile operating systems. Microsoft's Surface tablets have struggled in the marketplace, and even Microsoft's new Xbox One  game console has fallen into second place behind the arguably more powerful (and better-selling) Sony PlayStation 4. And let's not forget the lackluster adoption of Windows 8, which has struggled to find an audience with both consumers and enterprises alike.
It seems that Nadella will definitely have a lot of work on his plate in the months and years to come. So what do you think of the appointment of Nadella as Microsoft's newest CEO? Drop me an email with your thoughts on if you think Nadella can turn Microsoft's fortunes around in the tablet, smartphone, and consumer OS markets.