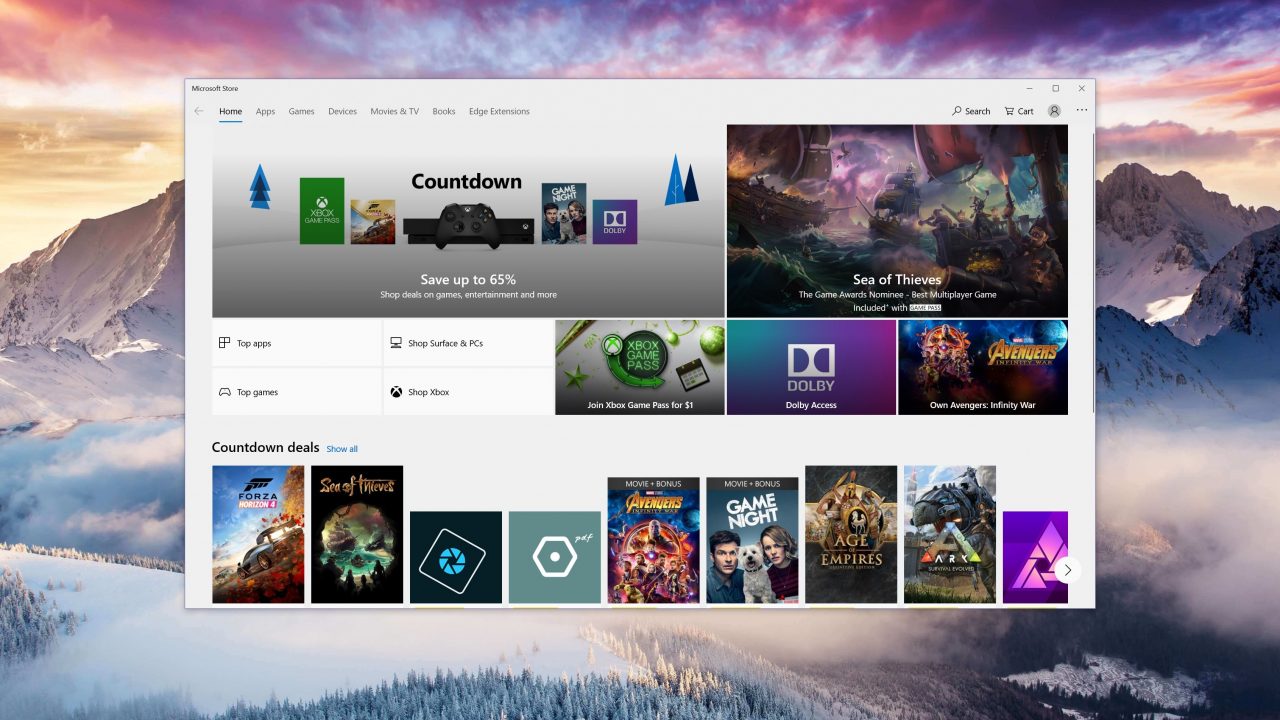 Back in the spring of 2018, Microsoft published a blog post saying that the company would soon be more generous with its revenue share in the Microsoft store. At the time, the company said that the Microsoft Store will soon give developers 95% of the revenue earned from some purchases and that this update would arrive in 2018.
Seeing as today is the first day of 2019, the new pricing model has yet to be implemented; the company failed to live up to its promise to be more generous with its app store.
According to the post, the Microsoft Store Team said they will split revenue 85%/15% for some sales of non-games and up to 95%/5% for deep link sales but as of today, this payment model has not rolled out to developers. The specific payment model language is pasted below:
Starting later this year, consumer applications (not including games) sold in Microsoft Store will deliver to developers 95% of the revenue earned from the purchase of your application or any in-app products in your application, when a customer uses a deep link to get to and purchase your application. When Microsoft delivers you a customer through any other method, such as in a collection on Microsoft Store or any other owned Microsoft properties, and purchases your application, you will receive 85% of the revenue earned from the purchase of your application or any in-app products in your application…

Later this year (2018). We'll prompt you to accept a new version of the App Developer Agreement that outlines the Microsoft Store fee structure in detail. The new fee structure will apply to purchases made after the date listed in the App Developer Agreement.
Emphasis is mine; I asked about a dozen developers on Twitter to see if they have received an updated agreement or an updated pricing model notification from Microsoft with not a single person saying they have received a notification. I asked developers of both premium, non-premium apps, and even Windows Phone apps; zero of those who have premium apps in the store have reported receiving the updated pricing model.
At the time of this posting, those who earned revenue in December of 2018, are showing payouts of 70%, which is the previous model that the company was using as a revenue split with developers.
The wording of Microsoft's post is a bit tricking as they say only deep links will get the 95/5 rev share or links from Microsoft promotions for 85/15. So it could be possible that every developer I talked to had not been deep linking to their own apps for sales (unlikely) or not included in a Microsoft promotion like a collection (more likely). But, before this rev share was going to roll-out, a new agreement was to be distributed and signed.
Microsoft stated:
Later this year (2018). We'll prompt you to accept a new version of the App Developer Agreement
As of the writing of this post, the latest version of the developer agreement does not mention this new model and only refers to the older revenue split option. The last update to the developer agreement was released on May 23rd, 2018 but does not contain the updates noted in the blog post. Further, developers I spoke with have stated that they have not received a new developer agreement with the updated terms.
I reached out to Microsoft for a comment and will update this post when I hear back. But seeing as this is a holiday and many people are on vacation the entire week, I don't expect a quick response. [Update] Statement from the company posted below:
"We have been working on delivering on changes to our current Microsoft Store fee structure, but need a bit more time to get it right. Visit this page for current details and to sign up for notifications when the new fee structure goes into effect."
When Microsoft made this announcement, it was regarded as a big win for developers as it would provide increased incentives to bring apps to the Microsoft store. But, seeing as the company has failed to live up to its promise, it erodes the confidence for building on the Microsoft's platforms and earning a paycheck using the Microsoft store.