Today, Microsoft Designer goes into public preview and it adds new A.I. features. Like Canva, Designer offers a collection of templates and elements like graphics, photos, and video so that you can easily create eye-catching content for your social media channels.
What is Microsoft Designer?
Essentially a clone of popular graphic design tool Canva, Microsoft Designer brings drag-and-drop design features allowing you to quickly create designs for social media content, like Instagram posts and Facebook ads. Microsoft Designer was originally announced at the Ignite conference in October 2022.
Use Microsoft Designer to create visuals and social media posts using A.I.
One key difference with Canva is that the free version of Microsoft Designer lets you create graphics using a natural language model driven by Artificial Intelligence. For example, you could ask it to draw a YouTube thumbnail for a video about Microsoft Designer. If you don't like the results, you can give the A.I. more context and slowly have it refine the design for you.
It's worth noting that natural language generative A.I. could become a premium feature when Designer is made generally available.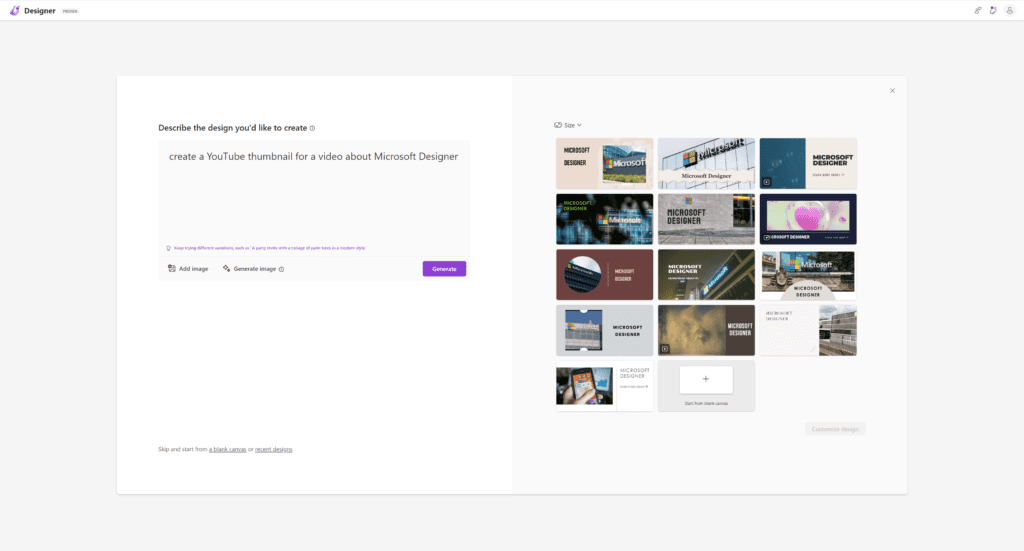 If you would prefer to get started without the help of A.I., you can work with a blank canvas from where you can drag elements, such as photos and illustrated graphics, to build your perfect design.
Microsoft Designer AI generates captions, hashtags, and copy also part of the deal
A.I. isn't just used in the visuals. Microsoft has also included tools that harness A.I. to help you quickly generate captions, hashtags, headlines, and other text for your social media posts. It can even go as far as to suggest which fonts to use.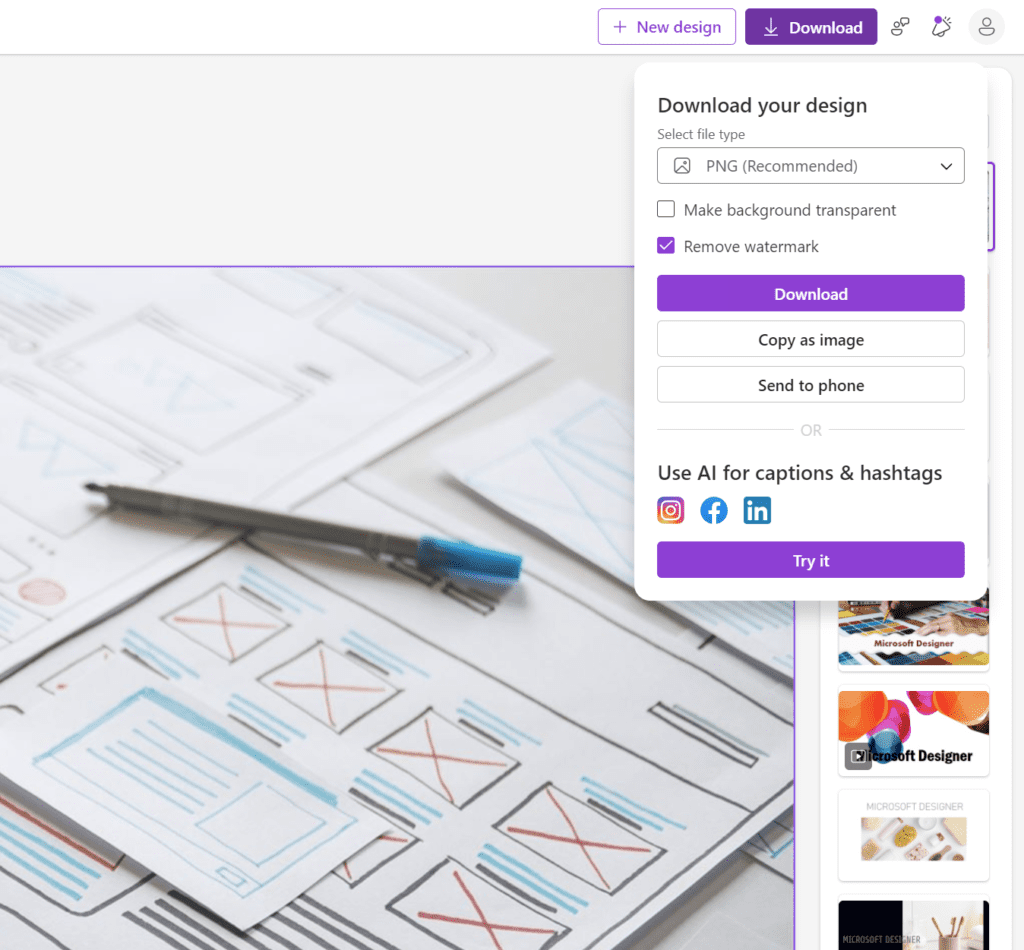 Repurposing content with automatic resizing
The resize features automatically moves elements in your design to accommodate different canvas sizes. If you manage more than one social media channel, you will be familiar with the different dimensions and aspect rations for each platform. The resize tool is designed to help you repurpose content originally intended for one set of dimensions to be quickly refactored to work with another.
Animations
Designer can also help you bring your designs alive by adding animations.
Microsoft Designer is coming to the Edge browser
Microsoft says that it is gradually rolling out Designer to the Edge sidebar. And whether you want it or not, Edge will be the first browser to natively include an integrated AI-powered graphic design app. Although it looks like it won't be enabled on the sidebar by default.
Like other sidebar apps in Edge, you can use Microsoft Designer without leaving the webpage your currently on. The idea being that if you are creating a social media post, you can use Designer to create it without having to download a browser extension or switch apps to get the job done.
Pricing
When Microsoft Designer reaches general availability, there will be a free version and a premium version available to consumers with Microsoft 365 Personal and Family subscribers. There's no mention of whether Microsoft 365 business subscribers will need to pay extra to get access to the premium features.
Features lined up for the future
More A.I. features are on the horizon for Designer. Including the ability to automatically remove backgrounds and lift out a foreground subject using a feature called Erase. You can also replace a background with something more to your liking.
You will be able to expand backgrounds to fill a canvas without stretching the original image. Microsoft notes that this is just the start for Designer and it plans more features going forward.
Microsoft Designer vs Canva
Microsoft Designer has a limited set of templates in the current preview. And in turn, that means limited support for social media content. But I expect that to change over the coming months.
Canva has plenty of A.I. features too. But the free version doesn't allow you to use generative A.I. to create designs from scratch and then tweak them using natural language. You'll need the Pro subscription for access to that feature in Canva.
Canva is also expanding to become something more akin to Microsoft 365, offering a suite of applications. It's new Visual Worksuite brings Docs, Whiteboards, Presentations, Social Media, Video, Print, and Websites to the table. Visual Worksuite is behind a paywall. And I don't expect it will be possible for Canva to challenge Microsoft 365 in the enterprise space.
You can try out the public preview of Microsoft Designer for free here.