In front of a packed hall of Microsoft Ignite attendees, Microsoft CEO Satya Nadella kicked off the event keynote by saying that Microsoft was continuing to transform its business to embrace a mobile-first, cloud-first strategy, and announced a number of updated products and services that support that vision.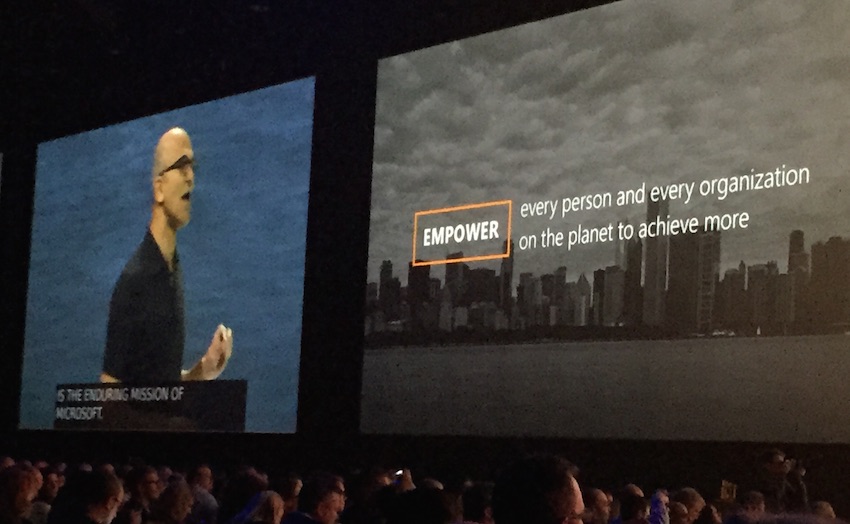 Note: We'll be covering Microsoft Ignite throughout the week in more detail, so please bookmark our Microsoft Ignite 2015 resource page for Ignite news and updates throughout the week.
Windows Update for Business
One of the most noteworthy announcements was that Microsoft was changing the way that it handles Windows 10 software updates for businesses. Microsoft's Terry Myerson explained than the current Windows update process isn't ideal, and said that Microsoft wanted to provide more flexibility for Windows 10, which led to the unveiling of Windows Update for Business. Myerson said that Windows Update for Business would provide a host of new capabilities including a new "distribution rings" concept, integration with existing tools, the ability to specific maintenance windows, and peer-to-peer delivery.
Windows Server 2016
Other big news today revolved around the formal unveiling of Windows Server 2016, which had been tentatively (and unofficially) referred to as Windows Server vNext. In addition to the official branding, the big news here was that an updated technical preview of Windows Server 2016 was now available, which you is available for download now.
This latest version of Windows Server boasts a variety of new features, including improvements to Hyper-V, the new Nano Server role, and more.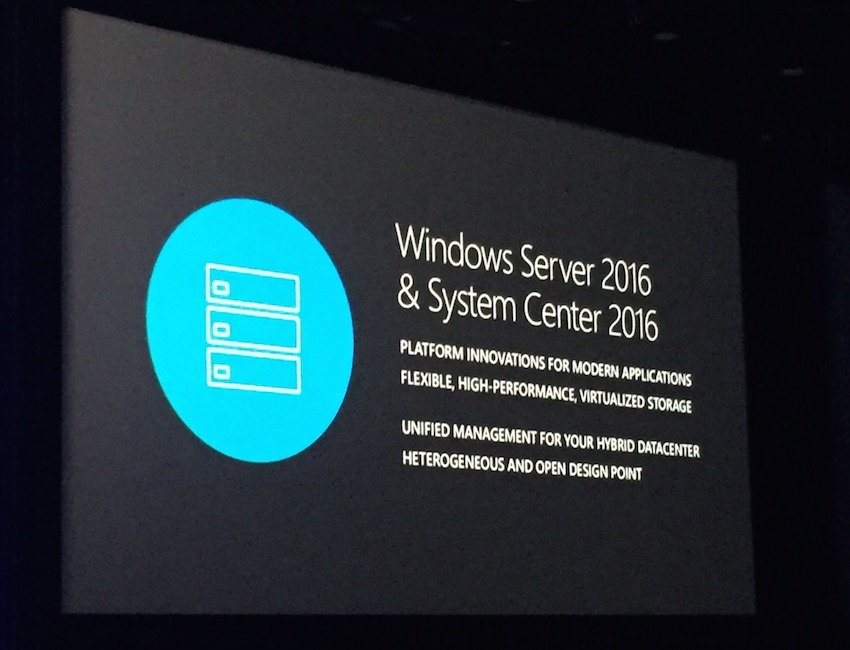 System Center 2016
Microsoft also discussed Microsoft System Center 2016, an updated version of their IT management tool for mid- to large enterprises. A second technical preview will be available later this week, and the new version will offer improved monitoring for Azure, Exchange, Office 365, SQL Server, and LAMP stack applications, in addition to enhanced Linux support, better support for Desired State Configuration (DSC), and a number of software-defined datacenter management feature.
SQL Server 2016
The latest release of Microsoft SQL Server — SQL Server 2016 — was also discussed during the keynote, with a Microsoft representative claiming that SQL Server 2016 would "…be the biggest breakthrough in database technologies…" in recent memory. That's a bold claim, but SQL Server 2016 is loaded with new features, namely new 'Stretch' database technology, enhanced 'always encrypted' options, improvements to in-memory technologies, and a number of other new capabilities.
SharePoint Server 2016
Despite all the attention being paid to Office 365 and SharePoint Online, Microsoft also revealed that SharePoint 2016 would be available in preview form later in 2016. A Microsoft new releases stated that the "…new version gives on-premises SharePoint customers access to new capabilities in the cloud through hybrid deployments with Office 365."
Exchange Server 2016
Like Mark Twain, rumors of the demise of Microsoft Exchange have been greatly exaggerated. While there have been whispers that on-premise Exchange would eventually be a thing of the past, Microsoft's keynote this morning confirmed that there would indeed be another version of Exchange for on-premise customers. That said, the collective wisdom of several authors and Exchange experts I spoke with suggested that Exchange Server 2016 may be the last on-premise version offered. Exchange Server 2016 will primarily offer features initially introduced in Office 365, including enhanced eDiscovery, better document collaboration, and improved search capability.
The Microsoft Ignite keynote was roughly three hours in length, and there's lots of additional material we'll cover over the days and weeks to come: Microsoft Azure Stack, Microsoft Advanced Threat Analytics (ATA), more Office 365 enhancements, and even some news about the Microsoft Surface Hub.