Microsoft Opens "Cloud Germany" with 2 New DCs -- Azure und 365 über alles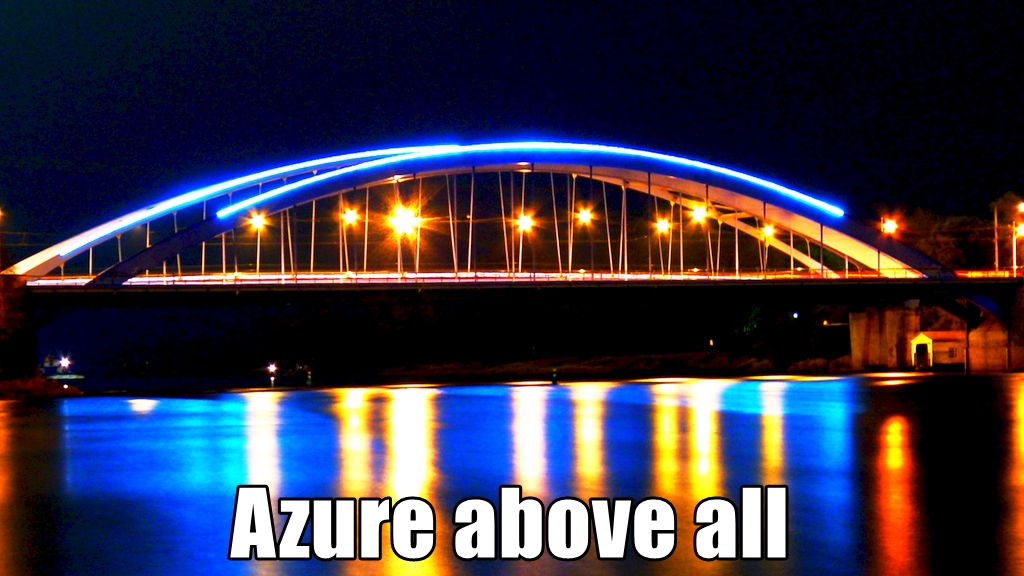 Microsoft's Cloud Germany: ready for action. Two new data centers now open for Azure IaaS/PaaS now, and Office/Dynamics SaaS coming soon.
Germany is well known for its strict data-privacy laws. And it's one of the largest economies in the European Union. So it was a sensible location choice after the UK DCs opened earlier this month.
And of course, Amazon already has an AWS DC in the country. In today's IT Newspro, we sing of unity and justice and freedom. [Updated Sept 22, 9:54 am ET, with more comment]
Your humble newswatcher curated these news nuggets for your entertainment. Not to mention: How movies lie to us…

What's the story? Bard Darrow reports Microsoft Opens Its First Cloud Data Centers in Germany:
The two sites [are] located in Magdeburg and Frankfurt. … Azure computing, networking and storage services are now available.
…
Because of Germany's strict…laws, Deutsche Telekom will oversee all data access. … The farther a customer is from the data center, the greater the delay, or latency.

Ja, aber was ist die Geschichte? Roland Moore-Colyer sagt im Scherz Ich liebe cloud:
Microsoft has announced the general availability of its Cloud Germany. … The launch…bolster[s] Microsoft's Azure presence to 34 regions worldwide.
…
T-Systems International [is] an independent German company and subsidiary of Deutsche Telekom. [It] provides additional controls…to ensure data is only accessed by the customers or a data trustee.
…
Offering this with the ability to keep data within Germany could see Microsoft Azure bolster its position in Germany's…IaaS market. [It] could give Microsoft the bump it needs to start knocking AWS off the top spot.

Who has the official word? Microsoft's Sabine Bendiek had this to say, via her PR mavens, presumably:
Azure Germany enables our customers and partners to grow their businesses by providing innovative, competitive solutions that meet strict compliance restrictions. … Microsoft Cloud Germany is our response to the growing demand for Microsoft cloud services…across Europe.
…
We want all our customers to pioneer and lead their markets. That's why we provide innovative and scalable cloud services that meet the compliance requirements [of] data-sensitive areas such as the public, financial or health sectors.

How does it feel to be one of the beautiful people? Baby, you're Dan Richman: [You're fired -Ed.]
These are the third and fourth new regions the company has debuted…this month. … Office 365 [is] slated to become available by April 1, 2017 and Dynamics 365 by July 1.
…
Germany's Federal Data Protection Act Bundesdatenschutzgesetz…is considered one of the strongest in the EU. … Customers in Germany include driveline and chassis designer ZF; data-processing firm Teleport; and The Fraunhofer Institute.

But is anyone else using it yet? Here's the James Bourne ultimatum:
Customers in…the German data centre regions…include the Hamburg Port Authority [plus] the Austria, Switzerland and Germany…arm of…Avanade. … Being managed by…Deutsche Telekom…is being claimed as a 'first of its kind' European business model.

And where else is Redmond planning to site new DCs? Jordan Novet knows:
Azure regions are on the way in Korea, as well as two locations in the U.S. for the U.S. Defense Department. … More geographical locations can mean lower application latency and faster data transfers.

Update: Some reactions are cynical. Christian Berger counts the five eyes:
Someone can just send Microsoft a National Security Letter and they have to comply. It doesn't really matter where the servers are. Also Deutsche Telekom works with the BND (German secret service) which work very close with US services.
Buffer Overflow…
More great links from Petri, IT Unity, Thurrott and abroad:
And Finally…
I'll never believe anything I see in the movies ever again

Main image credit: Jörg Neumann (cc:by)