Getting Started with Shared Calendars in Microsoft Teams

Nearly four years after first being requested in UserVoice, with 20,000 votes, Microsoft is finally bringing shared calendars to Microsoft Teams.
Microsoft Teams has always used Microsoft 365 Groups as the basis for the membership, channel chat, and file experience – without it, Teams is just Skype. And frustratingly, while Microsoft 365 Groups include a shared Outlook calendar in Exchange, it has never been available for use despite Teams having access to a user's Calendar.
This feature allows multiple calendars to be added per channel, not just per Team, which is an important distinction to understand.
The Calendar tab will not be a default tab in each channel like Posts, Files, and Wiki. You will need to add the Channel Calendar app to each standard channel you want to use it in. You cannot use the calendar button in the left rail at this time.
How to Add a Shared Microsoft Teams Calendar
Image #1 Expand

Adding the calendar to the Team does not create a new calendar.
The calendar displayed is a view on the Office 365 Group calendar, filtered to Teams meetings scheduled within the channel the app was added to.
Image #2 Expand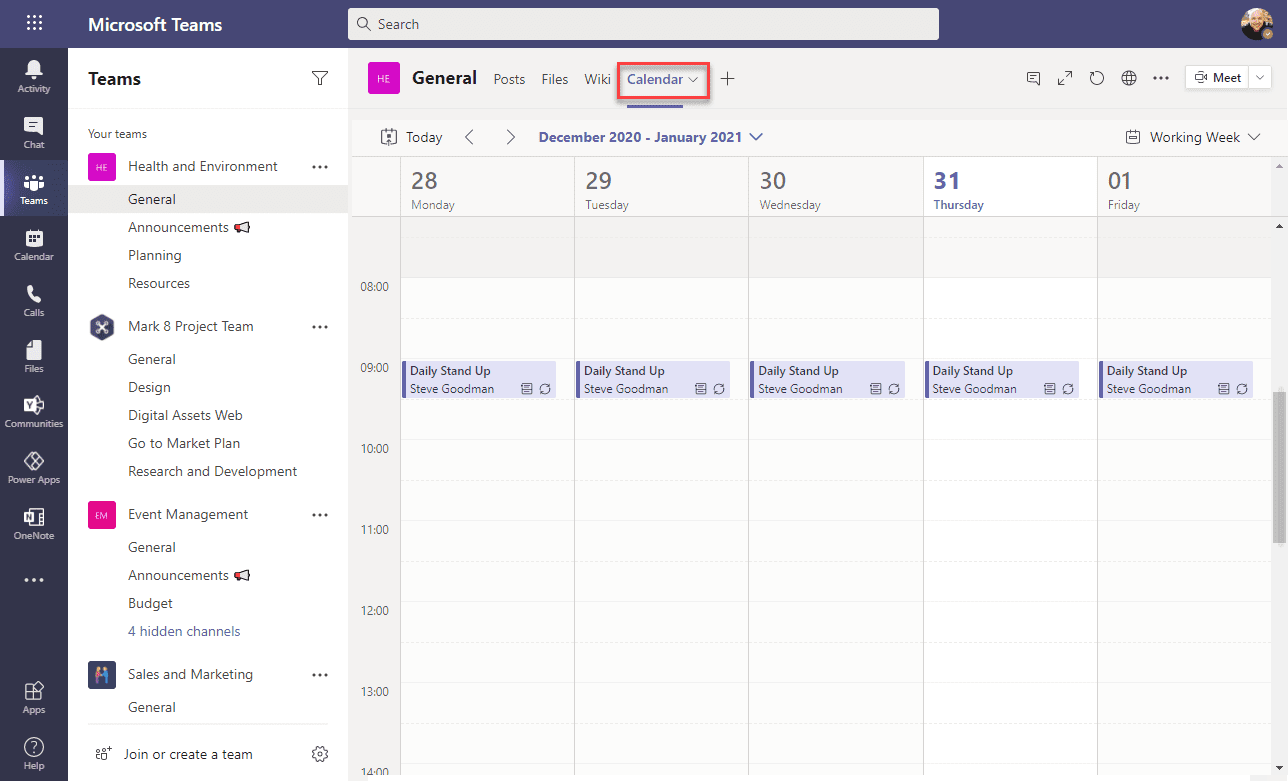 New channel meetings or new meetings scheduled within the channel calendar app will be shown in the calendar view, and all Team members will see team events added. It also appears that existing channel meetings you have created before the feature reaches your tenant or before you add the app will be shown too, but your mileage may vary.
Because events are scheduled for group members as channel meetings, this means that for every event added, a Microsoft Teams meeting within the channel is created and a notification is sent to the channel. However, you can schedule all-day events – for example, if you are using the channel for keeping a team log of vacations.
Adding a Team Calendar to Microsoft Outlook
The channel calendar is not limited to viewing only in Teams. You can make channel calendars available to Outlook, however, you will need to enable this on a per-Team basis using PowerShell.
To do this, use the Exchange Online PowerShell module and use the Set-UnifiedGroup cmdlet using the HiddenFromExchangeClientsEnable:$False parameter:
Image #3 Expand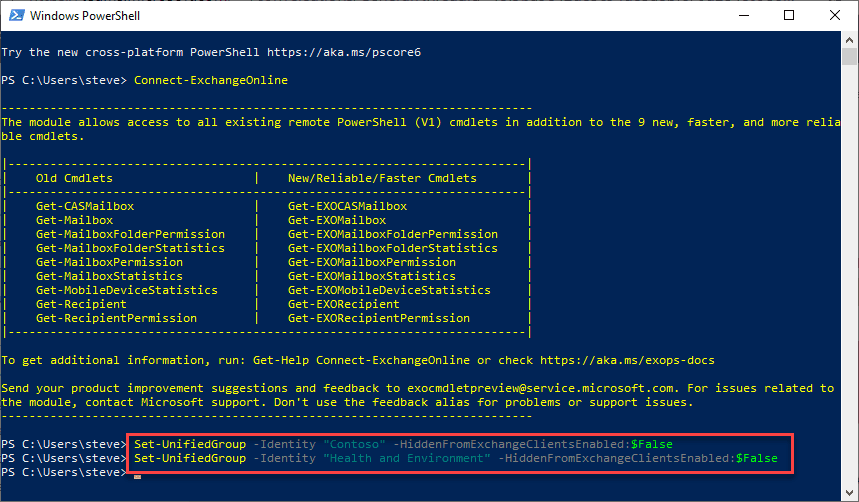 After configuring this parameter, the Microsoft 365 Groups associated with each Team you have unhidden will be available in web, mobile, and desktop Outlook clients, allowing you to see a combined view of appointments:
Image #4 Expand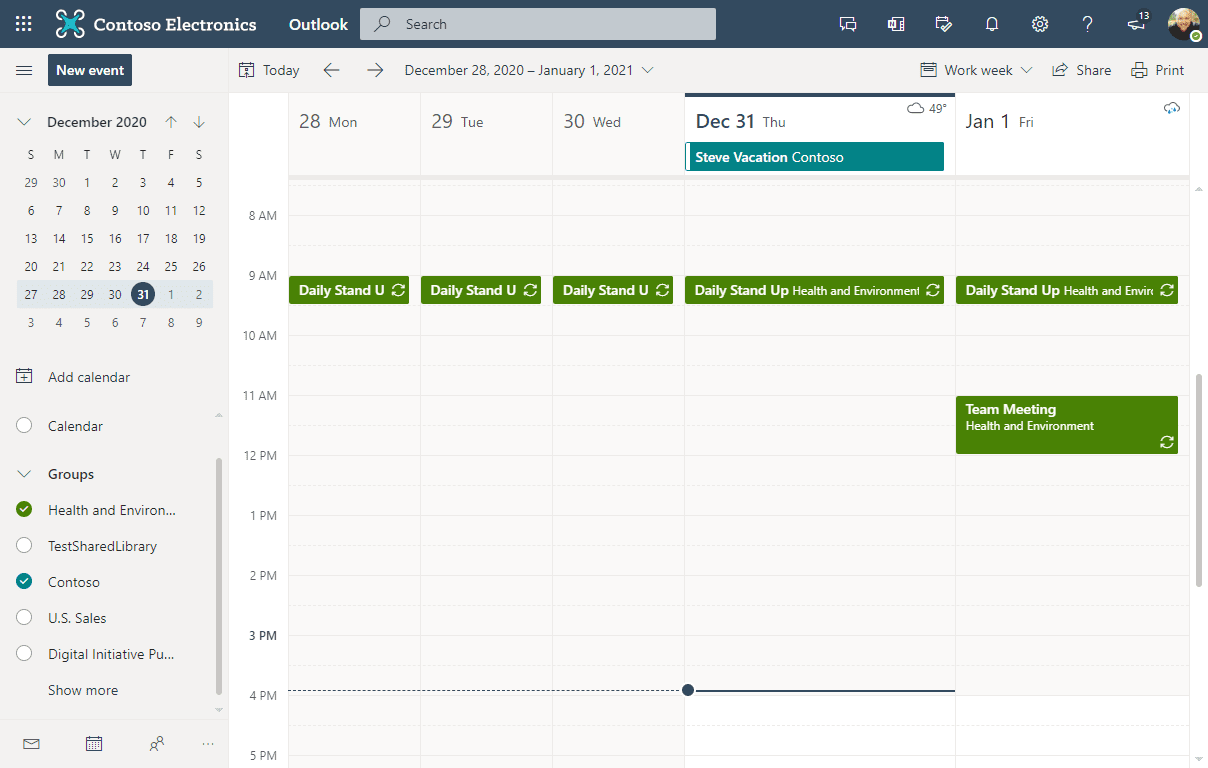 What you cannot do now though is schedule an appointment via Outlook in the Microsoft 365 group calendar and allow it to be shown in the Teams channel. The view in Outlook is not read-only, but to show in a Teams channel the meeting must be scheduled as a channel meeting.
Despite this limitation, the new channel calendars feature is likely to be a welcome addition and encourage greater usage of channel meetings in Teams itself.
This feature was announced in the Message Center on the 21st of December and is expected to roll out from mid-January to the end of January 2021, with US Government tenants receiving the feature from early February onwards.
For more information about how to work with calendars in Microsoft 365, check out How Planner Synchronizes its Tasks to Outlook's Calendar and Use Google Calendar to Schedule Microsoft Teams Meetings on Petri.