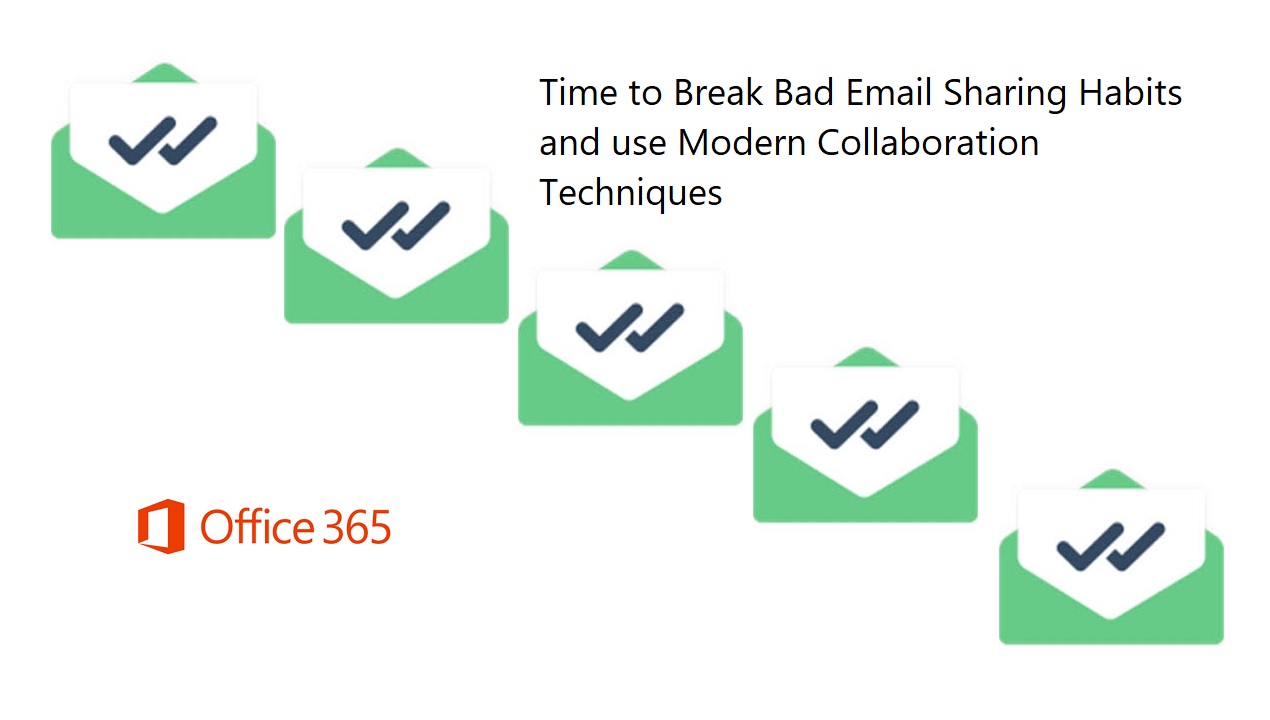 Never Share Office 365 Passwords
A ZDNet report described a number of bad security habits in small to medium companies, among which was the headline statistic that 22% of business leaders share their email passwords with co-workers or assistants.
Much of the success of Office 365 is fueled by small to medium businesses, who find it much easier to use cloud services than to deploy their own Exchange and SharePoint servers. I hope that 22% of business leaders who use Office 365 don't share their passwords. It's old-school thinking that doesn't reflect the reality of today. Sharing passwords is bad practice and it is utterly unnecessary.
Office 365 Account Passwords Access More than Email
Knowing someone's Office 365 account password gives you access to much more than their email. You can then log onto Teams and read the conversations in the private teams that person belongs to, or open protected SharePoint documents, or read whatever's in their OneDrive for Business account, or take part as that person in Yammer conversations. As people move more data into cloud services, knowing personal passwords becomes the key to access all that data rather than just a mailbox.
Deploy MFA to Force Behavioral Change
Every Office 365 account used by senior people (and administrators) should be protected by multi-factor authentication (MFA), which is easy to deploy and manage within Office 365. Failure to use MFA opens accounts to potential business email compromise attacks. And accounts that are only protected by passwords, especially those shared with other people, are more likely to be pwned.
After you use MFA to protect an account, knowing passwords is not enough for others to access the account. They need to have access to the second authentication method, like a mobile phone. Although it's conceivable that executives might give their mobile phone to their assistants to allow access to their email, implementing MFA in a tenant is an excellent way to begin eradicating password sharing.
More Sharing Options than Email Exist in Office 365
If executives argue back and say that sharing passwords is the only way they can collaborate with their assistants, take the opportunity to prove that they are dead wrong. Clinging to techniques that worked in the 1980s is not a recipe for good IT security or successful collaboration.
Be kind, and point out that a variety of methods exist in Office 365 to allow better and more secure sharing:
Office 365 Groups and Teams both have shared calendars, so supporting the executive's calendar is not a problem. Outlook for iOS and Android support access to Office 365 Groups and Teams has its own mobile client, so there's no problem getting to information when on the road. Mobile support for shared mailboxes is more problematic, but it can be done.
Personal Care
Executives have different modes of working and the transition from email-based, password-sharing access to mailboxes will be difficult for some (and their assistants). It is sensible to sit down with the assistants to understand the ebb and flow of information and how the executive processes work to come up with the right solution for them. The good thing is that Office 365 offers different highly functional options. The challenge is to pick the right one for the person to help them break the horrible and dangerous habit of password sharing.
Follow Tony on Twitter @12Knocksinna.
Want to know more about how to manage Office 365? Find what you need to know in "Office 365 for IT Pros", the most comprehensive eBook covering all aspects of Office 365. Available in PDF and EPUB formats (suitable for iBooks) or for Amazon Kindle.