This short guide will provide a top-level overview of the crucial Azure cloud security controls and best practices to be aware of. The highlighted suggestions will provide you with options worth considering for deployment across your estate to strengthen your security posture and mitigate the evolving number and severity of cloud-based threats and risks that exist.
Microsoft Azure is one of the most widely used and versatile cloud computing platforms on the market today. Recent statistics suggest that 41% of organizations entrust 'significant' workloads to Azure in some capacity, with the platform witnessing an 8% growth over the last two quarters, maintaining almost a third of the cloud infrastructure services market share.
One of Azure's primary strengths is in software-as-a-service (SaaS), offering many enterprise-grade tools and offerings, which range from data management, storage and networking to advanced analytics, IoT applications and even machine learning and artificial intelligence capabilities. It also offers infrastructure-as-a-service (IaaS) and platform-as-a-service (PaaS) solutions, which combine to create a robust, flexible, and scalable environment to host applications.
Despite the convenience and benefits of this public cloud infrastructure, there comes a plethora of security risks that need proper, proactive mitigation. IT professionals and key decision-makers in businesses worldwide have a duty to uphold ‌data integrity and compliance with relevant data protection standards. This is why it's crucial for them to understand the key Azure security controls available to deploy to their incumbent, native cloud environments.
Native Azure cloud security controls
Azure provides a number of native security controls and features built into the platform. This means that users don't have to solely rely on third-party security tools and fully-managed solutions from different vendors, although that can bolster defenses significantly. 
However, it's important to understand the nature and purpose of Azure's built-in security controls as a critical first step. Here are the key controls to bear in mind, separated into broader parent categories.
Identity and Access Management (IAM)
Identity and access management is imperative to oversee across your infrastructure. If using Azure, these are the key controls you should be aware of.
Security monitoring and alerting
Azure can be used as an asset to help conduct real-time monitoring and alert users to the presence of security incidents, anomalies, or suspicious activity. This relies on the strategic use of:
Network security
Locking down systems, apps and files stored in any cloud environment is crucial, and it's imperative that any network that it sits on remains secure and free from compromise. Within an Azure infrastructure, take advantage of these in-house tools to bolster your network security.
Baseline Azure security best practices
In addition to leveraging Azure's many native security features, organizations should also follow these best practice recommendations as far as individual and collective security are concerned.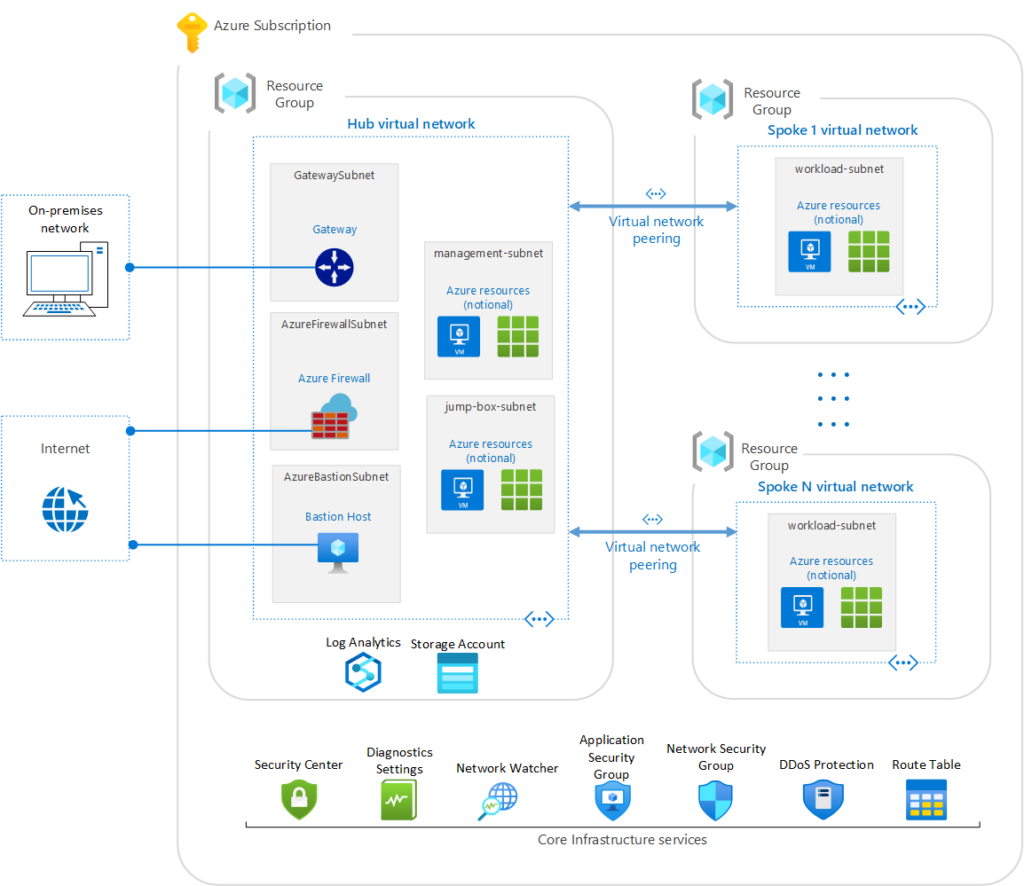 Third-party security solutions for Azure cloud security controls
While Azure's native tools provide robust core security capabilities, organizations can create additional layers of security by leveraging innovative third-party solutions that are befitting for their estate. 
This includes (but is not limited to) using cloud access security broker (CASB) solutions that monitor and control access to SaaS applications while enforcing security policies. Companies should also consider deploying WAFs (web application firewalls) to create an additional barrier between a native app and the Internet, which can filter and monitor HTTP traffic and prevent XSS (cross-site scripting) and SQL injection attacks, which are alarmingly common. 
Human-powered processes like ethical hacking, Microsoft Azure penetration testing, red team assessments, vulnerability scanning, and others also work wonders at helping organizations uncover unknown or hidden vulnerabilities prone to exploitation. These could exist in web application code, or in highly covert connections between endpoints and servers.
Solutions for highly regulated industries
As a whole, organizations in highly regulated industries – like finance and healthcare – may benefit significantly by consulting with specialist providers that can deploy enterprise-wide security monitoring and detection solutions, as well as real-time incident response services. With skilled experts watching network traffic for any suspicious activity, it's reassuring to know that your Azure environment remains locked down and in safe hands.
Invest in strategic third-party tools if warranted
Azure provides a multitude of robust native cloud security controls that organizations should take advantage of to strengthen cloud protection. While it's imperative that you follow baseline best practices around patching, backups, access control, and connectivity, knowing how to position your Azure environment as securely as possible will provide long-term stability and reassurance. Consider investing in strategic third-party tools for enhanced threat detection and vulnerability management if warranted. 
It's clear to see that having a strong understanding of key Azure cloud security controls and tools will help IT teams secure cloud environments while realizing the full benefits of the platform.