13 Beers for IT Professionals and System Administrators
One of the things I've noticed about the community of IT professionals that I've met is that many — if not most — also seem to have a genuine appreciation for good beer. Specifically craft beers, as opposed to the mass-produced, not-much-thicker-than-water offerings from most of the largest brewing super-conglomerates.
I'm based in Northern Colorado, which USA Today has called the "Napa Valley of Beer." Colorado is also home to the annual Great American Beer Festival (GABF), but I'm sure readers from Oregon, Washington, Ireland, and other brewery-heavy states and countries might disagree, so please do so in the comments.
The Venn diagram overlap between IT professionals and craft beer I've just described inspired me to gather up a collection of beers, ales, and other craft beer staples that might be more appropriate than others for busy IT professionals. I've listed a Baker's Dozen assortment of beers below, and indicated what types of IT professionals may appreciate that particular beer the most. I'd also love to hear your own suggestions and recommendations for beers that should be included on the next revision of this list, so add your picks in the comments section of this article.
1. Dead Guy Ale
 Always chasing down phantom users and finding out who has access to what? This brew is for you. (Image: Rogue Ales / PlayerArena.net)
Beer is best for: Active Directory Administrators
Brewed by: Rogue Ales – Newport, OR
Removing network and file access for users who have left an organization can sometimes be a challenge for even the most efficient IT organization. I'm also sure that more than a few system administrators reading this have joined an organization — or know of one — where finding out who has access to what can be an exercise in hair-pulling frustration. So in honor of phantom users and dead email accounts, Dead Guy Ale is for you.
2. Collaboration Not Litigation Ale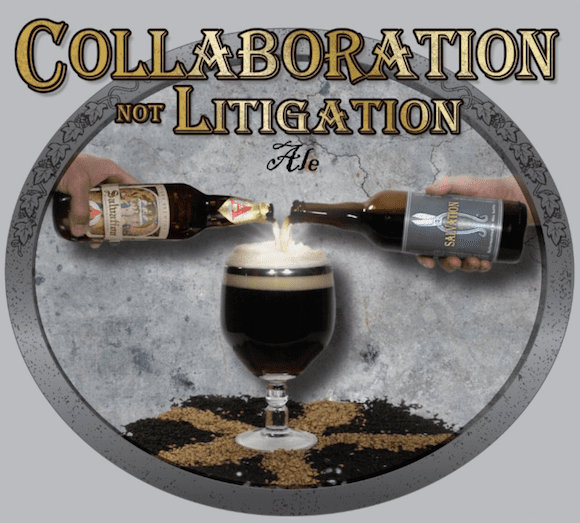 It's always better to to get along, right? (Image: Avery Brewing Co.) 
Beer is best for: Microsoft Exchange Administrators (and divorce attorneys/mediators)
Brewed by: Avery Brewing Company – Boulder, CO
One of the biggest trends in the IT industry — much to the chagrin of many Microsoft Exchange Administrators — is the increase in the amount of litigation and legal actions that involve email messages. Prosecutors, plaintiffs, and defendants have increasingly relied on email to prove (or disprove) their case, so e-Discovery and the need to track down specific emails over a given period can be a huge time-sink for any admin. So after your day of delving into dusty email inboxes is done, treat yourself to a glass of Collaboration not Litigation Ale.
3. Master Thief German Porter
Never a dull moment in the realm of IT security. (Image: Grimm Brothers Brewhouse)
Beer is best for: Security Administrators, Security Analysts, CISOs
Brewed by: Grimm Brothers Brewhouse – Loveland, CO
The job of an IT security professional is never done, as a glance at recent headlines concerning high-profile hacks and security breaches can attest. Whether you're trying to protect company intellectual property or to simply keep your IT infrastructure free from viruses and malware, you'd have to admit that there's never a dull moment in your career of choice. So in the interest of raising a toast to our IT security adversaries of both the malevolent and mischievous variety — who help create the booming industry demand for IT security professionals — I'd suggest you opt for a glass of Master Thief German Porter.
4. Eye Patch Ale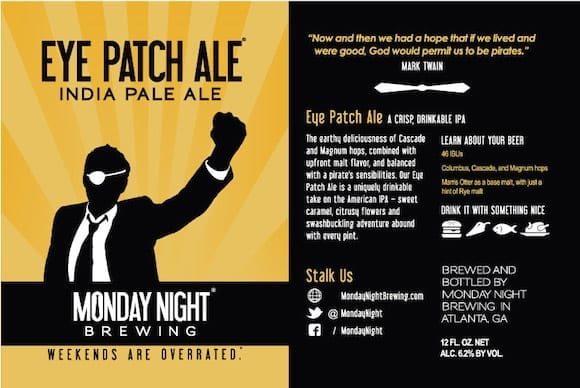 In honor of Patch Tuesday, we present Windows Server admins with Eye Patch Ale.
(Image: Monday Night Brewing)
Beer is best for: Windows Server Administrators
Brewed by: Monday Night Brewing – Atlanta, GA
One of the inevitable, never-changing responsibilities of an IT professional is to manage patches and updates to OS and application software. The mother of all patch regimes is Microsoft's Patch Tuesday, an event that is being looked at with increasing trepidation by system administrators, thanks to a booming number of flawed, faulty, and downright system-killing updates that have gone through Microsoft's "testing process." Many admins have now switched off automatic Windows updates, and it's hard not to blame them. So in the honor of all the Windows Server Administrators out there who have to suffer through the trials and tribulations of Patch Tuesday, this Eye Patch Ale is for you.
5. Ctrl-Malt-Del
Ctrl + Alt + Del — also known as the three-finger salute — we salute this brew to you. (Image: Dan Gunn / VIATec)
Beer is best for: Any Windows user
Brewed by: Phillips Brewing Co. – Victoria, Canada / Beachwood Brewing Co. – Long Beach, CA
If I've learned anything from researching the beers on this list, it's that a good play on words can often surface in many different locations at once. Such is the case with the number of beers I came across that are inspired by the ubiquitous Ctrl + Alt + Del keyboard command that reboots Windows PCs. I found at least two breweries using the "Ctrl Malt Del" brand name, so I've listed them here. (If you're reading this and know of more, please add a comment to this post.) So in honor of the billions of times Ctrl + Alt + Del has been pressed, this Ctrl Malt Del is for you.
6. Surge Protector IPA
The Surge Protector Ale makes the list for its warm-hearted efforts for raising funds for Hurricane Sandy relief. (Image: Sandy Relief Beer)
Beer is best for: Anyone
Brewed by:  Long Island & Barrier Brewing Co. / BluePoint Brewing — Long Island, NY
While I've approached most of the beers listed here with tongue planted partially in cheek, an ale called "Surge Protector" seems like a shoo-in for an IT-themed beer list. But beyond the obvious connection to IT, Surge Protector Ale deserves attention for the reason it was created: As a way to raise funds and awareness for Hurricane Sandy relief. I don't believe that you can even get this beer anymore — if so, someone please correct me — but all the breweries involved (visible on the beer label above) deserve your support and patronage for their big-hearted brewing efforts.
7. Fail Whale Pale Ale
Someone please make a brew to accompany this awesome graphic. Please? (Image/label: @dirtdirt)
Beer is best for: N/A
Brewed by: The 'Fail Whale Pale Ale' beer label contest – Tweethunt.org
Sometimes the desire to create a cool beer label or logo is so strong that you don't actually need to have a beer to go along with it. Such is the case with a beer label contest inspired by the infamous 'Twitter fail whale' that appears whenever the Twitter social network is having technical problems. An organization by the name of Tweethunt sponsored the contest a few years ago, and several examples — like the one from Twitter user DirtDirt above — were distributed throughout the internet. I just wish there was a beer to go along with such a groovy label.
8. #Mashtag 2014
Perhaps the IT Twitter community needs to follow suit to create a unique craft beer. (Image: BrewDog Plc.)
Beer is best for: Twitter fans
Brewed by: BrewDog Plc. – Ellon, Aberdeenshire, Scotland
It's a brilliant idea: Why not turn to Twitter and crowdsource what type of beer to make from the craft beer community? That's exactly what BrewDog Plc did, and the result is their #MashTag line of specialty beers. The currently-produced vintage is #MashTag 2014, which the brewer describes as an "…imperial red ale, brewed with copious speciality malts, a global blend of hops, and blood orange, lemon peel and orange peel."
9. Reboot White IPA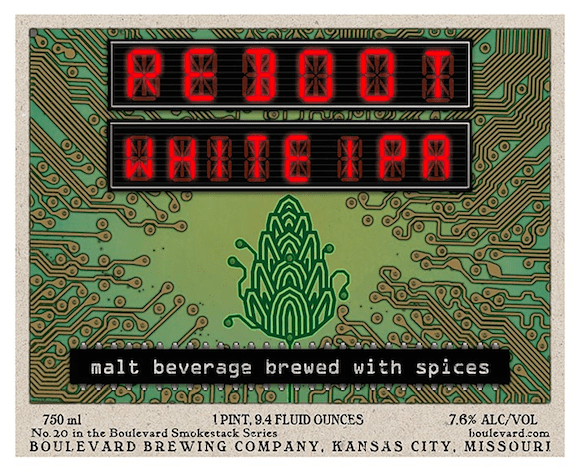 The Reboot White IPA is sure to ease the woes of any help desk technician. (Image: Boulevard Brewing Co.)
Beer is best for: Help Desk Technicians
Brewed by: Boulevard Brewing Co. – Kansas City, MO
If you've worked on a help desk — or ever called one as an end-user — you've undoubtedly been told to reboot your PC to see if that solves your computer problems. While Reboot White IPA may not solve your PC woes, it will likely slake your thirst. Of special note here is the imaginative logo design, which features a motherboard-esque background behind a very digital-looking flower of the hop plant.
10. Storm Cloud India Pale Ale
Not quite sold on the idea of cloud computing? That's okay, here's a brew to mull it over.
(Image: Rahr & Sons Brewing Co.
Beer is best for: Cloud computing skeptics
Brewed by: Rahr & Sons Brewing Co. – Fort Worth, TX
I've often joked with co-workers and colleagues attending tech conferences that there should be a drinking game triggered by the phrase "cloud computing." While there still a debate in some quarters about whether cloud computing is still a fluffy catchphrase or an invaluable component of modern IT, Storm Cloud India Pale Ale is a brew aimed at the cloud skeptics of the world, especially if your view of cloud computing involves system outages, unplanned failures, and the inability to access your Exchange Online email inboxes.
11. Silver Linings Saison
Reaping the benefits of the cloud? Good for you! Pat yourself on the back, and enjoy this beer.
(Image: Stormcloud Brewing Inc.)
Beer is best for: Cloud computing proponents
Brewed by: Stormcloud Brewing Co. – Frankfort, MI
Just as cloud computing detractors will point out the failings of the cloud in an IT environment, cloud computing aficionados will undoutbtedly point to all the real (and proven) benefits that the cloud can bring to any IT organization, from reducing costs to improving operational agility. So in cloud parlance, IT staff that believe in the cloud can arguably see that the cloud computing phenomenon has a silver lining, hence the addition of Silver Linings Saison in this list.
As an editorial aside, cloud computing skeptics will undoubtedly giggle at the image I used here to represent Silver Linings Saison, but this is the best I could do: Try as I might, I couldn't find a good image of the aforementioned brew in the form of a label design, or even a filled glass. So the logo of the brewery that makes it — Stormcloud Brewing Co. — will have to suffice.
12. Maple Bacon Coffee Porter
Because bacon. (Image: Funky Buddha Brewery)
Beer is best for: Every IT pro with a pulse
Brewed by: Funky Buddha Brewery – Oakland Park, FL
Next to beer, most IT professionals I know have an acute — bordering on addictive — affinity for caffeine, usually delivered in the form of a steaming cup of coffee early in the morning as they're reading morning emails. Most admins also like bacon, given the surplus age of bacon-themed marketing efforts I witnessed at VMworld 2014. So that's why Maple Bacon Coffee Porter from the Funky Buddha Brewery deserves a shout-out, even more so when you factor in the delicious inclusion of maple syrup.
13. Ctrl Alt Delete Altbier
Last, but not least, we present the Ctrl Alt Del Altbier. (Image: Nils Oscar Company)
Beer is best for: Every Windows user
Brewed by: Nils Oscar Company – Nyköping, Sweden
I've already mentioned the Ctr Malt Del riffs on the ubiquitous Windows keyboard shortcut combination, but I couldn't end this article without mentioning a brew that calls the sequence out specifically. I also have to give props to this Ctrl Alt Del Altbier because it's A) brewed in Sweden (which at least a few roots of my own family tree originate), and; B) it uses a description that describes the beer like this: "The taste is soft and smooth. Aroma of the 'münchenermalt' weighed against a fresh and fruity aroma of hops. A dreamy combination!" Dreamy indeed.
So do you have any other tech or IT-themed beer suggestions you believe should be on this list? If so, please drop me an email with your thoughts, add a comment to this blog post, or contact me on Twitter or Google+. You can also catch up on my posts in the Petri IT Knowledgebase forums.