Windows Server 2022 Series – Part 3 – Upgrading Final 3 Servers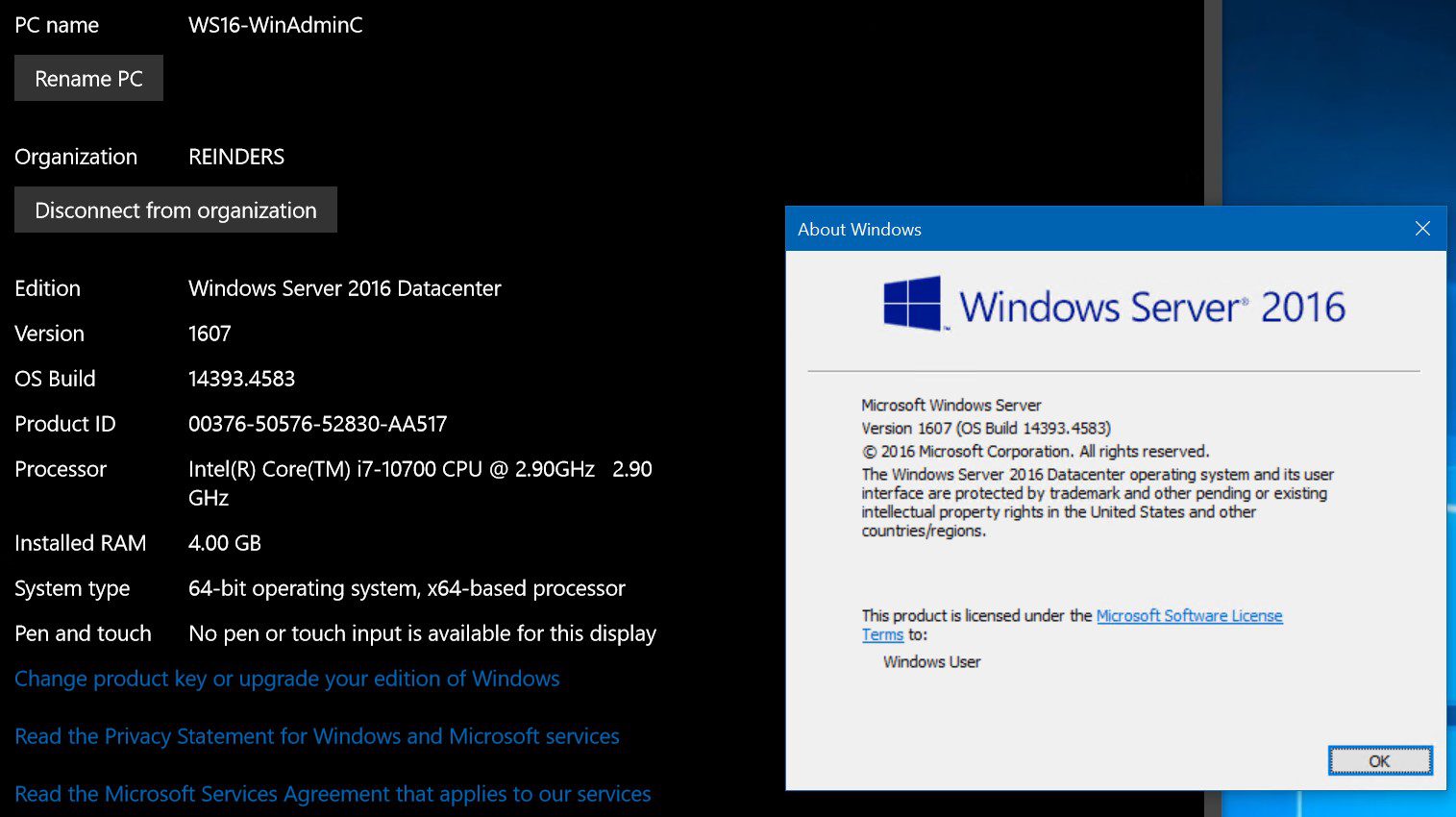 Welcome to Part 3 of my Windows Server 2022 Series. This series of posts has chronicled the upgrade of my Microsoft Hyper-V lab. I have a number of servers running various roles, including Active Directory Domain Services (ADDS), fileservers, SQL Server, SharePoint Server, etc. I'm upgrading all of them to Microsoft's latest Long Term Servicing Channel (LTSC) release – Windows Server 2022.
(Incidentally, as of 8/18/21, Microsoft has posted official ISO media for Windows Server 2022 to the Volume License Service Center (VLSC) site and to the Visual Studio Subscriber Downloads (formerly MSDN) site. They also marked this date as the official start of support. You will receive 5 years of mainstream support and 5 years of extended support. 10 years!)
Meanwhile, if you missed my previous posts…
Introduction & Agenda
In the first part of this series, I upgraded one of the domain controllers (DC) from Windows Server 2016 to Windows Server 2022. The upgrade went swimmingly; there were no hitches. Active Directory was running with excellence after it finished. In the second part, I upgraded the second and third DCs in my lab and one of my fileservers running Windows Server 2016 Core. That upgrade also was a flawless victory! – Liu Kang
In this part, I will be upgrading three more servers:
WS16-WinAdminC – This server is running Windows Server 2016 and has the Windows Admin Center installed for the lab. I have been using this extensively throughout the process to confirm details and validate upgrades. I'll start by upgrading this to Windows Server 2022.
WS19-SQL01 – This is running Windows Server 2019 and SQL Server 2019. This server is the database server for the content within SharePoint Server Subscription Edition. We'll see if we get any prompts about SQL Server when I start the Windows Setup process to upgrade this server to Windows Server 2022.
WS19-SSSE-01 – And this last server is also running Windows Server 2019. This is the first SharePoint Server Subscription Edition server in the farm. (I'm thinking of installing a second server 'WS22-SSSE-02' in the future…) I will be upgrading this to Windows Server 2022.
I'll try not to include repetitive steps and screens as best as I can. My previous posts around Windows Server 2022 include quite a good deal of detail in this arena. Rest assured, I'll make sure you can follow along and keep you ready for any gotchas along the way. Let's get started on Windows Admin Center.
Upgrade to Windows Server 2022 (WS16-WinAdminC)
Let's start with the, well, Starting Line.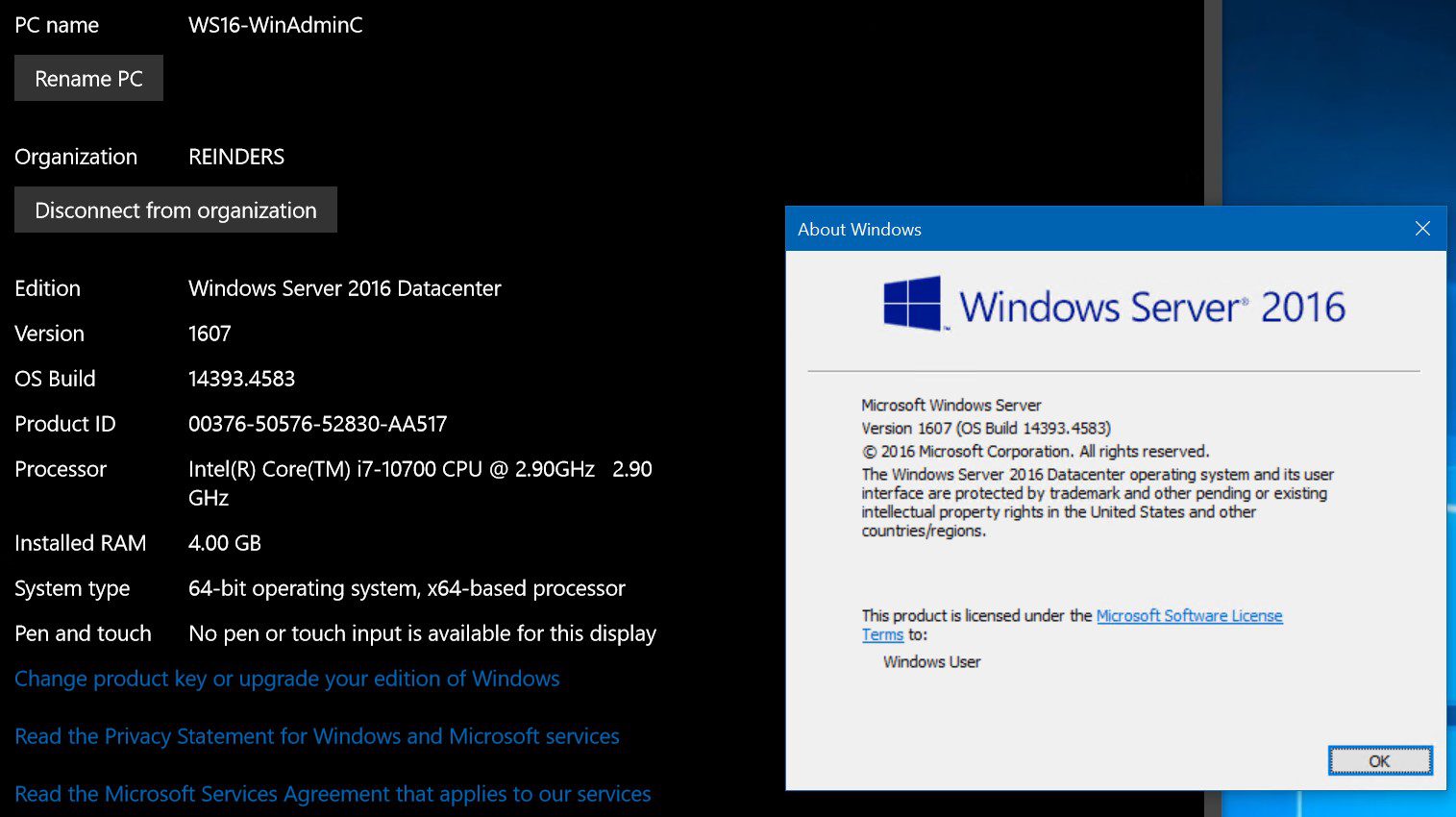 This is 'WS16-WinAdminC' running Windows Server 2016 Datacenter, with the latest (Aug 2021) patches. I've mounted the ever-so-popular Windows Server 2022 ISO (now officially available!) in Hyper-V and double-clicked on my D: drive.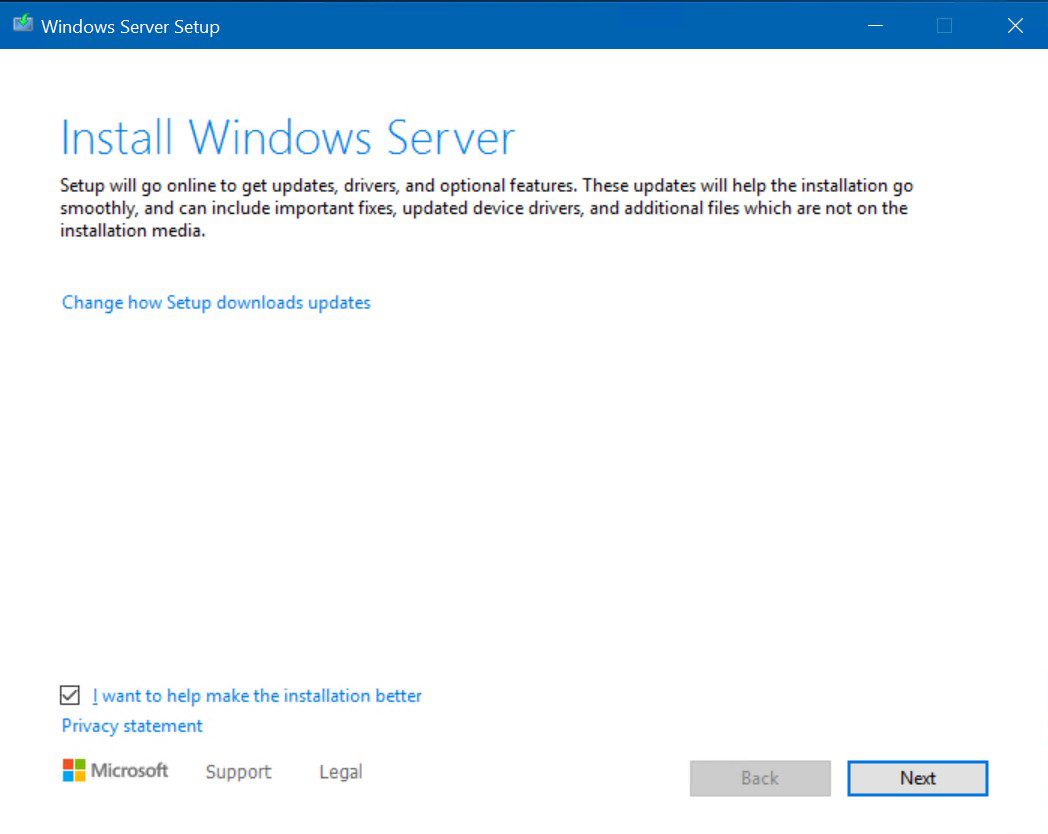 And away we go!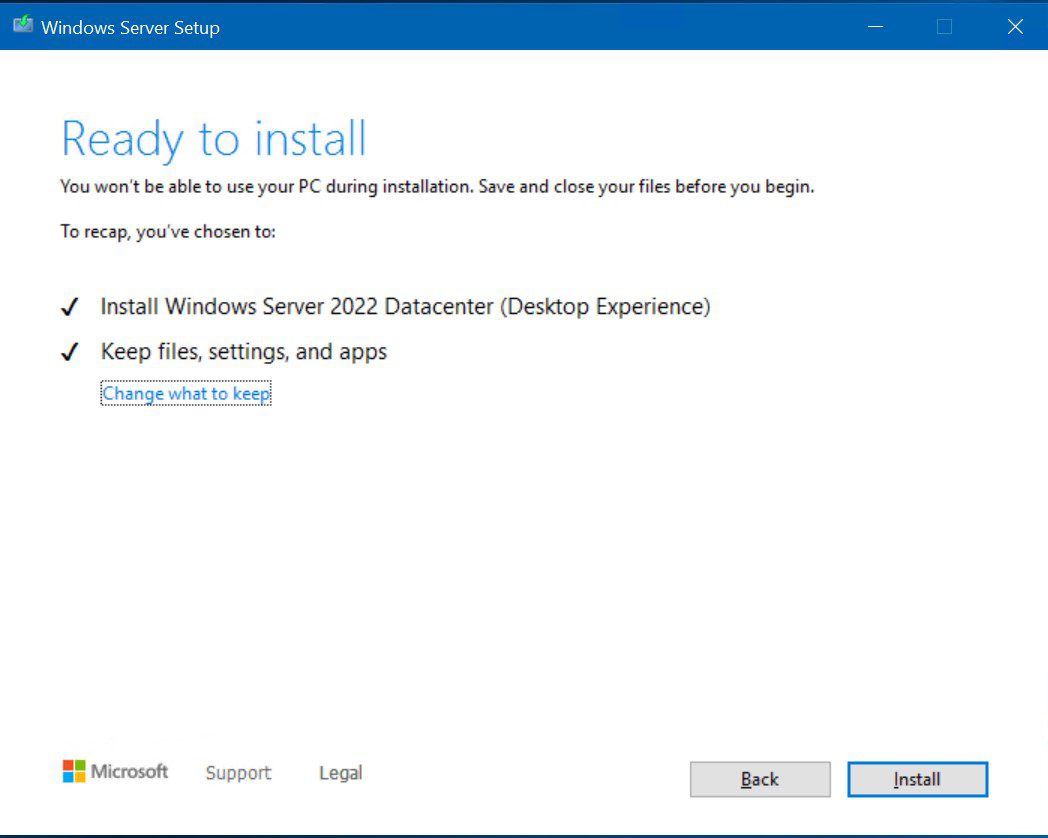 After agonizing MINUTES of waiting (I love Hyper-V and a decent PC), we are done. Let's check a few things across the board, shall we?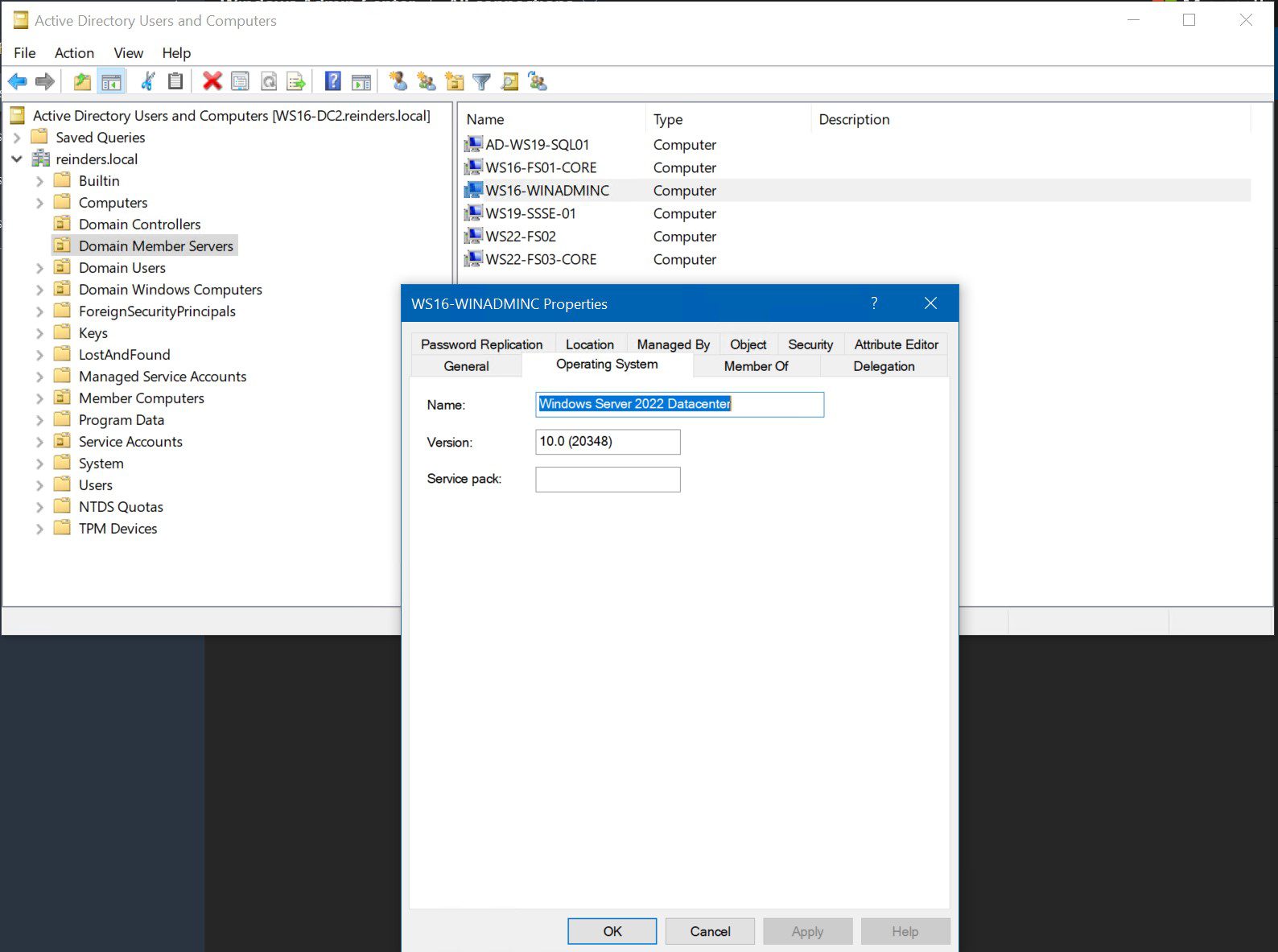 And look at this. Not only did Windows Admin Center fire right up after the upgrade, but it also automatically updated to the latest supported version. How's that for efficiency?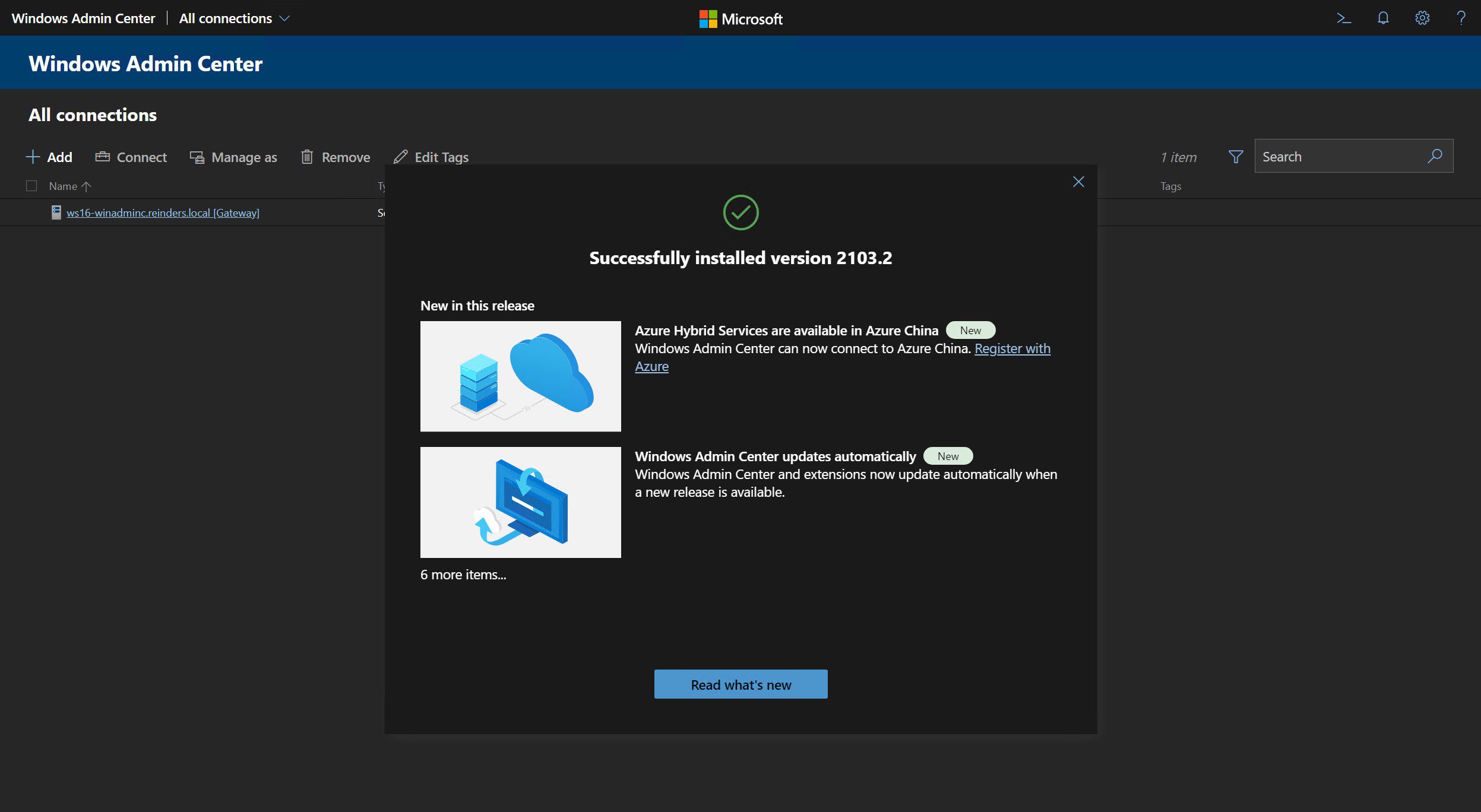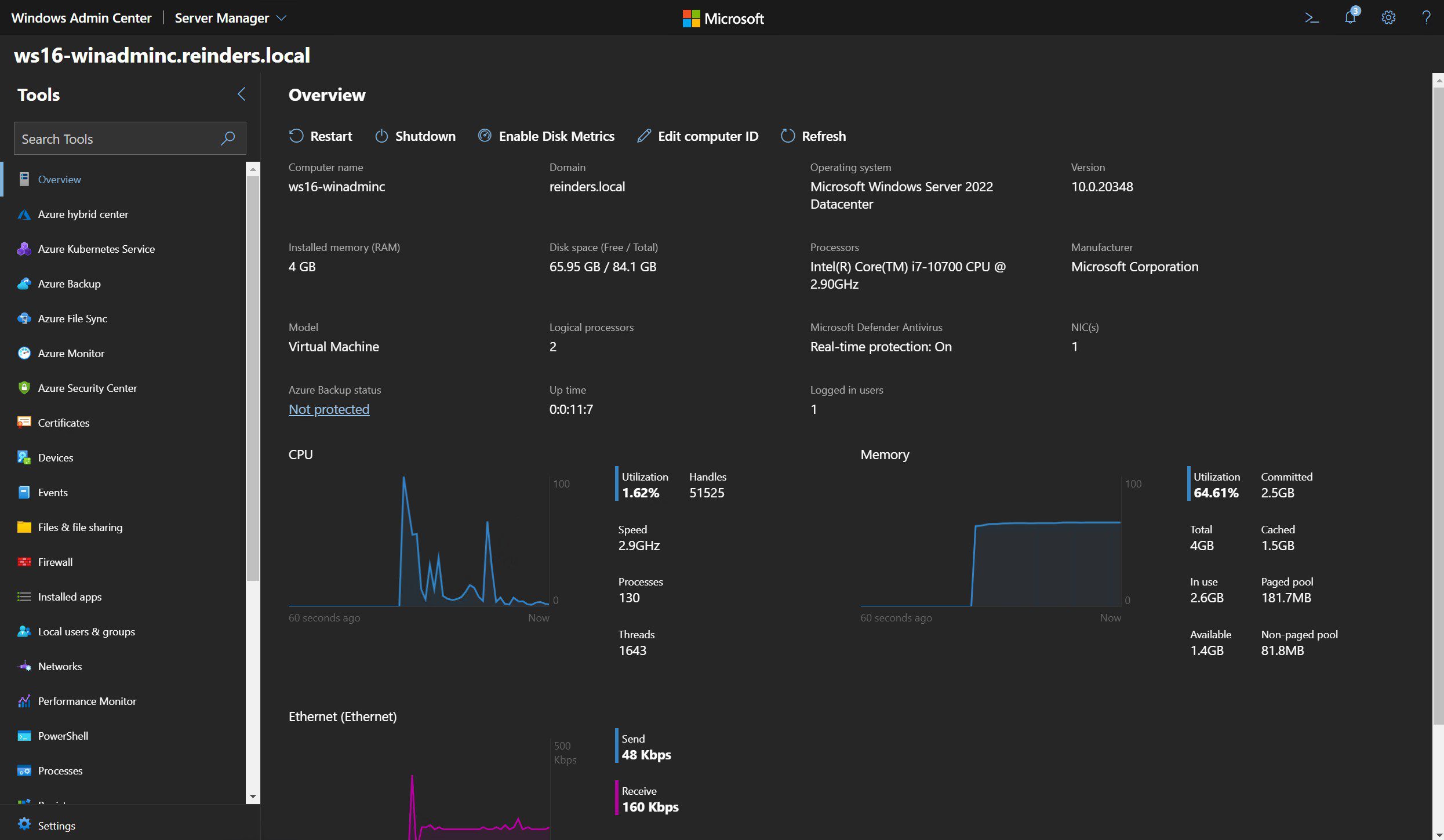 All right, onto the next…
Upgrading to Windows Server 2022 (WS19-SQL01)
This is when things could get interesting. For the final 2 servers, I would imagine these may be the ones where we run into a glitch or two, or a major issue. Nothing happens until it happens. 🙂 But upgrading SQL Server 2019 to a newer Windows Server version, in-place… you definitely don't hear about that too often, do you? Well, Evil Knievel is back. Let's see where we stand before we start.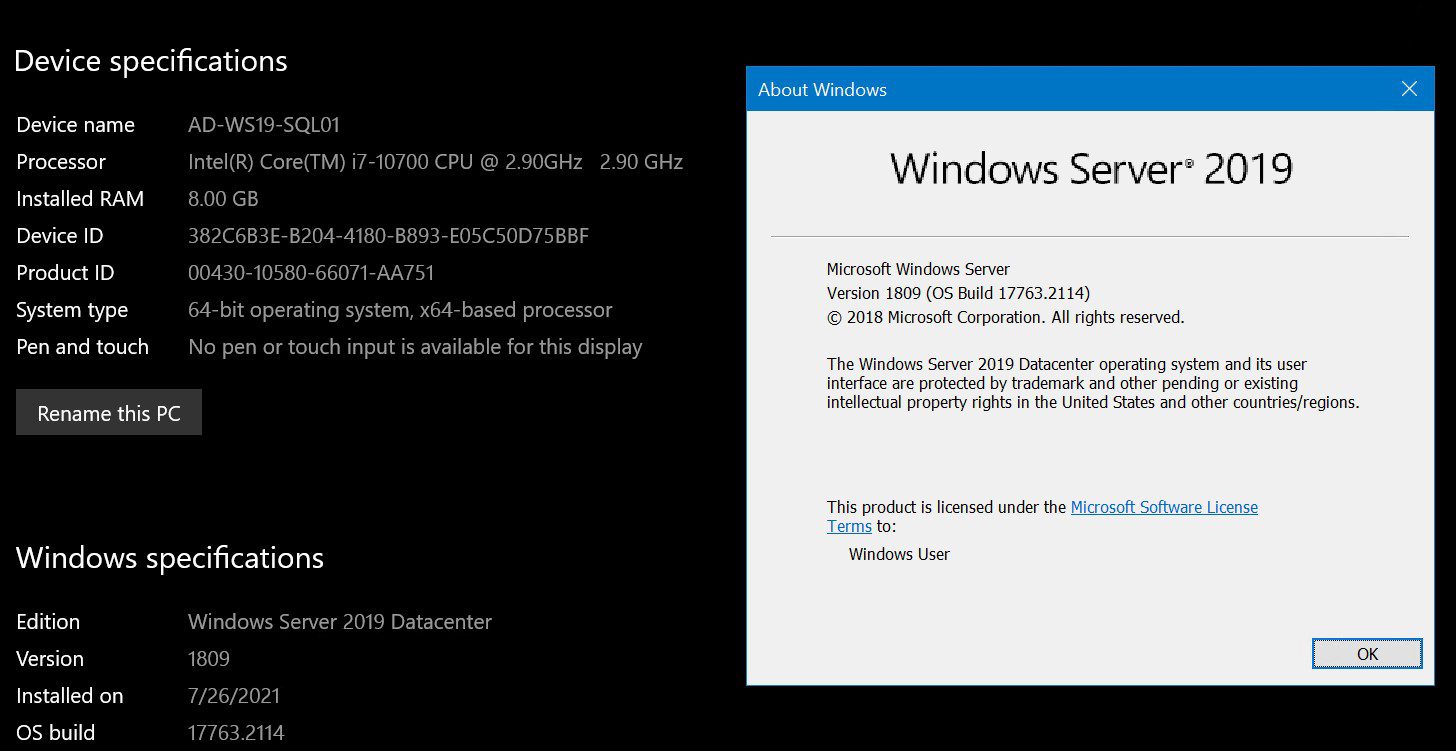 And here is the pre-upgrade state of SQL Server 2019. You can see we're running the latest cumulative update (CU) for SQL2019. You can also see all the SharePoint databases below.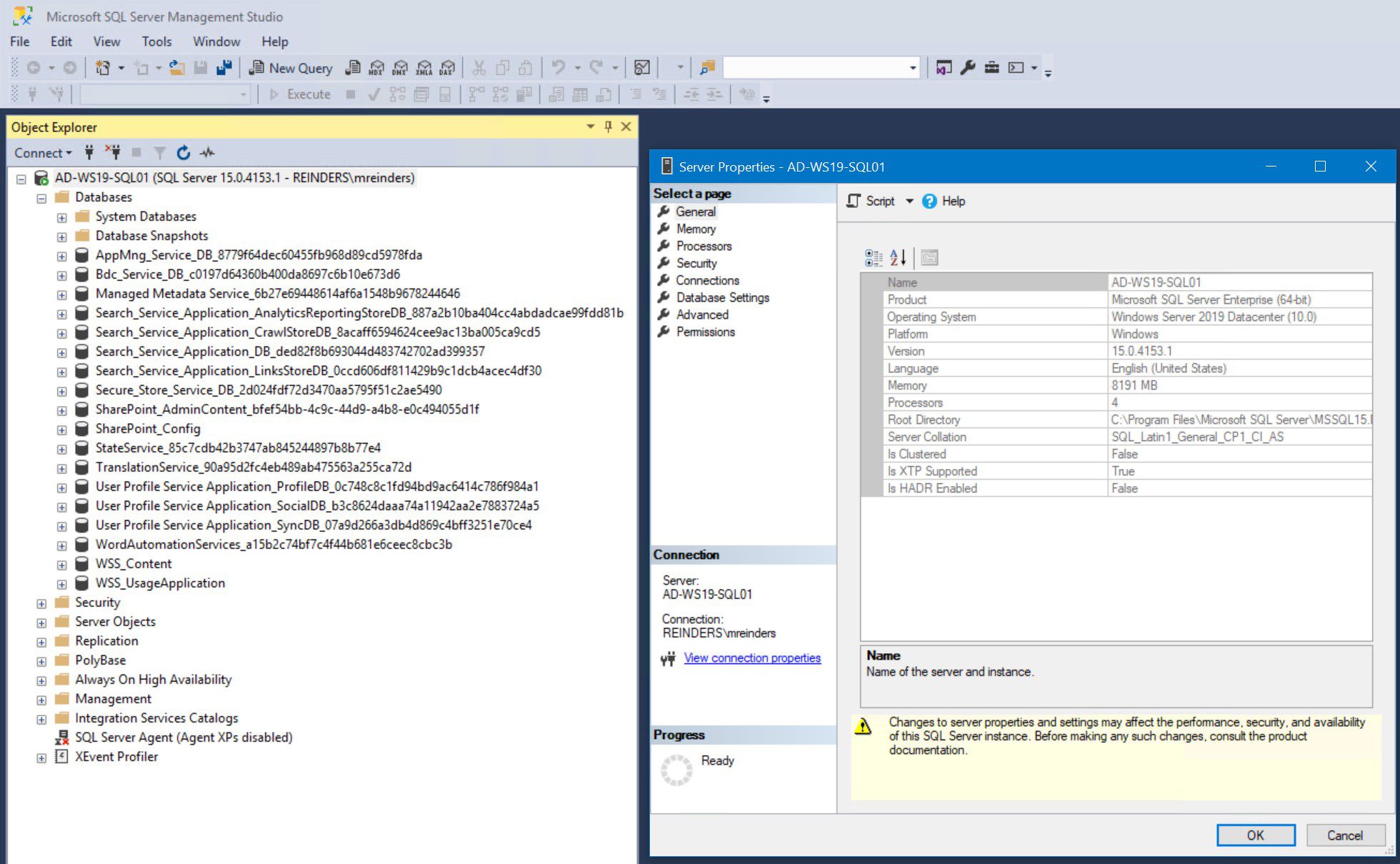 By the way, this is my HP Z2 PC running the Hyper-V role…Do you think I may need more RAM? 😉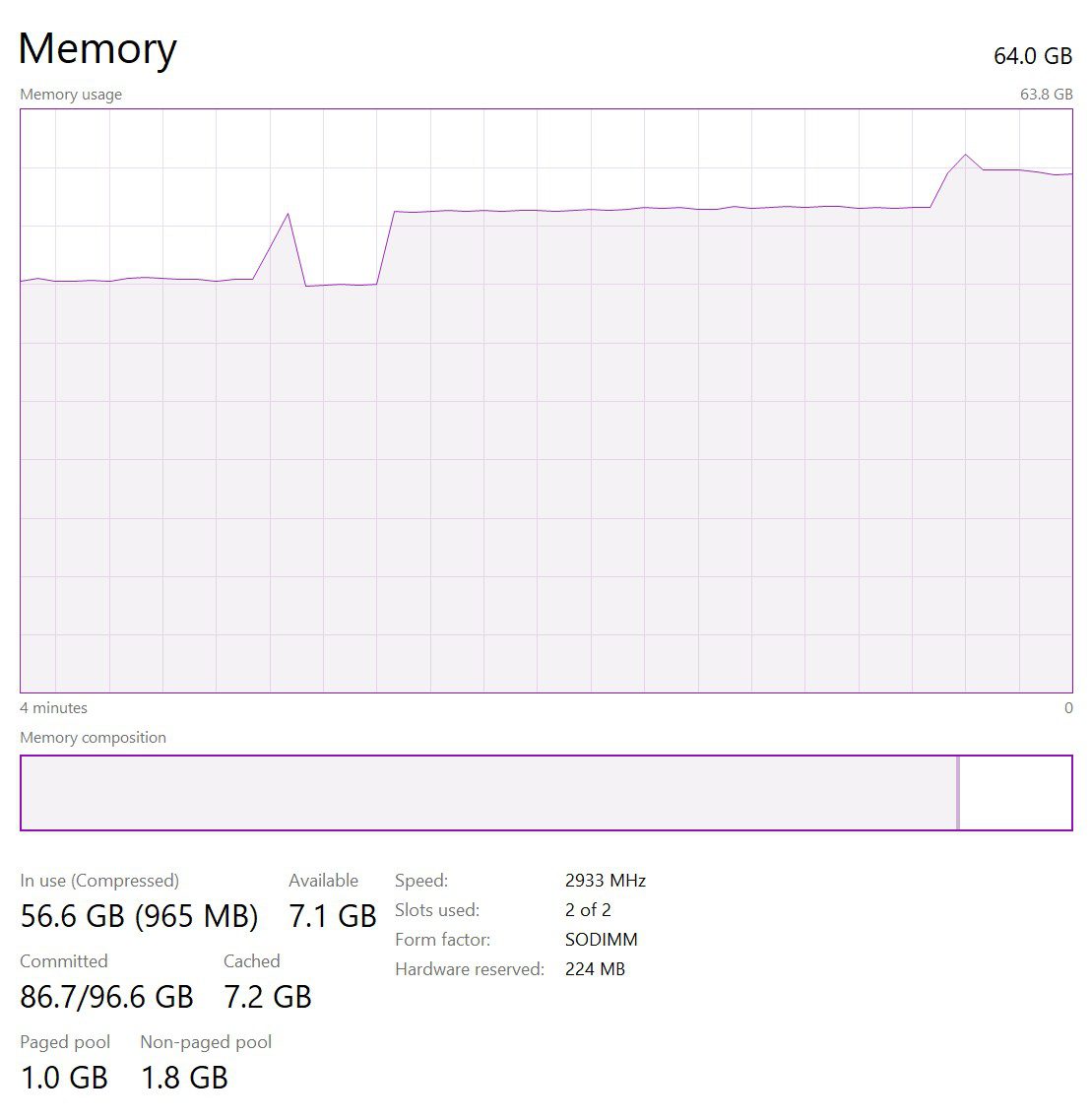 Whoa. OK, well, we still have some free memory, we should be fine. Let's start Setup!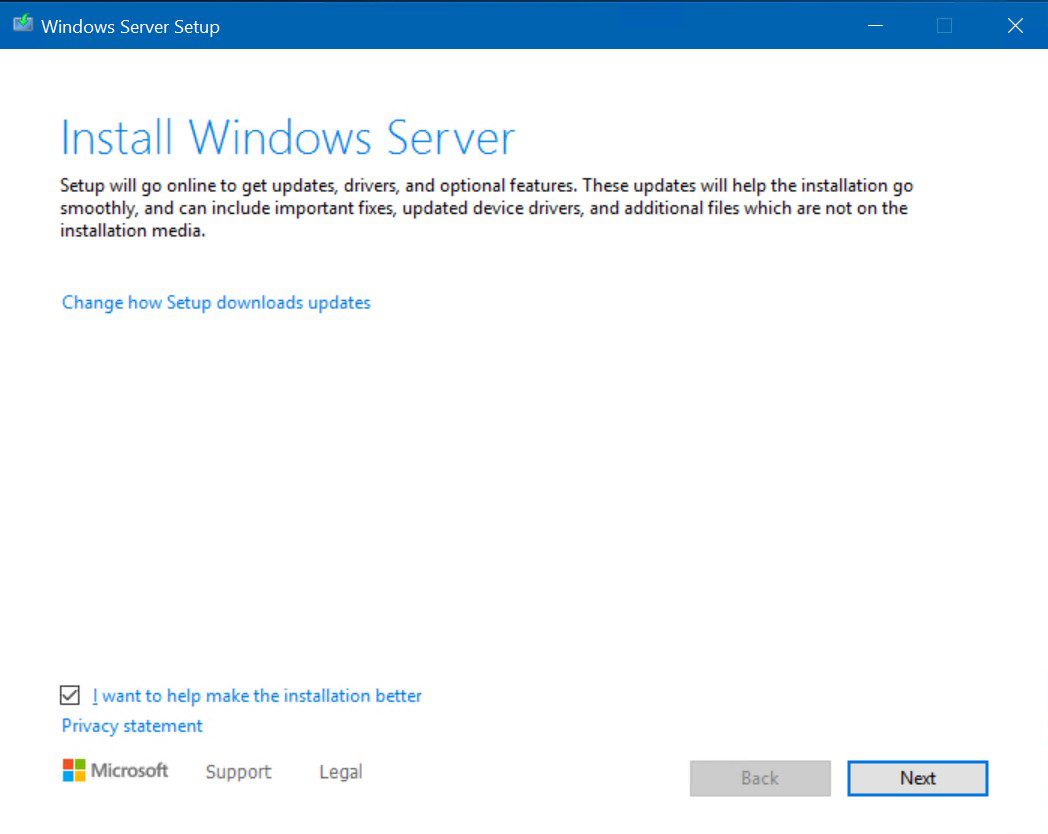 I went through all the standard Windows Server Setup screens, just as before. I got to the point of no return, 'Ready to install.'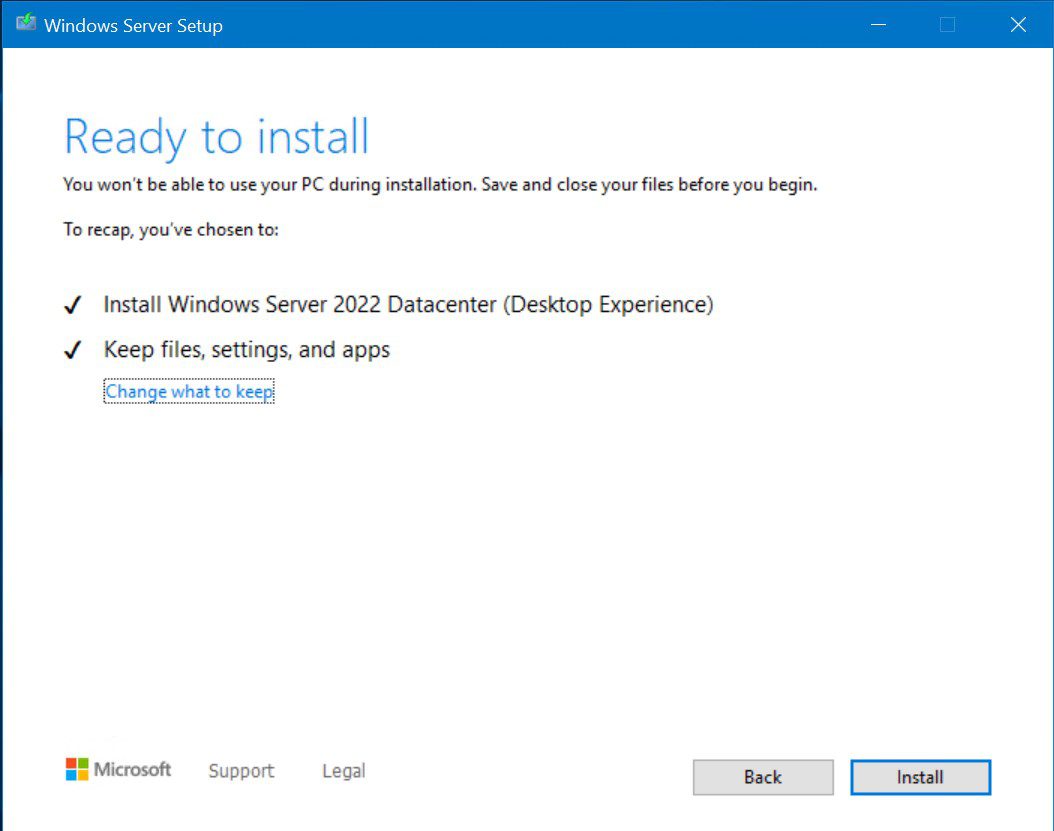 OK then. Let's hit it!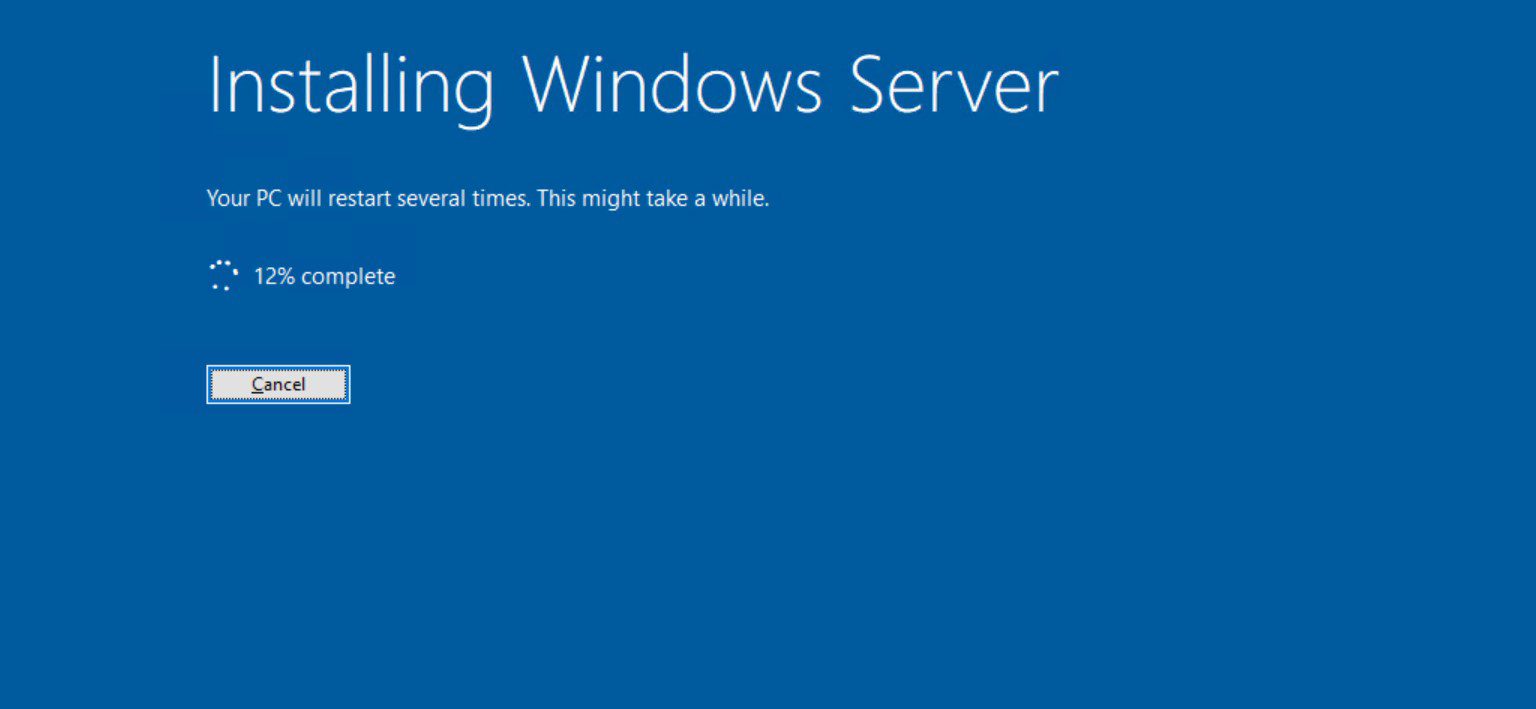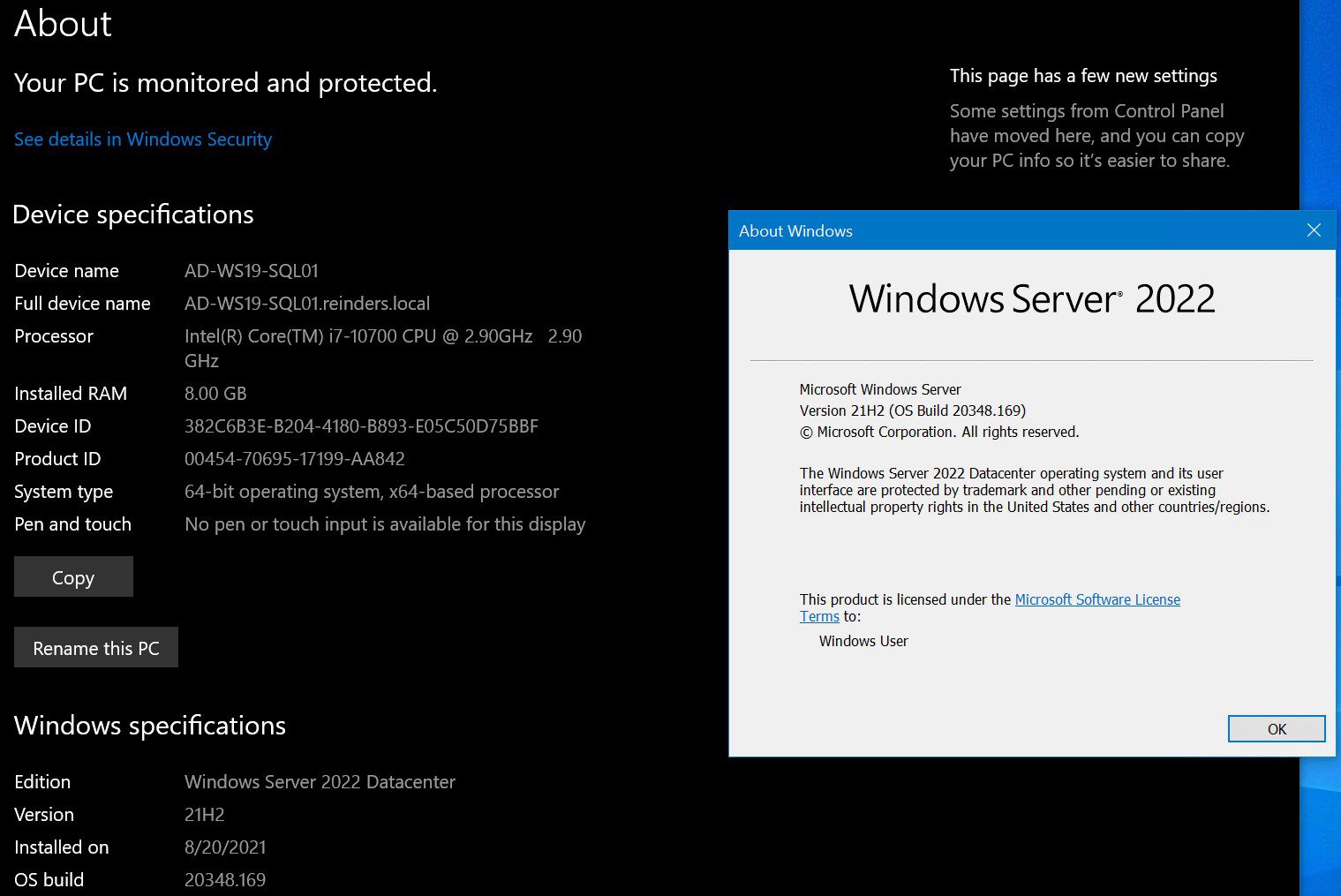 So, well, I was right, unfortunately. I hit my first 'glitch.' I fired up SQL Server Management Studio (SSMS) 18.9.1 and I could not connect to the SQL database engine. A standard 'can't locate the server/engine' message. So, first thought, services. I had a look, and, for whatever reason, the 'SQL Server' service was not started. It was set to Automatic. I clicked Start, and it fired right up. I then went back to connect and, we're good. (As a post follow up, I'll reboot the server and see if it was a glitch or maybe part of a larger problem)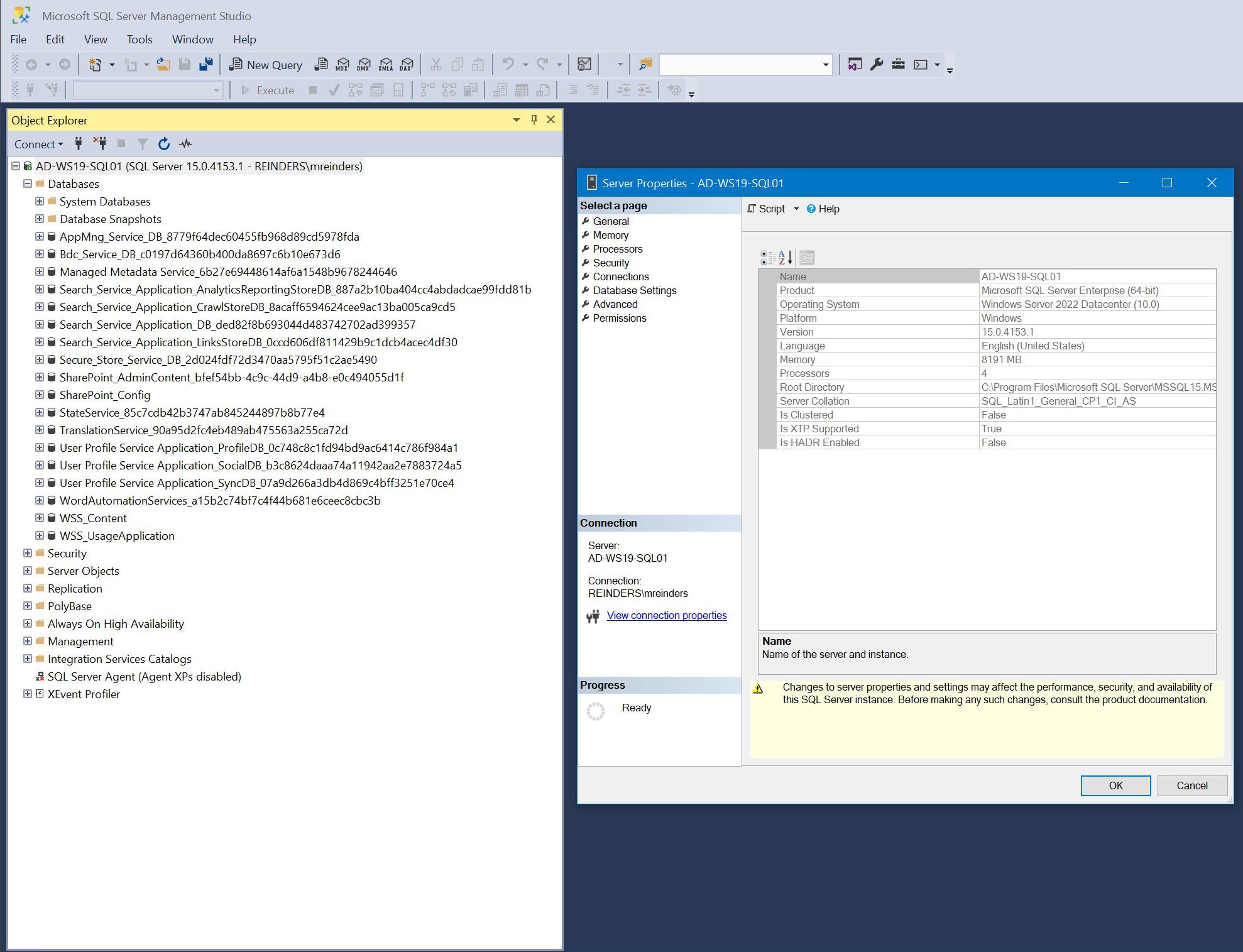 And as you can see, SQL knows she's running on Windows Server 2022 Datacenter. I switched over to my trusted Windows 10 client PC to confirm SharePoint (SSSE) was still running, reloaded a few pages, and tested Site Collections. All looks dandy. Isn't this fun?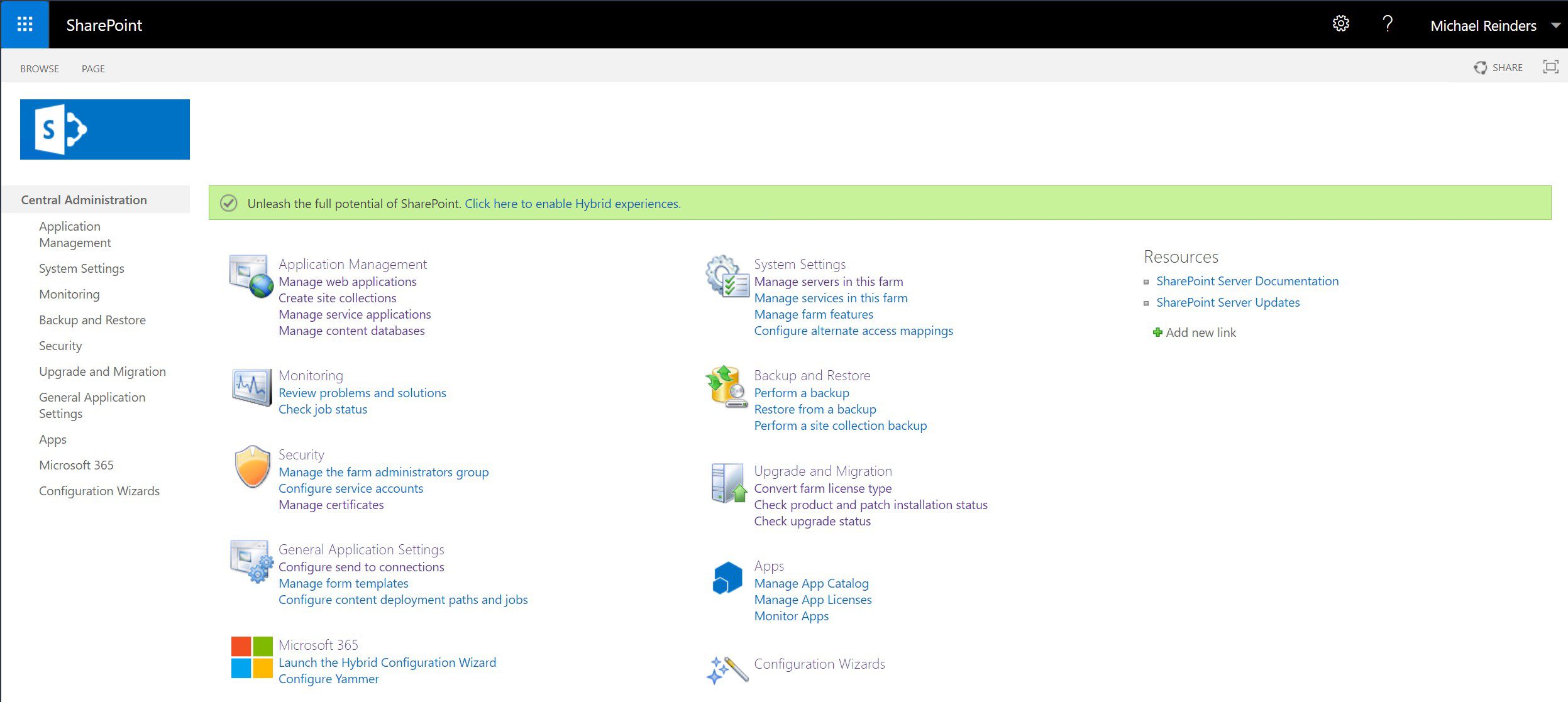 Is everybody ready for the most interesting (and fragile?) upgrade? Onto the last!
Upgrading WS19-SSSE-01
Again, let's give you some preliminary, pre-upgrade stats and details.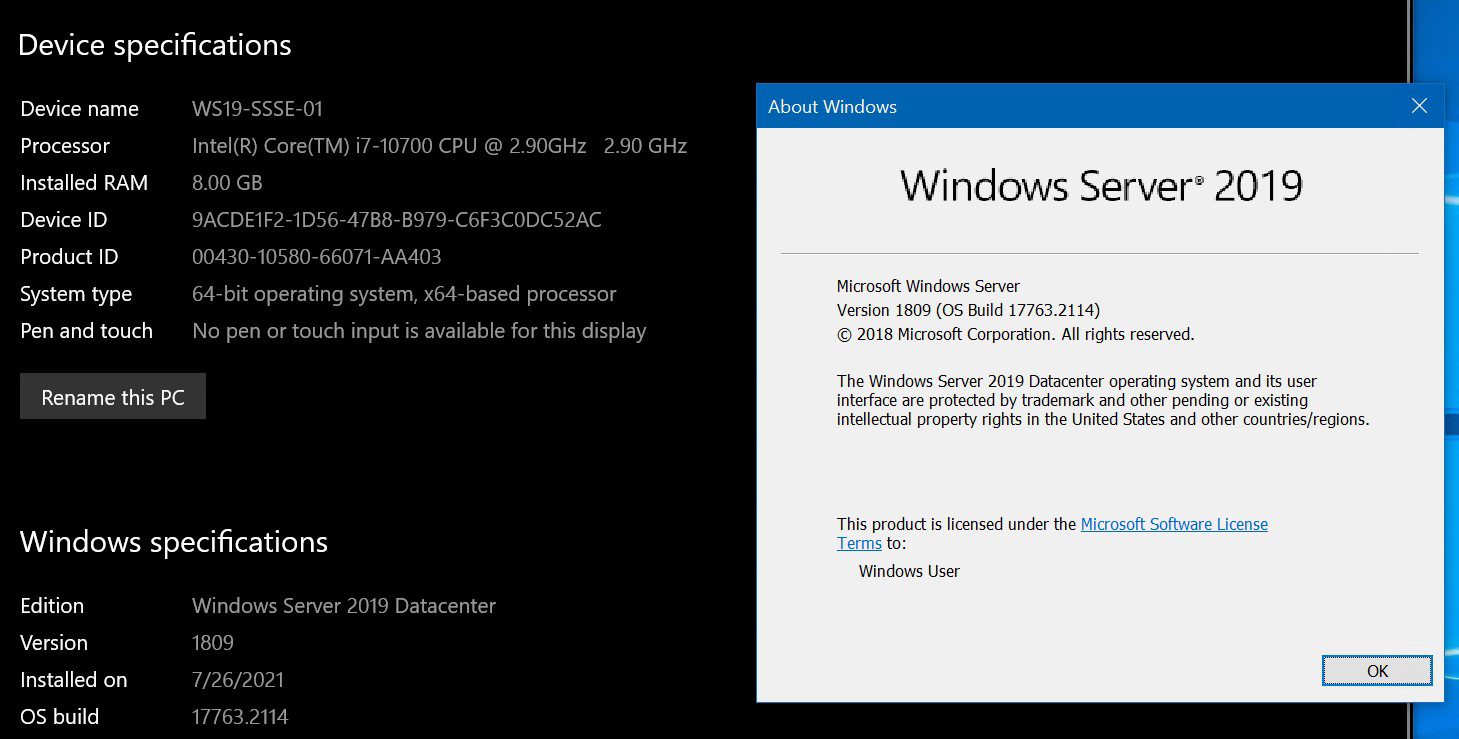 I mounted the magical Windows Server 2022 ISO, fired up Windows Setup, and, incidentally, ran into this screen briefly after Setup started…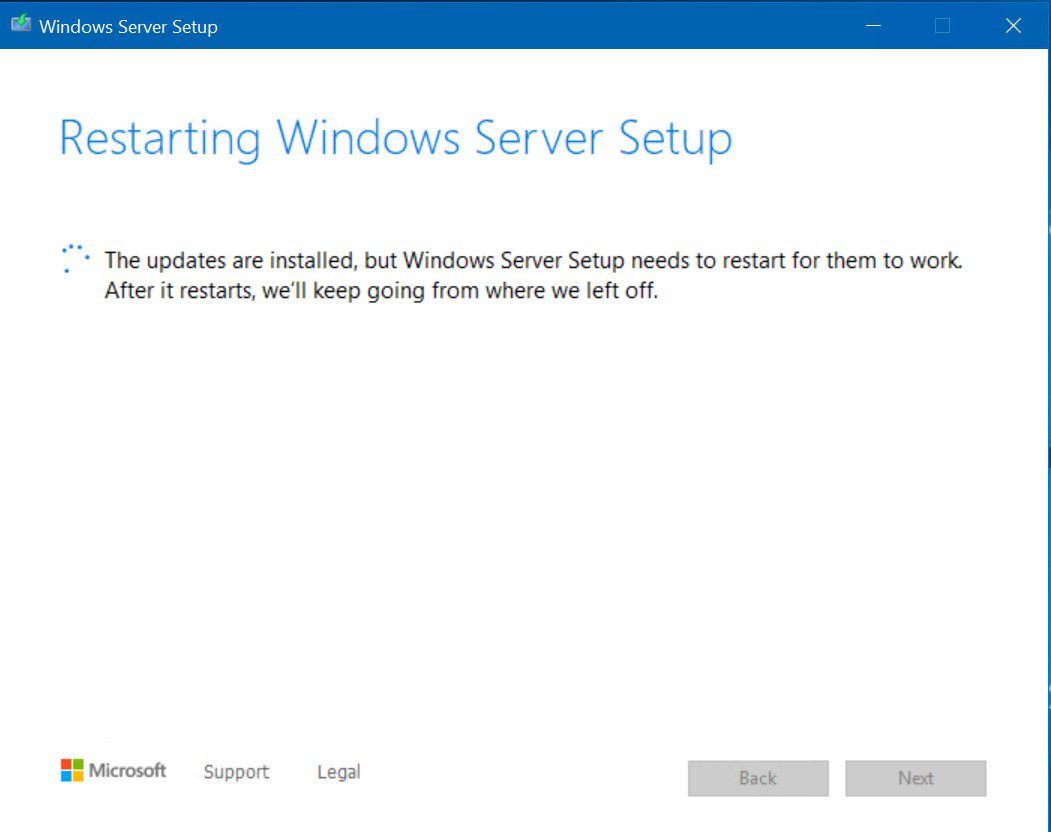 Very slick. At that first 'Checking for updates' screen, Setup goes out to get updated Windows Setup bits…updates to the engine that installs Windows Server, to confirm a continually more reliable upgrade and setup process for all. Excellent! (Who knows what bugs we just avoided thanks to those updates? Thank you Microsoft)
I reached the 'Ready to install' screen, crossed my fingers and toes, and clicked Install!
OK, the upgrade was completed successfully. So far, so good.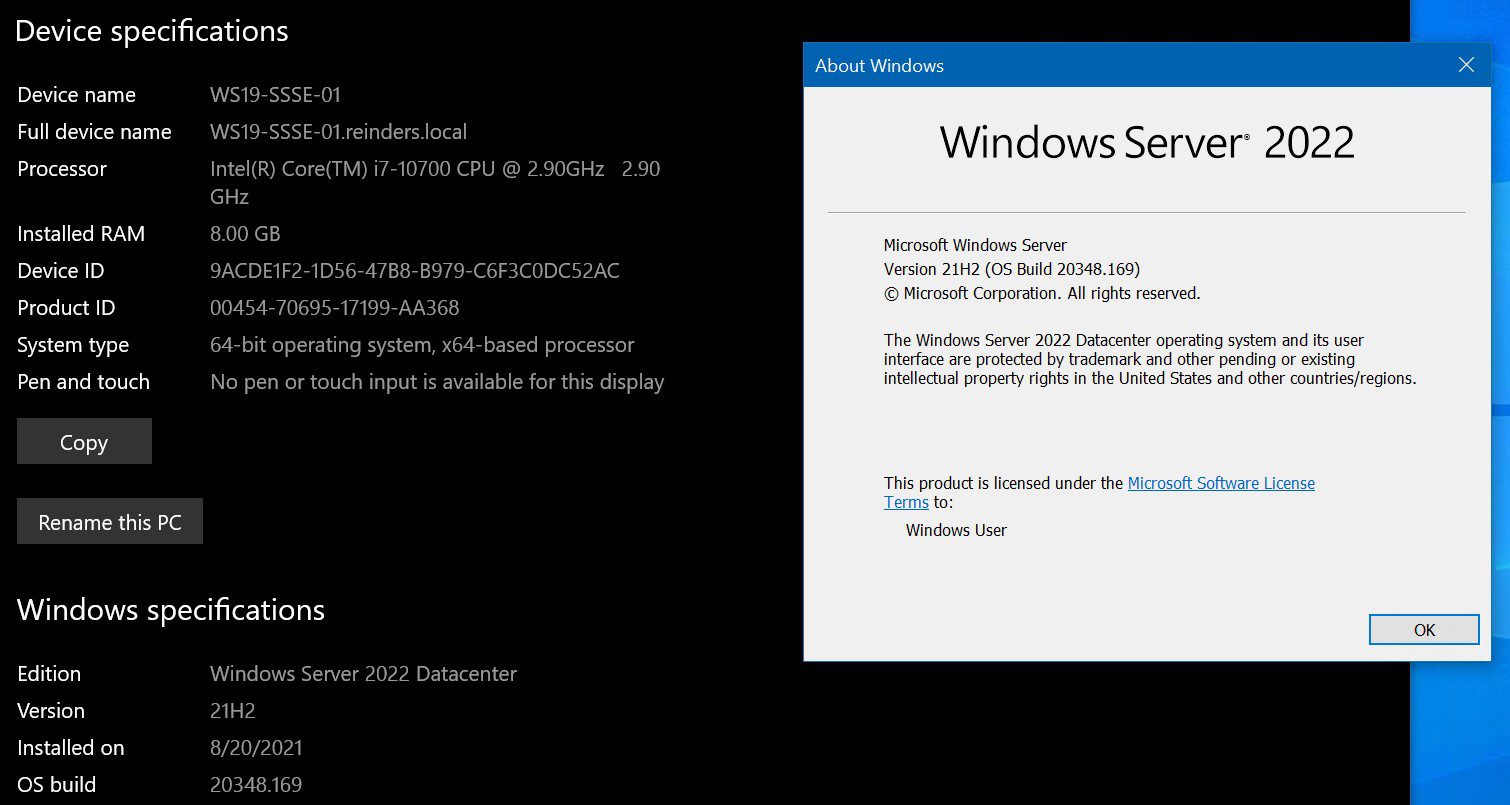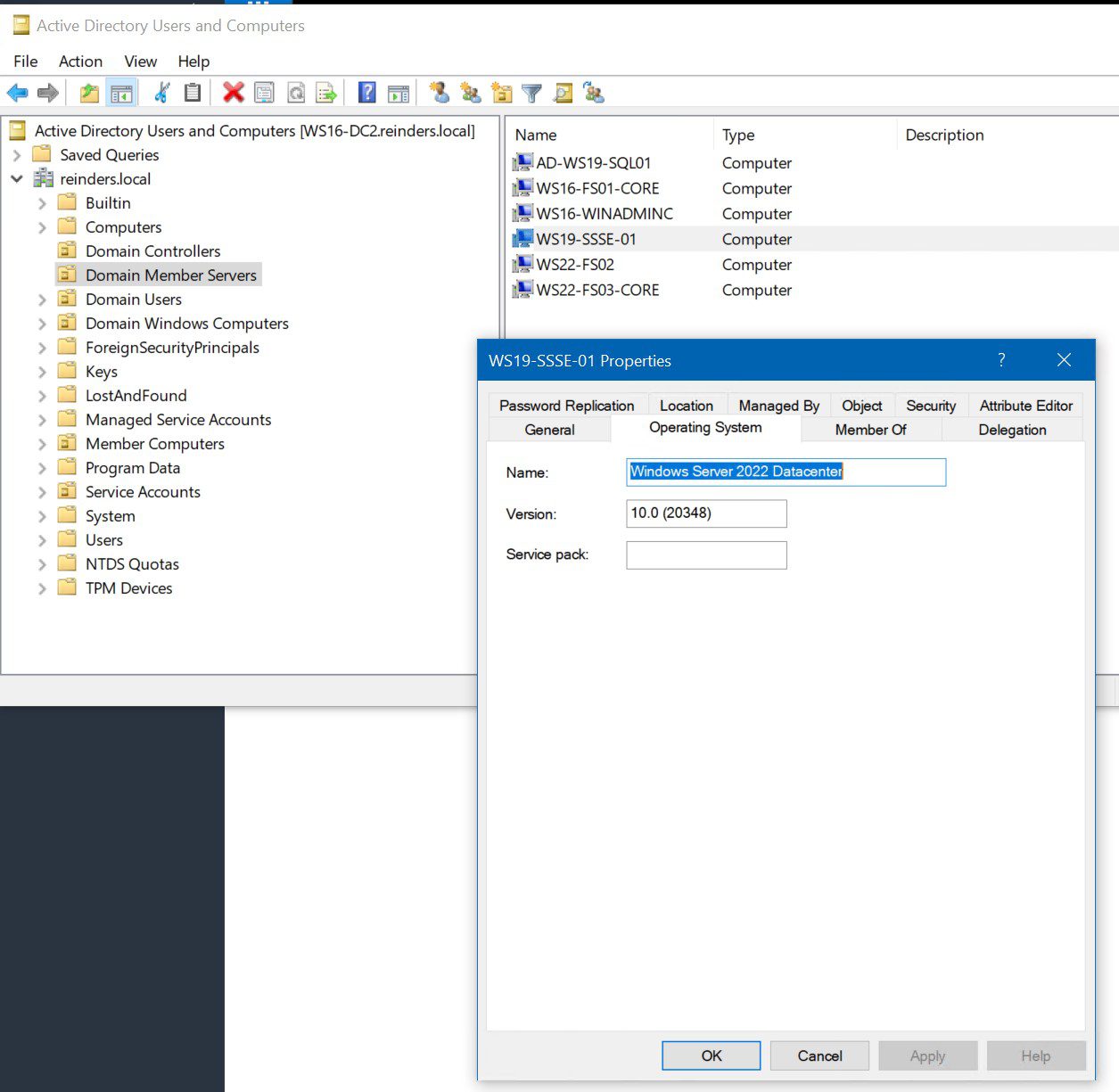 I checked Windows Admin Center for more verification.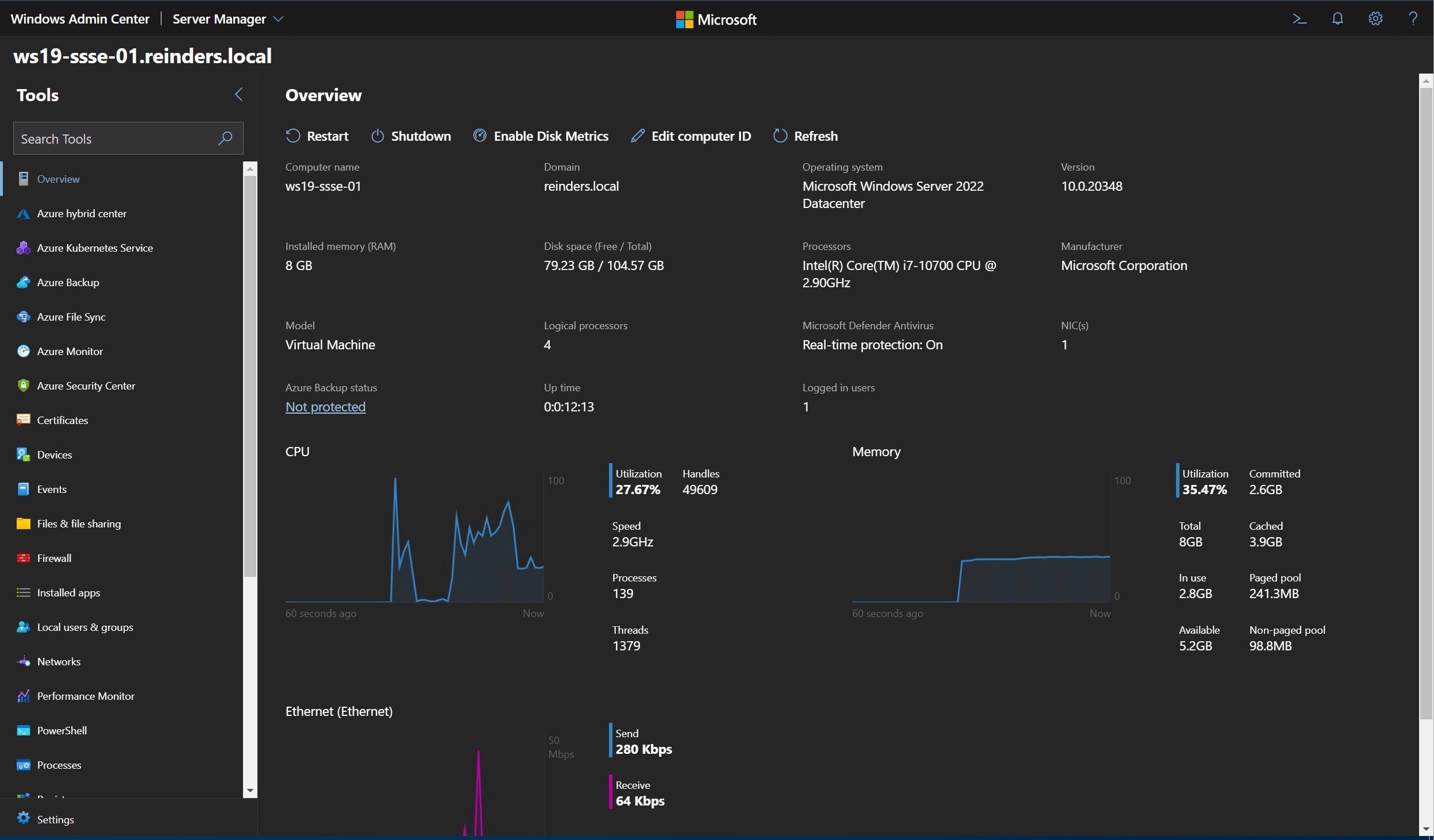 And the last small item to check was SharePoint. I went to my Windows 10 client PC and refreshed SharePoint Central Administration and the 2 Team Sites I had. Let me tell you, they took a while to refresh. The SharePoint 'content engine' is a beast. There are a lot of resources behind being able to present modern team sites. And of course, my single PC with limiting resources, versus a huge datacenter farm of SharePoint content servers, SQL Servers, well, you get the idea.
But, (yes, enough of the chatter…) it all worked! Like, everything. Honestly, I've been in professional IT for > 20 years. I did NOT expect this all to work. I only had that one glitch with the SQL Server service on WS19-SQL01, but, compared to the mess I could be in right now, I would say this was a resounding success!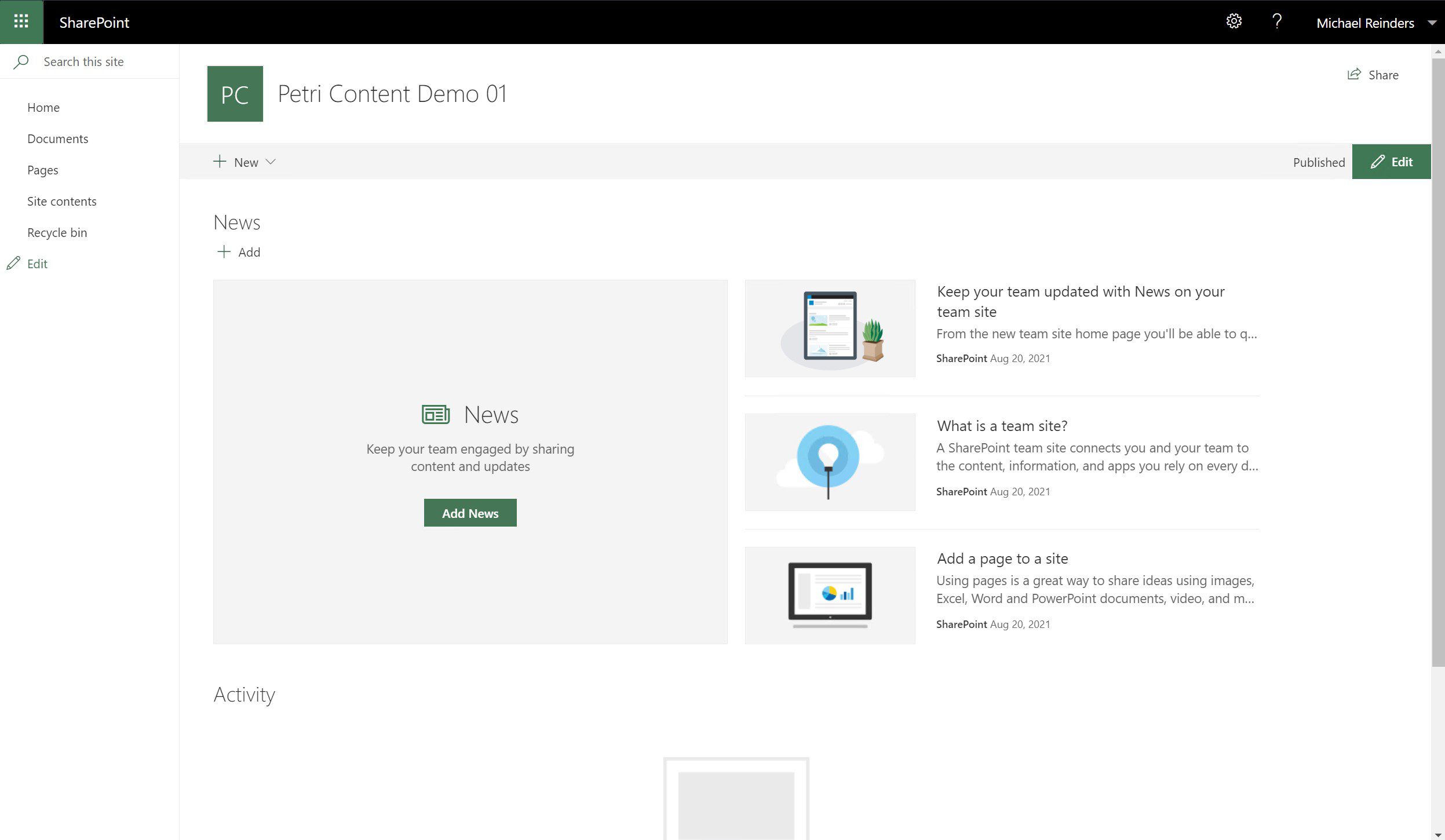 Conclusion and What's Next!
Here's what we accomplished: I upgraded seven servers to Windows Server 2022. This included 3 DCs, a SQL Server 2019 server, a SharePoint Server Subscription Edition (Preview) server, a fileserver running Windows Server 2016 Core, and our trusty Windows Admin Center server. That was a lot of work and a lot of fun. I hope each and every one of you finds a little nugget of assistance when performing similar upgrades in your environments. Seriously – the fact that SQL and SharePoint survived the rug from being pulled from underneath their feet…fantastic.
I'm contemplating keeping this 'series' alive for a while. I have a decent server infrastructure, all running the latest Windows Server operating system. 😉 I'll spend some time thinking about what other servers I could introduce, any more potential upgrades I could perform. If you have any ideas about what would benefit you in your environment, please leave a comment and I'll be in touch.
Thank you very much for joining me on this educational, helpful, and successful upgrade project. Hats off to the Microsoft Windows & Azure engineering teams. Keep up the good work!