Windows Admin Center in the Azure Portal is Now in Public Preview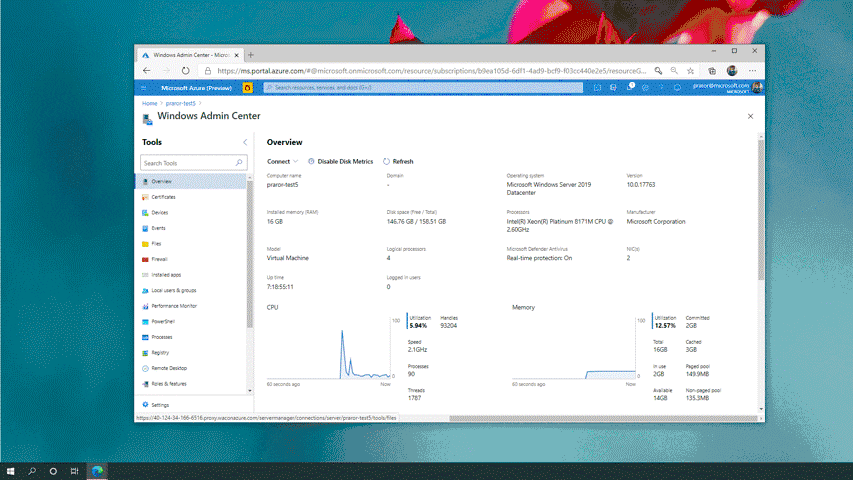 During the first part of Ignite in September 22-24, 2020, Microsoft announced that it was bringing Windows Admin Center (WAC) to the Azure Portal. Windows Admin Center (WAC) is a complete reimagination of the built-in management consoles (MMC) that are used to configure Windows Server.
WAC is a web-based administration portal for managing local or remote devices. It works with Windows Server 2022, Windows Server 2019, Windows Server 2016, Windows Server 2012 R2, and Windows Server 2012. It can also manage Hyper-V Server, Azure VMs, Azure Backup, highly converged infrastructures (HCI), and much more.
Administrators access WAC through a gateway that hosts the web app. Because the gateway is a web app, administrators can connect to it from the public Internet and the local area network. Connecting to a gateway, rather than directly to the nodes you want to manage, provides more flexibility and the option to secure communications.
Windows Admin Center in the Azure Portal
The latest announcement brings WAC in the Azure Portal out of private preview. Prior to this update, it was only possible to manage VMs at the infrastructure level in the Azure Portal. But WAC in the Azure Portal lets administrators manage Windows Server VM guests at a more granular level. For instance, you could manage server files, certificates, and view events. WAC gives you better oversight of Windows Server VMs right from the Azure Portal.
Image #1 Expand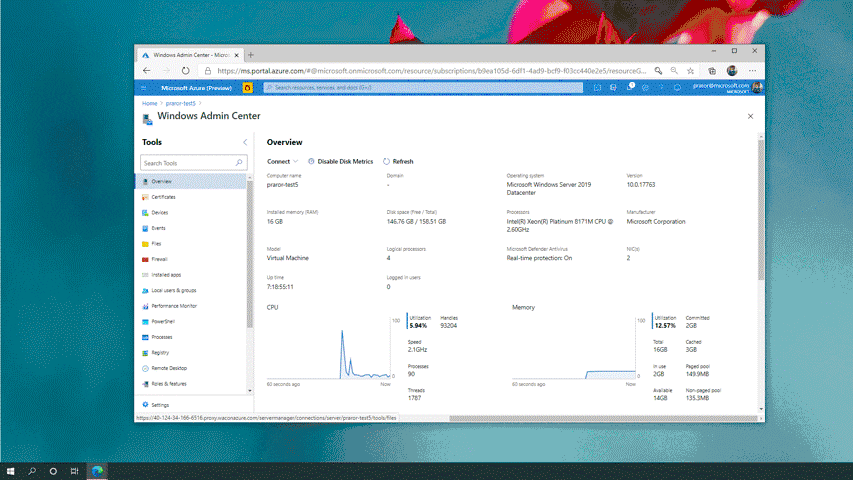 WAC in the Azure Portal lets administrators manage Windows Server VMs without connecting to them using Remote Desktop or other management tools like PowerShell. It also provides the same administration experience for Server Core and servers installed with the Desktop Experience role.
As a hosted service, WAC in the Azure Portal will always be up to date. Windows Admin Center installs on each Azure VM, and the installation consists of a web server and a gateway. Microsoft says that even in preview, WAC in the Azure Portal will be backed by the support infrastructure that other Azure services benefit from to ensure reliability. Microsoft announced the availability of WAC in the Azure Portal along with the general availability of WAC v2103.
WAC in the Azure Portal requirements
Microsoft has laid out the requirements for using WAC in the Azure Portal. Servers must be running Windows Server 2019 or Windows Server 2016 with at least 3GB of memory. The VMs can be in any region but WAC isn't supported in Azure China, Azure Government, or other non-public clouds. VM configuration must allow outbound Internet access or an outbound port rule allowing HTTPS traffic to the WAC service IP address. The Azure WAC service doesn't use a service tag at the moment.
Security considerations
Just like with Remote Desktop, Microsoft doesn't recommend connecting to VMs using public IP addresses. The best strategy is to connect using a private IP address in the VMs virtual network. You can connect your management PC to an Azure virtual network using a Point-to-Site (P2S) VPN gateway.
Windows Admin Center is the future of Windows Server GUI management
Windows Admin Center in the Azure Portal makes it easier for administrators to securely manage and configure Windows Servers running in the cloud. It provides a missing piece to the Azure Portal that I'm sure is going to be popular. Microsoft is no longer investing in the legacy MMC consoles. That means you need to be using WAC to get updates to the Windows Server management experience.