This month, Lenovo releases new Windows devices on ARM, Windows 11 gets a 'major' update, and resetting your PC might not delete all your files.
Lenovo announces new Windows devices built on ARM and the Pluton security architecture
Lenovo announced at the Mobile World Conference (MWC) in Barcelona this month new devices running Qualcomm Snapdragon 8cx Gen 3 ARM processors. Microsoft says these are the first ARM processors built on its Pluton security architecture.
Pluton secures boot, identity, credential protection, and encryption processes. The Azure Attestation Service with Intune also supports Pluton to provide what Microsoft calls 'chip-to-cloud zero trust' security. Additionally, the ThinkPad X13s comes Secure-Core PC certified, ensuring that it is compatible with all the security features in Windows 11.
ARM pointer authentication
Microsoft says it has invested in ARM pointer authentication capability in Windows 11 when running on the Snapdragon 8cx Gen 3. It brings protection for exploits that use return-oriented programming (ROP) or stack modification techniques.
Windows on ARM performance
While Microsoft touts security improvements for Windows devices running on ARM, what it hasn't talked about is performance. Performance on previous devices running earlier versions of the Snapdragon 8 chip was lackluster. And the Gen 3 isn't expected to show much improvement.
With Apple blazing ahead in ARM performance, Microsoft is going to need to up its game over the next couple of years if Intel can't deliver performance and power efficiency to match the M1 chip.
Microsoft previews new Windows 11 features
Microsoft released an optional preview update for Windows 11 users in the Stable channel. The update includes:
a preview of the Amazon App store for users in the U.S.
mute/unmute your mic in Teams from the taskbar
taskbar drag and drop support
the ability to pin files, not just folders, to Quick Access in File Explorer
a new weather widget entry point, and the clock on second monitors
An updated Notepad and Media Player app via the Microsoft Store
While it has been touted as a major update, that's not really the case. Nevertheless, there are some features here that power users especially will appreciate, like the reappearance of the clock on secondary displays.
The update should reach general availability for all Windows 11 users by the middle of March.
Test Edge IE mode for legacy websites and apps
In collaboration with the Selenium project, Microsoft says devs can now automate testing for IE Mode in its Edge browser using the Internet Explorer (IE) driver. Microsoft has released a document on how to automate testing of IE Mode in Edge with the IE driver as it prepares to end support for Internet Explorer June 15th, 2022.
Windows Reset feature might not wipe all your data
In a list of known issues published recently on Microsoft's website, it has come to light that files might remain on a PC after resetting Windows. Microsoft says:
"When attempting to reset a Windows device with apps which have folders with reparse data, such as OneDrive or OneDrive for Business, files which have been downloaded or synced locally from OneDrive might not be deleted when selecting the "Remove everything" option. This issue might be encountered when attempting a manual reset initiated within Windows or a remote reset."
There are currently two workarounds. Either sign out or unlink OneDrive before resetting Windows. Or the problem can be avoided on devices already reset using the instructions in KB5012334.
The following platforms are affected:
Windows 11, version 21H2
Windows 10, version 21H2
Windows 10, version 21H1
Windows 10, version 20H2
Windows 11 is installed on 19 percent of PCs worldwide
According to a report by AdDuplex, Windows 11 is running on 19.3 percent of PCs. Which is up from 16.1 percent in January. That's an impressive figure considering Windows 11 has only been generally available a few months.
Windows 11 Online Experience Packs
If you weren't already confused by Microsoft's tech for updating Windows, it announced this month that Online Experience Packs are now a thing.
"Online Service Experience Packs work in a similar way as the Windows Feature Experience Packs do, allowing us to make updates to Windows outside of major OS updates. The difference between the two is that the Windows Feature Experience Packs can deliver broad improvements across multiple areas of Windows, whereas the Online Service Experience Packs are focused on delivering improvements for a specific experience such as the new Your Microsoft account settings page."
Windows Insider builds
Windows 11 Insider Preview Build 22563 brought with it a tablet-optimized taskbar. In tablet mode, the taskbar has two states: collapsed and expanded. In collapsed state it disappears out of the way. And in expanded mode it is optimized to be easier to touch.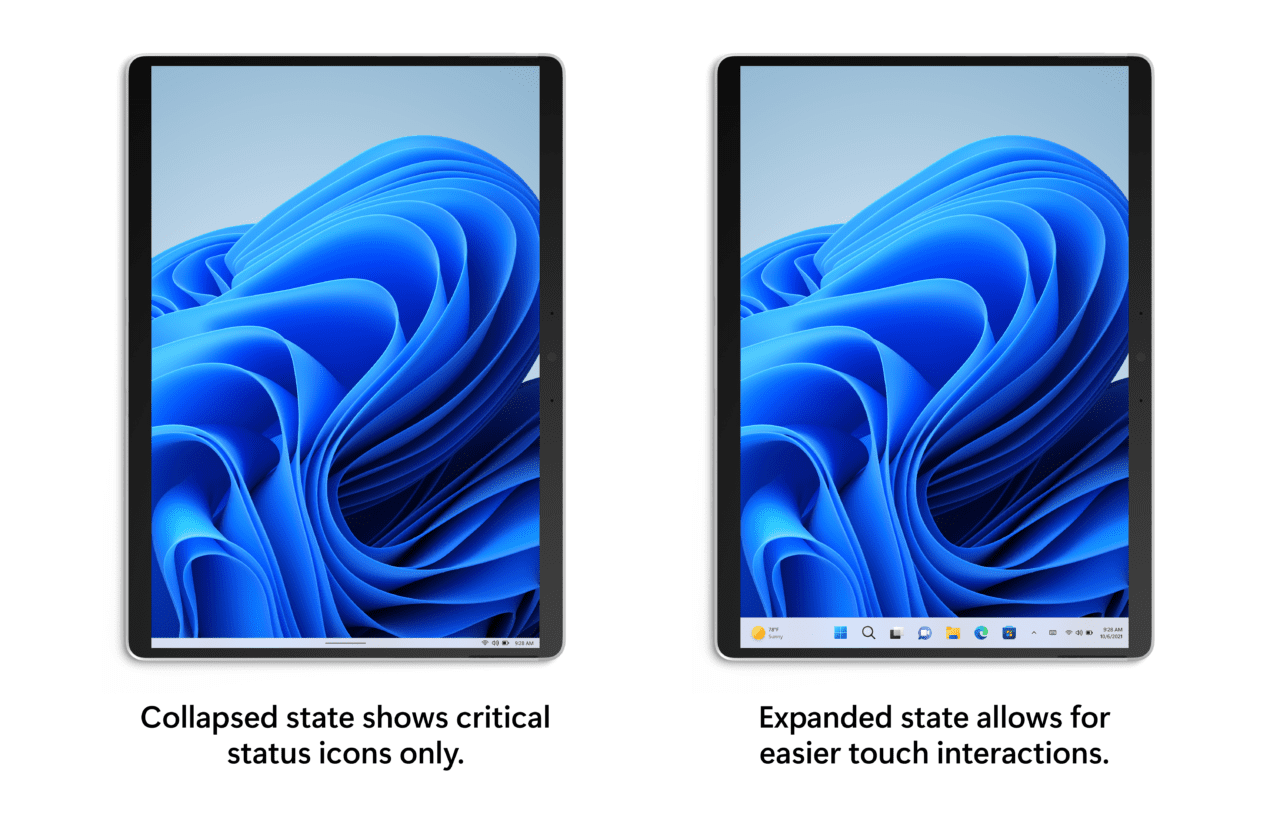 Also in this build, Edge tabs become a suggested window in snap assist.
Windows 11 Insider Preview Build 22557 brings big changes to the Start menu. Users can now create and curate folders in the pinned apps area. Not something I've missed in Windows 11. But I know a lot of users want it.
There's also an update to snap layouts. By dragging a window to the top of the desktop, Windows reveals the snap layouts, and you can drop the window on top of a zone to snap it. Build 22557 brings a whole load of other improvements that will be welcome to users waiting to upgrade from Windows 10.
Microsoft clarifies the role of Windows Insider Channels
In a blog post about the future of the Windows Insider Program, Microsoft said that users should think of the Dev and Beta Channels as "parallel active development branches but previewing different things."
In short, the Dev Channel is for testing features that may or may not appear in Windows in the distant future. Builds in this channel are not matched to any specific planned release of Windows.
The Beta Channel is for previewing features that resemble something that Microsoft would like to ship in a stable release. Features could appear in the Beta Channel before Dev.
Updates to the Dev and Beta Channels will be made using Feature, Online, and Web Experience Packs.
And finally, the Release Preview Channel is where users should go to preview features that will be coming to the Stable Channel soon.
That's it for another month!