What's New for IT Pros in Windows 10 Version 2004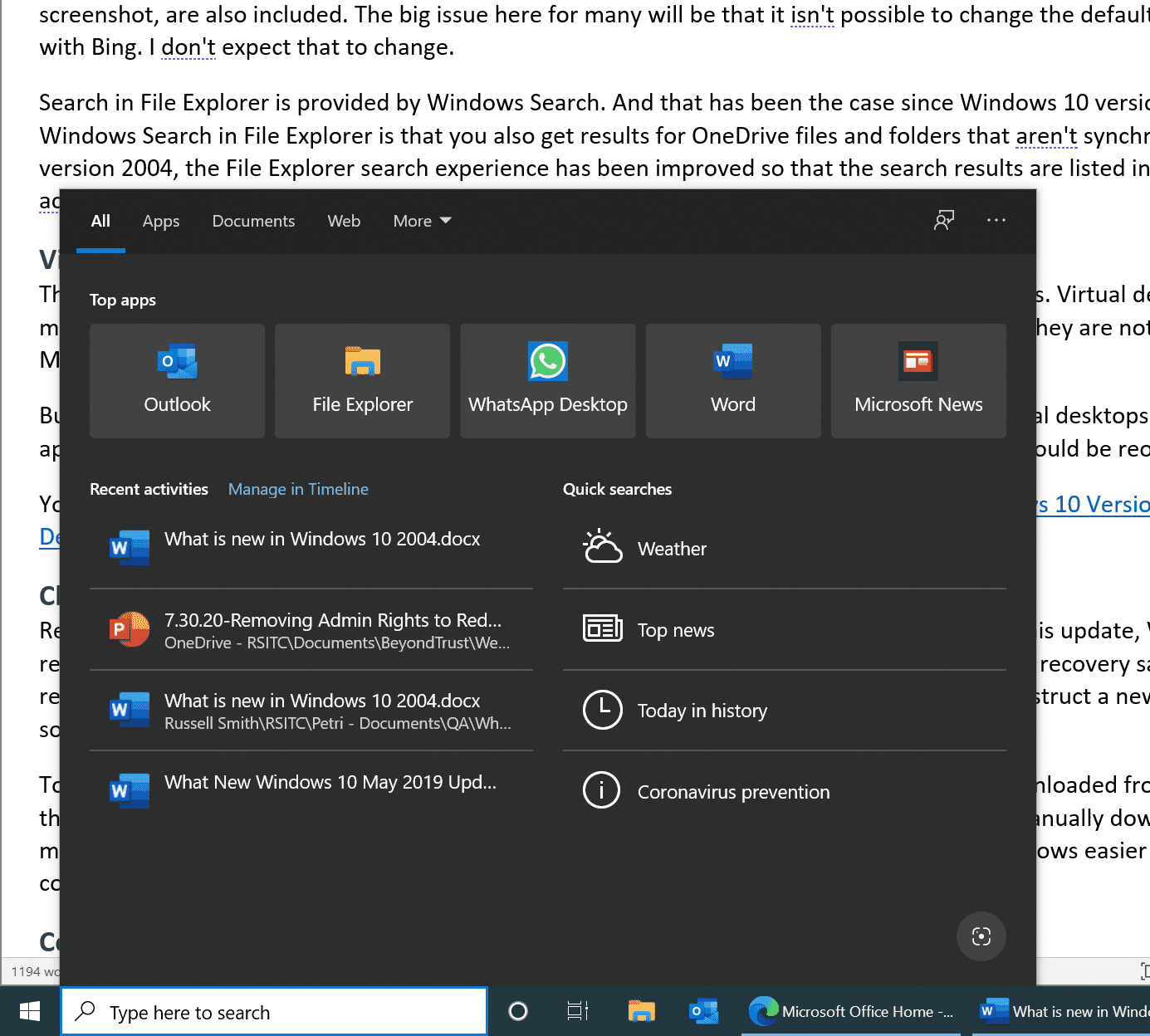 Windows 10 version 2004, or the Windows 10 May 2020 Update is it is now officially known, was made generally available at the end of May. Microsoft is gradually making the update available to users via Windows Update. But this update doesn't contain much in the way of new features for end-users, despite being tested for longer than previous Windows 10 updates.
You can decide whether to upgrade because Microsoft is no longer forcing Windows 10 feature updates on users. At least until the time comes when your current Windows 10 version reaches end-of-support. And as always, organizations with IT departments can choose to block this feature update.
Here is a rundown of the main new features for end-users in the Windows 10 May 2020 Update.
Windows Search
Apart from work on the indexing engine, which has been optimized to back off when you are busy with other things, the Search home experience now shows top apps and recent documents in a streamlined interface. 'Quick searches', and the ability to search Bing using a screenshot, are also included. The big issue here for many will be that it isn't possible to change the default search engine, so you are stuck with Bing. I don't expect that to change.
Image #1 Expand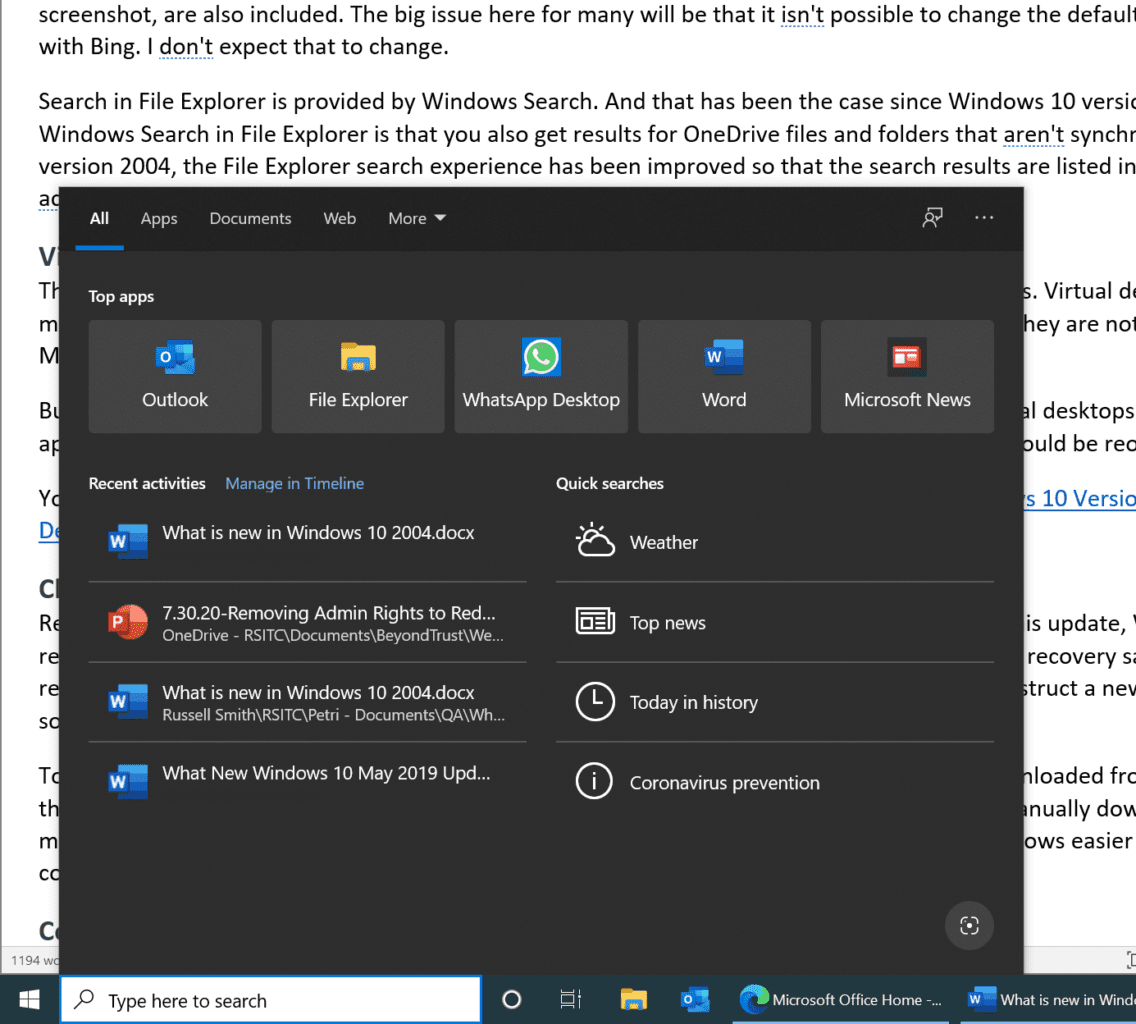 Search in File Explorer is provided by Windows Search. And that has been the case since Windows 10 version 1909. The advantage of using Windows Search in File Explorer is that you also get results for OneDrive files and folders that aren't synchronized to the PC. In Windows 10 version 2004, the File Explorer search experience has been improved so that the search results are listed in a dropdown menu that you can actually read and use properly.
Virtual desktops
This release brings the ability to rename virtual desktops, and for those names to persist reboots. Virtual desktops haven't seen much meaningful change since they were first introduced in Windows 10. And I guess that's because they are not used by enough people for Microsoft to invest more.
But to make virtual desktops truly useful, apps need to survive reboots on their respective virtual desktops. Windows 10 supports restartable apps, but restartable apps aren't intelligent enough to remember which virtual desktop apps should be reopened on.
You can find out more about automatic app restarts and virtual desktops on Petri here: Windows 10 Version 2004 (20H1) – Renaming Virtual Desktops and Restart Apps Feature.
Cloud-based 'Reset this PC'
Reset this PC is designed to let users quickly reinstall Windows if a problem develops. Prior to this update, Windows 10 offered imageless recovery, where a new copy of Windows is constructed from the existing installation. Imageless recovery saves space because it doesn't require a Windows image be stored on disk. But imageless recovery can take a long time to construct a new Windows installation. And it sometimes fails if Windows is too corrupted.
Image #2 Expand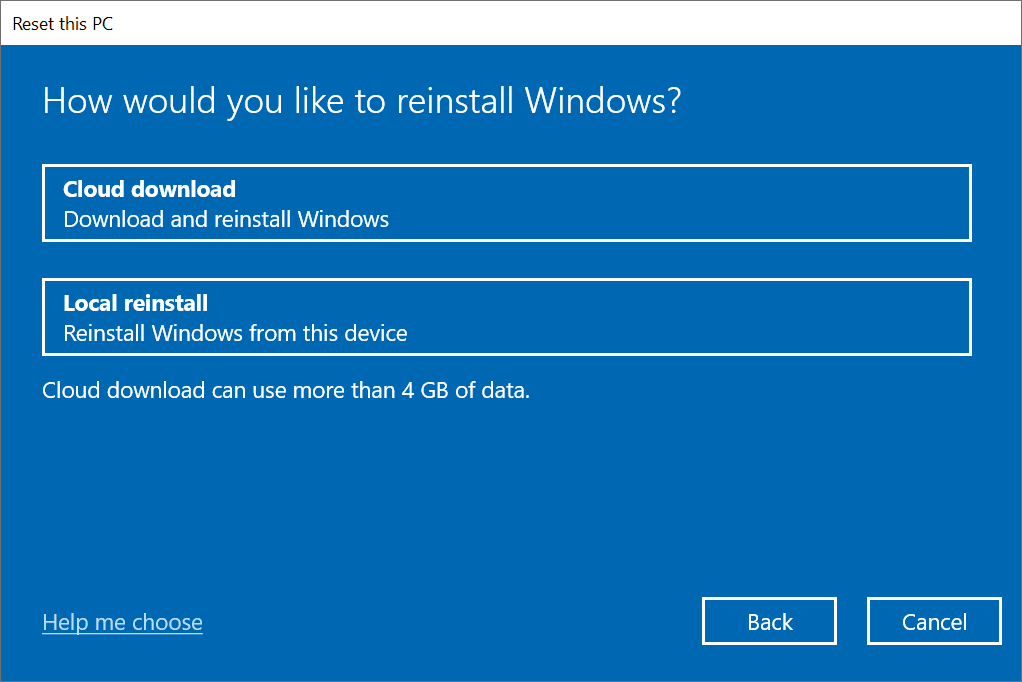 To address this problem, the May 2020 Update includes cloud-based recovery. An image is downloaded from Microsoft's servers to reinstall the currently installed version of Windows. Before the May 2020 Update, you would need to manually download the image to a USB stick or mount the image ISO file as a disk in Windows. Cloud-based Reset this PC makes restoring Windows easier and potentially faster if the Internet connection is fast.
Cortana
Cortana has been decoupled from the Search home experience and is now a standalone Microsoft Store app that can be updated independently from Windows. Microsoft is positioning Cortana as an assistant for Microsoft 365 users. The biggest visual change is that Cortana uses black text on a white background by default if you have Windows set to the standard theme. Cortana also supports light and dark themes.
Image #3 Expand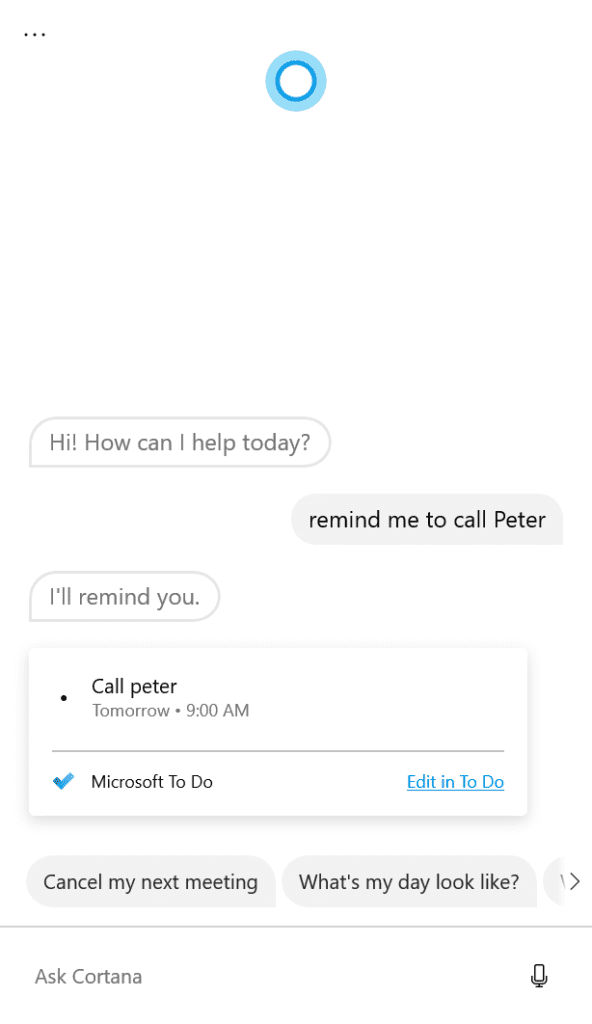 Microsoft has returned the ability to type commands instead of dictating them. And when you type in the app window, Cortana now waits until you press ENTER before it starts processing the request. Microsoft has improved performance and language models so that there is less lag between sending Cortana a request and getting a response.
The new app is still in beta and I wrote a brief overview here on Petri earlier this year.
Windows Subsystem for Linux 2
If you are a developer, there does seem to be a real reason to upgrade. Windows Subsystem for Linux (WSL) 2 is the only major new feature in this release. WSL2 introduces a new architecture that alters how Linux binaries interact with Windows and hardware devices without changing the user experience that you're familiar with in WSL 1.
To improve disk I/O and support for Linux apps, Windows 10 includes a Linux kernel that WSL2 uses to provide full system call compatibility. WSL2 could be a gamechanger for developers. And Microsoft is promising to bring further performance and compatibility improvements to WSL2 that will further extend its capabilities.
For more information on WSL2, see check out my overview here on Petri.
Windows Sandbox
Sandbox gets some minor improvements in this update, including the ability to enable and disable printer and clipboard redirection, microphone support, and a setting that runs the connection to Sandbox with extra security enabled.
Windows Hello
Windows Hello has seen changes that make it more widely available in different scenarios. For example, Windows Hello can now be used as a FIDO2 authenticator in all major browsers. Microsoft Accounts (MSA) now can be enabled for passwordless authentication using a Windows Hello biometric gesture or PIN. And FIDO2 security key support also works in Azure Active Directory hybrid environments.
For more on passwordless authentication, check out Understanding Windows 10 and Microsoft 365 Passwordless Sign-In on Petri.
Other changes and improvements
This release brings the usual minor improvements to the Settings app. Your Phone also supports making and receiving phone calls, although the feature is not strictly tied to Windows 10 version 2004. Ink Workspace has been streamlined, with easier access to Microsoft Whiteboard. And finally, Bluetooth devices that support Swift Pair (previously Quick Pair) can be paired using just notifications in the Action Center.
Is it worth upgrading to the Windows 10 May 2020 Update?
If you are a developer that uses WSL, the performance improvements and Linux feature support offered by WSL2 are worth the upgrade. For the rest of us, and for organizations that need to support Windows, think about waiting for Windows 10 20H2, which should be generally available in September or October. Windows 10 20H2 will bring a longer support window for organizations, and more visible changes for users, like an updated Start menu design and Edge-tab integration with ALT-TAB.
There are of course features in Windows 10 version 2004 for IT pros that might warrant an upgrade. But bear in mind that most of the security enhancements rely on hardware that is not yet available. And the Windows Autopilot support for user-driven Hybrid Azure Active Directory join with VPN support has been backported to Windows 10 versions 1903 and 1909.