Find AD Replication Errors Quickly with Active Directory Replication Status Tool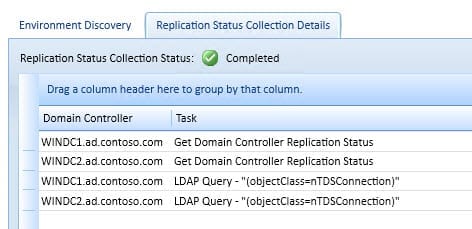 How can I find Active Directory replication errors with the new AD Replication Status Tool?
When you have more than one domain controller (DC), healthy Active Directory replication is critical in ensuring that users can log on and access domain resources. Today I'll show you how to quickly find problems with AD replication using the Active Directory Replication Status Tool (ADREPLSTATUS) from Microsoft.
Download and Install ADREPLSTATUS
You can download the Active Directory Replication Status Tool (version 1.1), which supports monitoring domain controllers running Windows Server 2003 or later. The tool can be installed on Windows Server 2003 (or later), or Windows XP (or later). The machine on which you install the tool must also have both the .NET Framework 4 and 3.5.1 components, and be a member of your Active Directory domain.
Once the prerequisites are in place, extract the contents of the downloaded ZIP file and run setup to install the tool.
Find Replication Errors with ADREPLSTATUS
While the Active Directory Replication Status Tool doesn't offer the same level of functionality as REPADMIN, such as the ability to start replication or change replication settings, it's a great tool for quickly gathering information visually and finding replication errors.
Launch the Active Directory Replication Status tool from the desktop shortcut or double-click repl.exe in C:\Program Files (x86)\Microsoft Active Directory Replication Status Tool\.
On the Configuration/Scope Settings tab, change the scope to collect data for your entire forest or just one domain.
Forest is the default scope setting and collects replication status data from all DCs in an AD forest, but you can change this to just the DCs in a given domain, or even DCs selected from a list.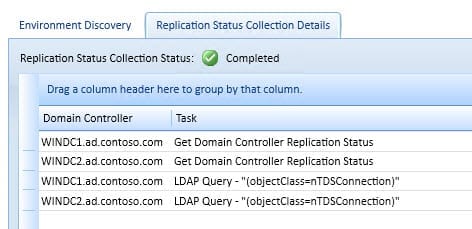 When the Active Directory Replication Status Tool starts, it automatically discovers the DCs in your environment. All you need to do to collect replication status data is press Refresh Replication Status on the Home tab. Once completed, ADREPLSTATUS will switch to the Replication Status Viewer tab, where you can see replication status information about each Active Directory partition for the DCs in your selected scope.
Errors are color-coded so they can be easily picked out, and there's also the option to filter the display to show only error state information. Replication status data can also be exported to Excel or in XPS format.