TechEd Europe 2014 (TEE14) started on Tuesday, October 28th, in sunny Barcelona, Spain. Thousands of enterprise IT pros and developers congregated to hear how to best us Microsoft's business products, and learn about new and upcoming technologies. The tone of the conference is set by the keynote, and that started bright and early on the first morning.

TEE14: The Atmosphere
TechEd Europe is a noticeable smaller and less dressed-up event than TechEd North America. The venue is huge, and the entrance that most use has little to no signage to indicate that Microsoft is in town. Over on the other side of the huge venue, where most of the session rooms and the registration desk are, there are a couple of Microsoft and sponsor signs and a big welcome graphic that adorns the main entrance.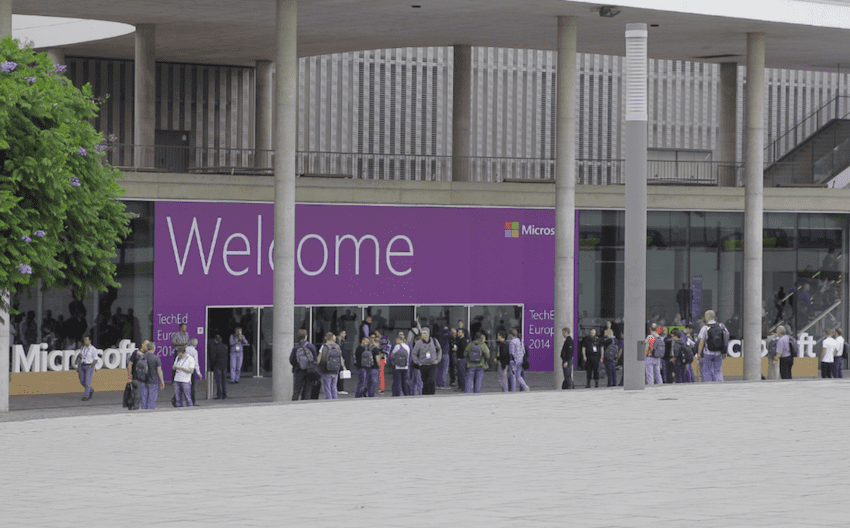 There is some other economizing as well: Breakfasts are served in the hotels instead of the meal hall at the venue, as a part of the hotel room charges. And there are no shuttle busses between the hotels and the distant conference centre; delegates must either use public transport or take a taxi (thankfully, very affordable).
At TechEd North America in May, there was a hostile reaction to the cloud centric keynote that focused on Office 365 and Azure. I feared for the worst when the Wi-Fi (predictably) in the keynote hall was not functioning – I searched for a working network and spotted a mobile hotspot called "F*** the Cloud". Hmm, this crowd were not going to like a repeat session.
But despite all that, we're here for the content, primarily the many breakout sessions delivered by the best speakers from Microsoft and the Microsoft community, giving delegates the best opportunity to learn about a wide variety of enterprise technologies in a week.
The Keynote
The man we usually expect to lead a TechEd keynote is [Microsoft Corporate Vice President of Cloud and Enterprise] Brad Anderson. I learned that he could not attend the conference for personal reasons, so the show was being hosted by head Microsoft Azure man Jason Zander.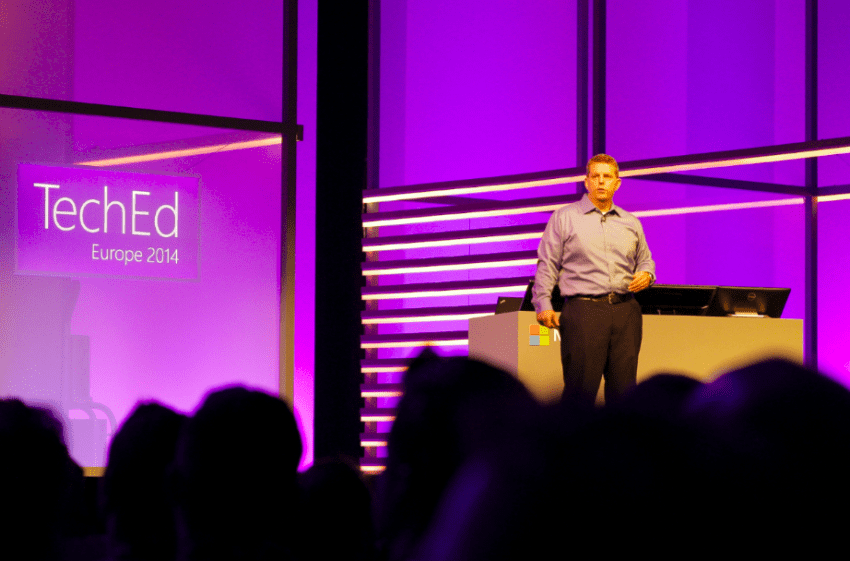 Windows 10 Technical Preview for Enterprise
Straight away, the keynote went to on-premises technology, focusing on Windows 10. Zander stressed two points:
Windows 10 is the client OS for every kind of device, from Internet-of-Thing (IoT) devices monitoring the engines in a jet plane, through phones, tablets, games consoles, hybrid devices, touch and non-touch PCs – and don't forget servers!
The way to think of things like the Start Menu is that Microsoft is stepping back and adding value to Windows 7 features.
The Windows 10 content of the keynote was delivered by former Windows Phone man, Joe Belfiore. Belfiore focused on presenting content — available in the current build of the Windows 10 Technical Preview — that would be of interest to Windows 10 users:
Start Menu, including user personalization
Control over applications by IT, including the ability to leverage the new Windows Store to deploy applications
Using Managed Applications to control the movement of data between end user and company apps.
A new security mechanism that uses the presence of the user's phone (Bluetooth) to enable the easy adoption of dual-factor authentication.
Containerization of user and company data
Support of Microsoft and third-party mobile device management (MDM) built into the OS
A video to demonstrate Continuum, the ability for Windows 10 to switch
And of course, the new Command Prompt that gives us keyboard controls such as copy/paste … which IT pros have needed since the first versions of Windows!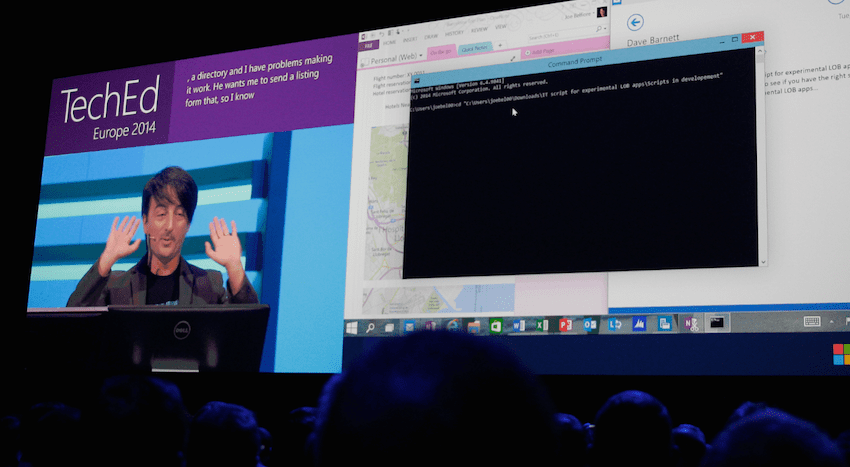 There was a round of applause as Belfiore demonstrated the ability to copy/paste into command prompt – quite an achievement with the more conservative European audience than one sees at the North American conference.
Some new features in a future build were also shown. Window snapping will be improved for PCs with multiple monitors, and Microsoft will be adding standardized three-finger swipe gestures to touchpads, offering power users easier and vendor-neutral gestures to minimize/restore windows and to switch between apps (like Alt + Tab).
Microsoft Azure Improvements and New Features
Zander returned to the stage to discuss Microsoft's cloud offering. The pitch has changed substantially since the Houston event in May, with a concerted effort not to alienate IT pros. He talks about how Microsoft checks three boxes in cloud computing:
Hybrid: Microsoft sells and continues to develop on-premises computing and cloud as well as public cloud offerings by hosting partners and Microsoft Azure. Customers should choose the best of each, some, all of these clouds to deploy their services and data. Many of Microsoft's cloud offerings are designed to extend (not replace) on-premises infrastructure.
Enterprise-grade: Consumer technologies are not suitable for enterprise customers. Microsoft has a history of developing data centre technologies. Much of what we see in Windows Server comes from Microsoft Azure, and Azure is based on the core Hyper-V hypervisor.
Hyper-Scale: There are over 1 million physical servers in Azure spread across 19 regions (Australia launched this week). No other cloud provider offers this scalability and geo-dispersion with hybrid networking (to extend on-premises infrastructure, instead of replacing it).
Azure Operational Insights (formerly System Center Advisor) is also announced. This uses intelligence packs (think System Center Operations Manager or SCOM management packs) to monitor your on-premises environment using the scale of Azure and the knowledge of Microsoft. You get deep insights on issues, performance, and capacity planning, displayed in easy-to-consume graphical and explorable dashboards.

The conversation moves swiftly to implementing "Azure" on-premises. This is done by implementing Hyper-V, managed by System Center, and presented as a service by Windows Azure Pack.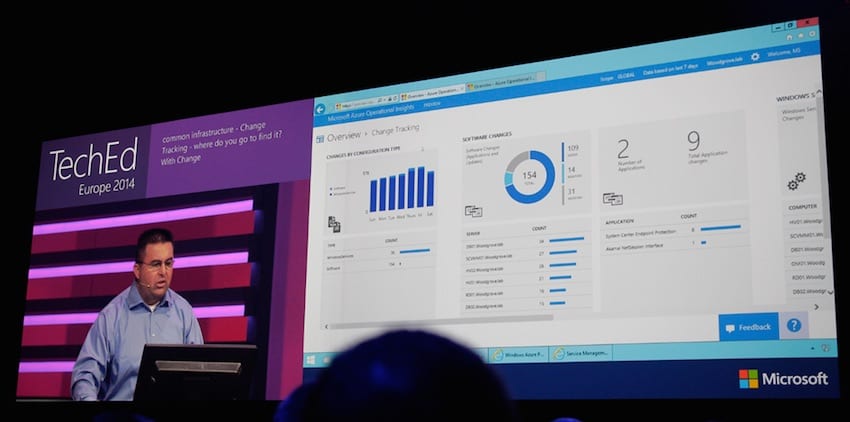 Jeff Woolsey is brought on stage to talk about the changes coming in Windows Sever vNext. Storage Replication will provide synchronous and asynchronous volume replication between close and distant locations. This allows a new, built-into-the-box and hardware agnostic, ability to stretch clusters without third-party licensing. You can use a new Azure-provided cloud witness to provide a site-independent witness for cluster quorum. The implementation process is demonstrated and it is easy to deploy.
Woolsey demonstrated and explored Azure Operational Insights, showing how this tool can add value to managing on-premises environments. One has to ask if this is the cloud-based, and simple to configure, eventual replacement for SCOM?
More on the Microsoft Cloud Platform System
Jason Zander returns to the stage to talk about the Microsoft Cloud Platform System (CPS). This product is the result of a partnership between Microsoft and Dell that packages up Windows Azure Pack, System Center, and a Hyper-V rack of storage (Storage Spaces on Dell JBODs and rack servers), networking (Chelsio iWARP 10 GbE RDMA NICs and Force10 switches), and compute (Dell blade servers), that is mistakenly referred to as Azure-in-a-box. It is not Azure, but it presents an Azure consistent environment.
Moving back to Azure, Zander talked about the previously announced G-series of virtual machines (industry leading amounts of memory per VM) and Premium Azure storage. He tells us that 20% of those virtual machines run Linux, and reminds us that CoreOS is added to the supported list of Linux distros.
Microsoft Azure CTO Mark Russinovich comes on stage and demonstrates Docker management from a Windows client. He shows how a tenant can quickly deploy a compartmentalized service into a shared services virtual machine in seconds; a new WordPress site comes online in about 1 second.
There is a demonstration of the new Premium Storage SSD offering in Azure. This offers huge amounts of IOPS, and Russinovish runs IOMETER in a VM with 16 x striped 1 TB disks. He manages to hit over 61,000 IOPS, and instantly rumours start that this demo cost Microsoft tens of thousands of dollars!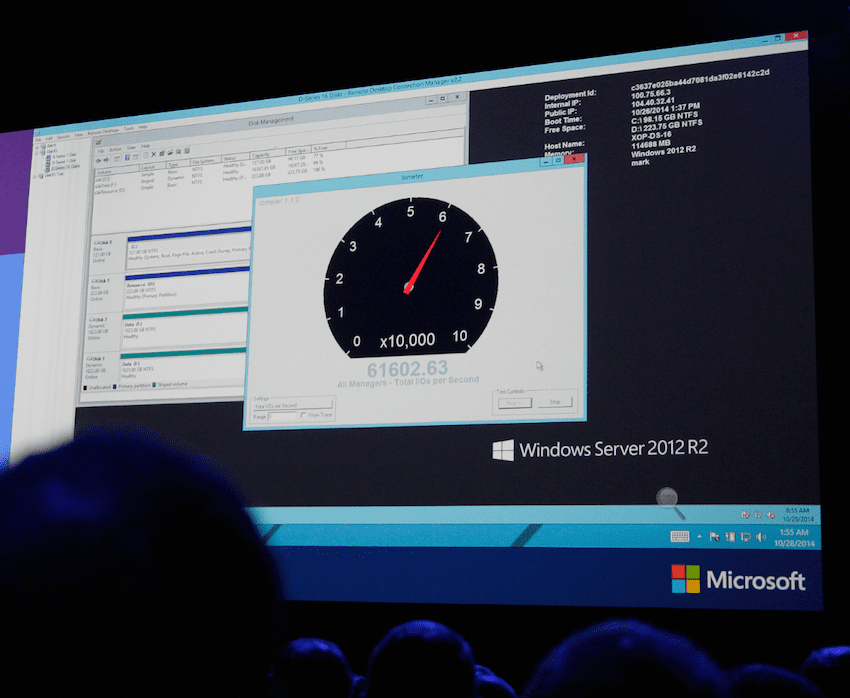 Office 365: New Features and Security Improvements
Julia White of the Office group comes on stage to talk about the improvements for their SaaS offerings, including Office 365. A new Azure Ad Connect tool will simplify the hybrid connection between on-premises Active Directory and Microsoft Azure Active Directory (AAD). This (in preview) new product is badly needed.

White tells us that business customers have asked for control over Office for iPad. Microsoft Intune (renamed from Windows Intune to reflect the ability to support non-Windows devices) will bring this ability in the near future. White demonstrates the ability to control the movement of data between managed apps (Office) and non-managed Apps (iOS e-mail); IT can prevent copy/paste or enable it with a warning and a requirement of an audible explanation.
We also see how a similar system is implemented using Office 365 Data Loss Prevention (DLP); restrictions can be automatically placed on certain kinds of data (social security, credit card numbers, and so on). She demonstrates how a person can forward a Word document attachment that contains controlled data by overriding a restriction (requiring a user-provided explanation that can be audited) and how the recipient cannot do anything other than read the attachment.
This brought us to the end of the keynote.
An IT Pro's take on the TEE14 Keynote
This was not a "big announcements" keynote. I spoke with some members of the media that follow Microsoft closely. Like myself, they thought that there was little new. However, few follow Microsoft as closely as we do! I think that, more importantly, Microsoft had a holistic message. The cloud is here and the cloud is real. What makes Microsoft's implementation of the cloud different is that they understand that the cloud comes in many forms and it does not have to be all in on the public cloud. Customers want to deploy on-premises technologies and Microsoft continues to innovate in that area, offering new storage, virtualization, and networking solutions that provide unparalleled abilities to economically scale with flexibility (software-defined everything). Office 365 and Microsoft Azure are there and Microsoft encourages us to consider their services to extend our on-premises services. This can provide additional compute (Azure Batch – a preview demonstrated by Russinovich), disaster recovery, backup, management, and security/compliance (RDS).
There were few announcements in this keynote for Windows Server and System Center. However, those who attended the foundation sessions (later on the first day) and the breakout sessions (the rest of the week) heard how much Microsoft has incredibly managed to achieve in the Technical Preview of these on-premises products. The Microsoft Cloud OS is here. The Cloud OS runs in Azure, Microsoft hosting partners, and in our data centers and computer rooms.