Next week is the National Retail Federation tradeshow and as the name suggests, it's all about retail. Microsoft has announced several new features coming to its various platforms with both Teams and Dynamics picking up new functionality.
During the past year or so, Microsoft has made a big push to help deliver functionality to Teams that is designed for first-line workers. Announced today are several updates that include walkie talkie features, workforce management integrations, task targeting, shared device sign-out, off-shift access to Teams, and SMS sign-in.
With an update coming later this year, Microsoft will enable walkie talkie functionality that will make it easier to securely communicate using voice with other employees. The goal is to reduce the number of devices an employee needs to carry and make Teams the all-in-one solution for communication with no additional hardware required.
This feature works over WiFi or cellular data which means that there will be no issues with range but of course, if you are in an area that does not have either option, such as outdoor environments, this solution may not work for you.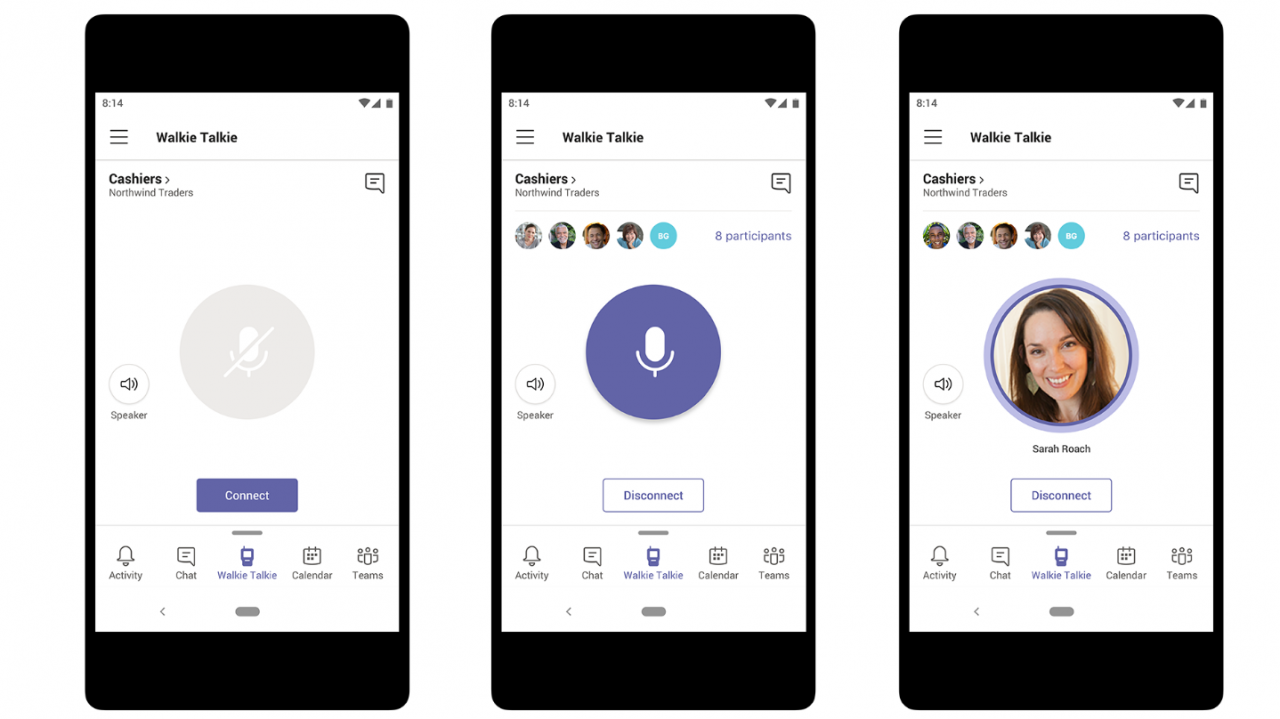 The new task targeting feature will help customers deploy consistent store operations across their entire operation. For example, at the end of the holiday season, with a few simple clicks, you can direct all stores to remove promotional and marketing material by a specified date and be updated frequently on the progress towards reaching that goal.
This task functionality is helpful as it can direct individual employees towards high priority tasks and when used correctly, will always have them working on the next objective, rather than waiting around for a manager to tell them needs to be accomplished.
With shared device sign-out, users of shared devices, with a single tap, can log out of all their instances before handing over a device to another co-worker; with SMS sign in, first-line workers can use one-time codes sent to their mobile number for a secure single sign-on (SSO) experience. And for users who are off the clock, IT administrators will soon be able to configure Teams to limit access to the app outside of their working hours – this can help reduce unnecessary noise from those who are not on the retail floor.
On the Dynamics side of the coin, Microsoft is making several announcements for its platform that will deliver new functionality:
Dynamics 365 Commerce, generally available on February 3rd is a modern omnichannel commerce solution that unifies back office, e-commerce, in-store, and call center and simplifies the integration of new emerging channels.
Dynamics 365 Fraud Protection, featuring two new capabilities to reduce fraud and related costs while improving the buying experience: Loss Prevention and Account Protection will reach public preview on March 2, 2020.
Dynamics 365 Connected Store is an application that combines AI-driven insights and IoT-connected sensors and cameras to empower retailers with real-time observational data to improve in-store performance, coming to preview later this calendar year.
And speaking of Dynamics, here's one that has been floating around for some time. I have heard from insiders at the company that the platform may be rebranded or moved around internally after this year if certain metrics are not met.
Microsoft has been pushing its sales folks to upsell Dynamics this year but if these efforts fail to materialize in a meaningful way, expect to see some changes next year. I don't think this means shutting the platform down, but it may not be as prominent in the company's portfolio as we have previously experienced.