Teams Gets Closer to Email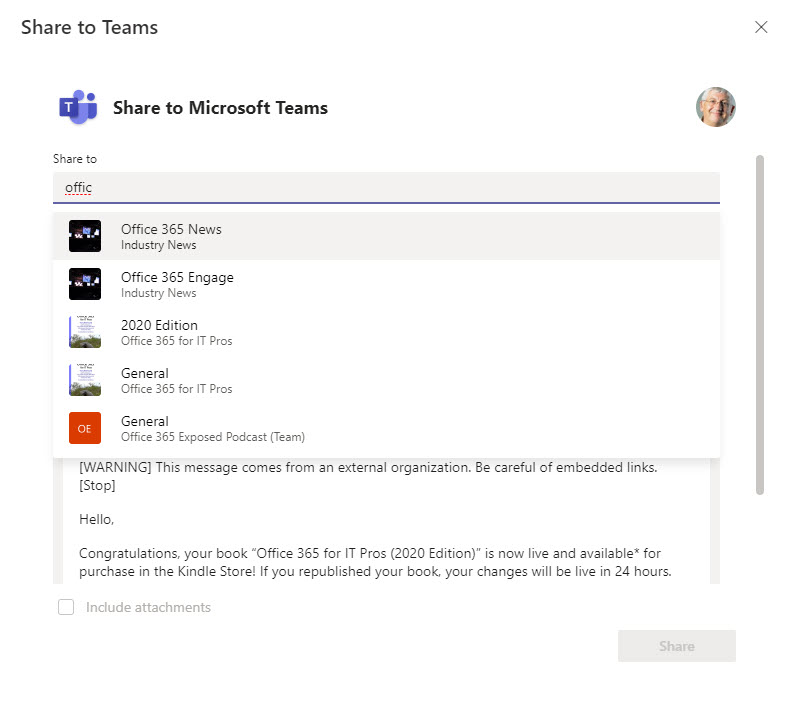 Teams and Email Enjoy a Complicated, Multi-Faceted Relationship
The relationship between Teams and email is "complicated." On the one hand, Teams seems like an excellent way to replace some internal conversations in a more collaborative manner. On the other, because Teams communications are internal, email can never be totally replaced. Worldwide, 3.9 billion users generate 293 billion messages daily. Although you can argue with the statistics and wonder how the numbers are derived, the sheer size of email puts the 200 million monthly active users of Office 365 pales into insignificance, let alone the 20 million Teams users.
Integrating Teams and Email
The net result is that the reality of work means that Teams needs to be better integrated with email. Up to now, Teams channels support the ability to receive email through a connector. The messages start new topics in the target channels and are also captured in the SharePoint site belonging to the team. While the mechanism works, it is fragile (any team member can disable the connector) and uses an odd (but unique) email address. Better connections are needed..
Microsoft's answer comes in three parts:
Share to Teams uses an Outlook add-in to enable clients to send an email thread to a Teams channel or chat (including the ability to create a new chat). Messages protected with Office 365 Message Encryption, Sensitivity Labels, or S/MIME cannot be shared.
Share to Outlook calls OWA to share a copy of a channel or chat conversation with any email recipient.
Reply to Teams Missed Activity Mail gives users who receive missed activity notifications the ability to respond to the conversations in Teams using Outlook actionable messages.
The Share to Teams and Share to Outlook features depend on cloud mailboxes, so they are not supported for users whose mailbox is on an on-premises Exchange server, nor are they supported for guest users.
Originally announced in Office 365 Notification MC198124 for roll-out in January, some delays mean that Microsoft is rolling out these features to Office 365 tenants in February 2020. The features are described in Microsoft 365 roadmap item 57389.
Sharing Email with Teams
Share to Teams uses an Outlook add-in to post a message into a target Teams channel or personal chat. Outlook loads the add-in automatically with a list of valid addressees, including channels and individual members. The list excludes private channels the user doesn't belong to. To share a message, click the Share to Teams icon in the Outlook menu bar. Outlook loads the current message into a form to allow the user to choose the addressees (Figure 1).
Posting to multiple channels is not supported, but you can post to a private channel if you are in the channel member list. To add context for the post in Teams, you can insert some cover text to explain the message to the channel members. If the message has attachments, you can choose to include or omit these files. When ready, click Share.
Behind the scenes, depending on the recipients, the add-in creates a new topic in the target channel or a new message in a personal chat, and posts the message (Figure 2). If posted to a channel, the message and any attachments are also saved in the channel folder of the SharePoint document library belonging to the team. Attachments included in a post to a personal chat are saved in the sender's OneDrive for Business account and shared with the recipients.
Apart from the original item, Outlook does not save a copy of the shared message in the user's mailbox. Although logical, this makes it hard for users to remember if they shared a message with a channel and if so, what cover text they might have added.
Outlook Support for Share to Teams
You need an upgraded version of Outlook Click to Run (I used Version 2001 Build 12430.20184) to use the Share to Teams and Reply to Teams features. The features are unsupported in the perpetual versions of Office, like Outlook 2019. Share to Teams add-in doesn't work yet in Outlook mobile. I used the add-in successfully using OWA with the Edge, Edge Chromium, and Chrome browsers. It doesn't work with the Brave browser unless you go "shields down."
Share to Outlook
Sharing from Teams to Outlook really means "forwarding a conversation from a Teams conversation or personal chat to any email recipient." To share, select Share to Outlook from the […] menu. If you do this for a personal chat, only the selected message is shared. For a channel conversation, Teams extracts a copy of the complete conversation (this can be slow for a conversation with many replies). Teams then loads an OWA message compose form for the user to add address information (Figure 3) and make any changes necessary to the message body.
You can add any valid email address to the header, but you can only send email from your primary email account (in other words, you can't send email from a shared mailbox or another mailbox for which your account has Send As permission). Because OWA is used to create and send the message, OWA features like support for sensitivity labels are available. And of course, email clients can print the messages sent from Teams, thus solving the lack of printing support in Teams clients.
The message travels through the Exchange Online transport pipeline so is subject to any mail flow rules enforced there.
Reply to Teams Missed Activity Email
Teams sends email reminders to users when they have missed something important in a chat or channel conversation, like being @mentioned. Up to now, the messages have been static. Now recipients can reply to the conversation in Outlook. As you can see in Figure 4,Teams missed activity notifications include two ways to interact:
The Go to conversation button uses an embedded deep link to open Teams positioned ready to reply to the message, much like users can join a Teams meeting from an Outlook calendar event.
The Reply button opens a dialog to allow the user to reply to the Teams conversation without leaving Outlook. Email clients (like the current version of Outlook mobile that don't support the ability to reply to Teams inline within the message replace the two buttons with a single Reply in Teams button. Reply to Teams behaves like the Go to conversation button by using the deep link to open the Teams client in the conversation.
Enabling replies without forcing users to switch applications is like what's now possible with Yammer interactive notifications. The Yammer implementation allows users to like messages, add attachments, and add people to conversations, so it's ahead of what Teams can do. Even so, being able to reply without being forced to switch context will help users maintain focus and get work done.
No OWA Integration
Some will be disappointed that Microsoft is not doing a full-fledged integration between OWA and Teams where OWA would appear in the left-hand app rail along with apps like Chat, Calendar, and Files. This idea was expressed soon after Teams first appeared in 2016 and the latest comment from Microsoft (in August 2018) said that there was lots of discussion and a decision might be "soon."
The Administrative Question
As with all new functionality, I look to see what administrative control is available. The answer is "none." There's no Teams policy to control if a user has access to the Send to Outlook function, and there's nothing in Outlook to control sharing to Teams or reply to Teams. An assumption is made that these features are goodness and should be shared with all. Whether you agree with that point is open to debate.