Stream Reaches GA but Office 365 Video Users Must Wait for Transition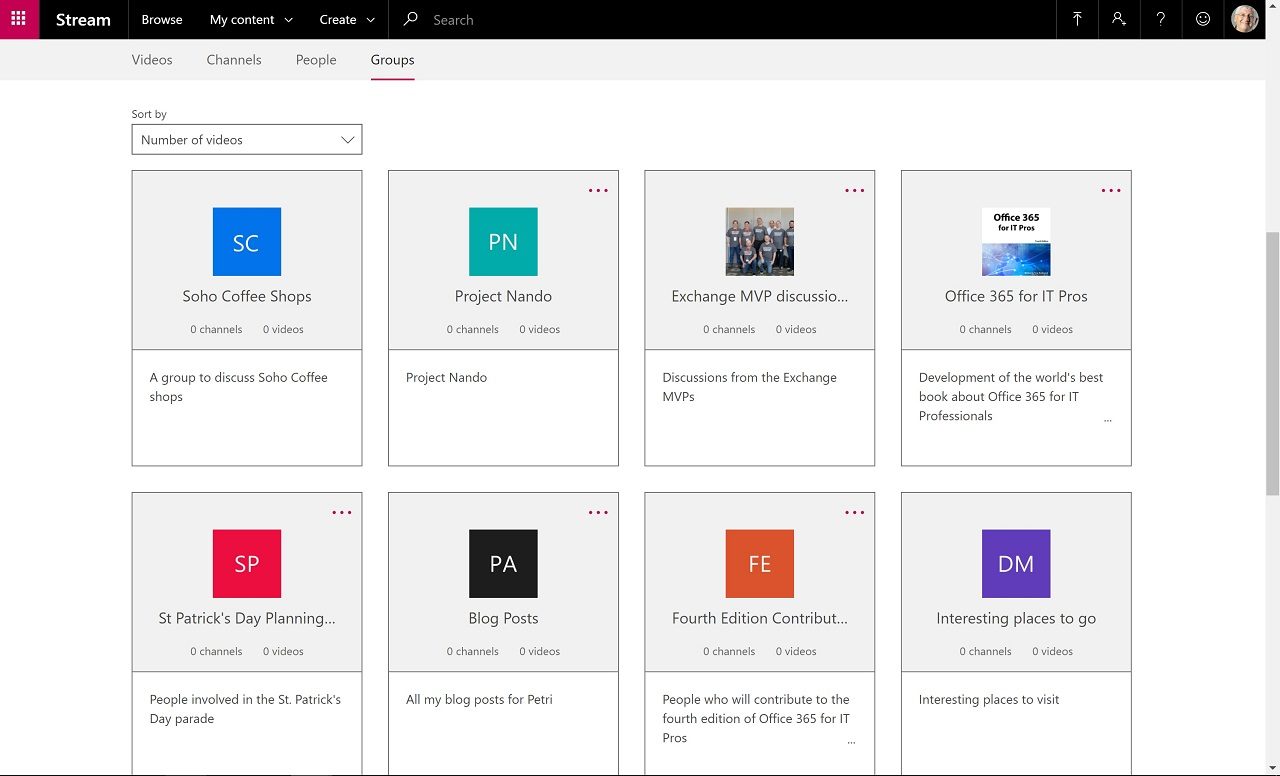 Stream is now King of Microsoft Video Services
On June 20, 2017, Microsoft announced that Stream, their new video sharing and management service for consumers and businesses, is now generally available (GA) worldwide. Microsoft launched Stream into preview in July 2016. At that time, Microsoft's position was that "Stream builds upon the learnings and success of Office 365 Video, and over time the two experiences will converge, making Stream the de facto video experience in Office 365."
Although Stream is now GA, Office 365 users must wait for the promised convergence, or migration. Microsoft now says "Once we've incorporated the best of Office 365 Video into Microsoft Stream and have transitioned all existing Office 365 Video customers and their videos into Stream, we will retire the existing Office 365 Video portal and iOS app."
Why Stream?
Office 365 Video was introduced to the service in late 2014. Video uses SharePoint site collections to hold the original video files uploaded to the portal and metadata for the videos. Another link to Office 365 is the way that Yammer is used to host discussions about videos. Behind the scenes, Azure Media Services processes videos and makes them available for delivery to different devices via a content delivery network. Although Stream shares many of the technologies used by Office 365 Video, it has no dependency on SharePoint or Yammer (you can still share a video to a Yammer network).
Office 365 Video works well but is limited to people who have Office 365 licenses. Although Office 365 has over 100 million users, an even larger potential user base of video consumers exists who have no desire or need to use Office 365. Much like Outlook.com runs on the same infrastructure as Exchange Online to deliver free and paid-for email services, Stream gives Microsoft a common platform to reach both consumers and businesses.
Stream is included in all Office 365 enterprise plans, the education and education plus plans, and the enterprise K1 and K2 kiosk plans). It is also available in two plans for non-Office 365 customers
Three Steps to Stream
Microsoft says that they will use a three-phase process for the migration, starting with the easiest tenants. In other words, those who have not made much use of Office 365 Video. Sometime in the second half of 2017 (around Ignite, perhaps), tenants can opt-in to switch to Stream through a choice in the Office 365 Admin Center.
The next phase presumably happens after Microsoft sorts out any initial glitches and fixes some if not all the functionality gaps that now exist in the two platforms. This is an opt-out phase, meaning that tenants that have invested heavily Office 365 Video can decide not to transition to Stream at this point. Microsoft does not say when this phase will begin, but I anticipate sometime in early 2018.
One good reason for opting out is if the Stream data is not yet held in your Office 365 datacentre region, which is the case in places like Germany, the U.K., India, and Australia. Microsoft has started to deliver Stream from the largest Office 365 regions (U.S., EMEA, and Asia-Pacific) and will spread the service into other regions over time.
The last phase is the slam-dunk when everyone switches, whether you want to continue using Office 365 Video. After all tenants move to Stream, Microsoft will shut down Office 365 Video. Again, Microsoft does not specify a target date for when this might happen, but perhaps it might be in about a year's time.
Obviously, no one wants to lose any data in the transition. Microsoft says that they "will transition all videos, channels, and permissions from Office 365 Video into Stream. After the transition, existing Office 365 Video embed codes and links to videos will still work, redirecting to the same content in Stream." The two platforms are quite different (for instance, SharePoint is used by Office 365 to hold the original video content and metadata), so some work is necessary to execute a flawless move.
Controlling Access to Stream
Microsoft enables Stream by default for all Office 365 tenants, so Stream appears in the Office 365 app launcher alongside Office 365 Video. To avoid confusion, you might not want users to access Stream until the transition occurs. If so, two approaches are available:
Disable Microsoft Stream for the tenant via the Azure portal.
Selectively remove the license for Stream from users via the Office 365 Admin Center (Figure 1) or PowerShell. As the article demonstrates, this is straightforward with the V1 of the Azure Active Directory PowerShell module). License management is more "challenging" with the V2 module.
Group Stream
One interesting thing is the way that Stream gives Office 365 Groups a video component. If you go to Stream, you find all your Office 365 Groups listed (see image at top of article). You can upload videos to associate them with existing groups and use those groups to control who can add and remove videos or even view the videos.
Stream supports the AAD policy for Groups to limit who can create new groups. I would prefer if Stream only showed the choice to create a new group to users who have permission rather than letting users go through the creation process and then come to a crashing halt (Figure 2), but at least the block exists.
Streaming Forward
It makes a lot of sense for Microsoft to have a common video service. Eventually, Stream will deliver all the functionality available today in Office 365 Video plus some new features, like using an Office 365 group to control access to video libraries, being able to include a video in multiple channels, and automatic captioning for text spoken in videos. These are worthwhile advances,
In effect, Office 365 Video has been in limbo for the last year. Although the transition will probably be problematic for some tenants (all migrations are hell), we can hope that Microsoft will ease the pain. By this time next year, Office 365 Video should be gone and Stream will remain as the video service for all. At least, those who don't want to use YouTube. Maybe Microsoft will use Stream instead of YouTube for the videos from the Ignite 2017 conference!
Follow Tony on Twitter @12Knocksinna.
Want to know more about how to manage Office 365? Find what you need to know in "Office 365 for IT Pros", the most comprehensive eBook covering all aspects of Office 365. Available in PDF and EPUB formats (suitable for iBooks) or for Amazon Kindle.