Office 365 Keeps a-Changing
I've been on vacation a couple of weeks. While on vacation, I did not spend as much time as I usually do to keep abreast of changes inside Office 365. Some big stuff happened, like major refreshes for Teams and Planner, but what's more interesting is how many small but important changes occurred. Truly, if you take your eye off Office 365, something changes.
After spending the weekend catching up, here's my pick of the changes that took my eye.
Yammer Seen Count
The enterprise social network community were excited because Yammer now supports "seen counts" for conversations. As shown in Figure 1, a seen count tells the author of a conversation the number of unique people who have seen the conversation. This does not mean that those people read and absorbed the content, but they did look at it.

Teams and Office 365 Groups do not support seen counts for conversations, so Yammer is the first Office 365 app to have the feature. However, seen counts are not a new concept. Facebook, for instance, also supports seen counts for posts to groups. Perhaps the next step for Yammer is to support Facebook's ability to tell you which members of the group saw a post and who did not.
Combined Mobile Groups
Office 365 Groups has had a mobile app for about two years. The app, available on iOS and Android, works well, but let's face it, Microsoft has too many apps available for different Office 365 services, and in this case, the Outlook app has supported Office 365 Groups for the last year or so.
Some consolidation was inevitable, so the February 9 announcement (MC128869) that Microsoft will retire the Groups app and concentrate on Outlook was unsurprising. Microsoft will remove the Groups app from the various app stores in mid-March and the app will stop connecting to Office 365 on 1 May 2018.
I think this is a good change. The integration of Groups into Outlook is solid and includes the ability for group owners to manage group settings (Figure 2). Of course, Yammer-based groups (even if they use Office 365 Groups to manage membership) are excluded because these groups do not store their conversations in the group mailbox, but you can't have everything.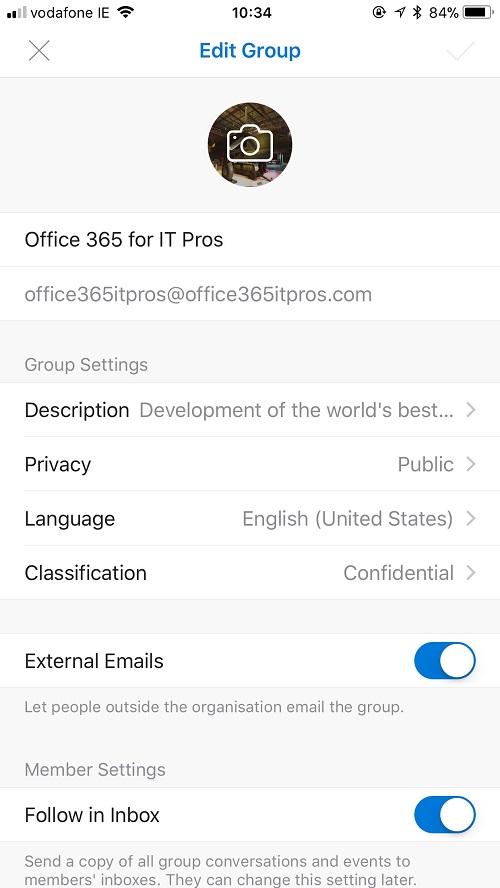 Azure Active Directory Administrative Units
Microsoft announced Administrative Units (AUs) for Azure Active Directory at Ignite 2017. On February 7, they began to roll out the necessary software to Office 365 tenants. AUs allow you to assign management of sets of Azure Active Directory objects to different people. For instance, you might have a set of people who deal with administration of European objects while another set manages anything that happens in the U.S.
Again, this is not a new idea and the concepts have been available for on-premises servers for many years, including administrative scopes for on-premises Exchange. Azure Active Directory does not support the organizational units (OUs) that underpins management of its on-premises counterpart. AUs are different in that they depend on filters applied to Azure Active Directory objects rather than containers, but the outcome is much the same. When filters are in place, the assigned to manage a set of objects only sees those objects instead of the entire directory.
Everyone will be delighted that setup and maintenance of AUs is only possible through PowerShell. The sample scripts are a good starting point, but it would be nicer if scoping could be set through the Azure console.
India gets Teams
Teams consumes a lot of other Office 365 and Azure services, but it has its own Azure chat and media services to store conversations and graphics. Those services are not always available in an Office 365 datacenter region, which can be a concern for companies who worry about data residency. Microsoft announced at Ignite that they have a program to deploy the Teams services more widely during 2018 and the first evidence of that plan came in the deployment to the two datacenters in India.
Five of the 13 Office 365 datacenter regions now run the Teams services, with further deployment expected to Canada, Japan, Korea, and Australia soon. The "sovereign clouds" (Germany, China, and U.S. Government) are more complicated because of their unique operating conditions, but according to Microsoft, availability for the U.S. Government region is coming "during 2018."
Speaking of data location, the Organization Profile for a tenant (accessed through the Settings section of the Office 365 Admin Center) now gives some information about the Office 365 datacenter region that holds the tenant's data. The picture (Figure 3) is incomplete because it doesn't span all services, but it is a start. What's interesting is that Teams now seems to be firmly in the category of "Office 365 core data."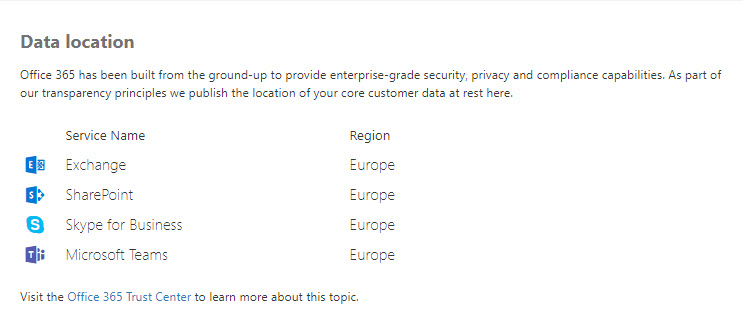 Replying Through Toasts
Teams received a massive UI makeover while I was out of the office. While I like the new command bar a lot, my favorite new feature is the ability to reply to messages through the "toast" notifications. This is only possible when you use the Windows or Mac desktop versions of Teams and is supported for personal and group chats, but not notifications received for channel conversations.
When a toast appears, you can type in a response (Figure 4) and send it without having to navigate to the conversation. The response is text-only and can be up to 1,000 characters, which is surely enough to get your point across.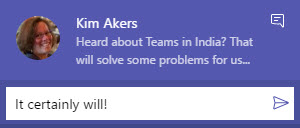 Another small, but good, change made in Teams is that when you invite a new person to join a personal (group) chat, you can now decide how much of the previous conversation to share with them. The options are "all" or chats from a certain number of days. I was able to add 365 days of chat for one person, which is as far back as I cared to go.
OneDrive Restore – Slowly Rolling Out
Microsoft announced the much-anticipated OneDrive Restore function (aka "antidote for cyber-ransom") on January 22, but progress in rolling out the feature is slow. Many reports have come in to say that the feature is partially available in that it appears in the options revealed in the OneDrive options menu. However, when you try to select a custom date and time to see just when changes occurred in OneDrive, nothing shows up (Figure 5), even if you know that you have worked on many files during the 30-day window during which OneDrive can restore files.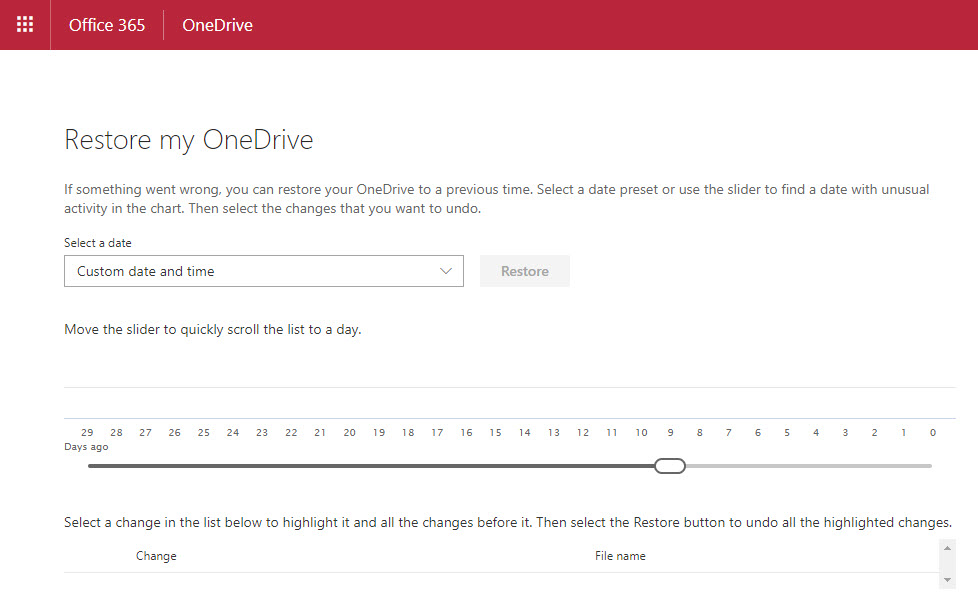 The delay underlines once again the complexity of rolling out new features across a massive multi-region infrastructure. I am sure that some people can restore their files. I shall just have to wait before I can restore mine.
The End of Old TLS Connections
Finally, Microsoft has rolled back on its earlier plan for Office 365 services to cease supporting older TLS connections from March 31, 2018. The new cut-off date is October 31, 2018. You have been warned.
Follow Tony on Twitter @12Knocksinna.
Want to know more about how to manage Office 365? Find what you need to know in "Office 365 for IT Pros", the most comprehensive eBook covering all aspects of Office 365. Available in PDF and EPUB formats (suitable for iBooks) or for Amazon Kindle.