Is Modern PC Hardware Less Reliable Now Than Ever?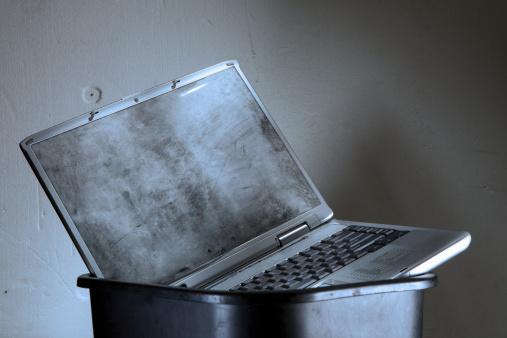 While I enjoy the light and convenient form factor of Ultrabooks, I miss my old clunky notebook that I could pull to pieces, repair and mod to my heart's content.
This year hasn't been a good one for electric devices in my household. A kettle and coffee machine bit the dust, literally a few days apart from one another. Add to that a hi-fi stereo amplifier – yes I'm old-fashioned and don't believe in listening to music through multimedia computer speakers – and the latest casualty: a brand-new Asus UX32VD Ultrabook.
The Deaths of My Devices
The kitchen appliances were a few years old, and because I work from home a lot, they had been used more than your average kettle. My NAD amplifier was barely two years old, and while it was at the budget end of the range, I would have expected it to last a good five years.
But the most disappointing failure of the year must go to my Asus Ultrabook. After three months' use, it began hanging at power on, before finally booting to Windows after 10 minutes, and crashing when resuming from sleep.

Vaya con Dios, devices. (Image via Digital Trends)
Startup Headaches
After doing some research, I discovered that a common problem with the Asus is a failing or dead iSSD (internal SSD) cache. Because the main storage is a mechanical hard drive, an iSSD is included to qualify the device as an Ultrabook. I confirmed my suspicions by using a Linux boot disk, which showed the boot process being delayed by failure to initialize the iSSD.
Interestingly, once Windows has booted, it performs faster and more reliably than when the iSSD was working – no more blue screens or random reboots, which suggests that the iSSD was faulty from the get go.
Return Merchandise Authorization
I thought the death of the iSSD wouldn't be a problem, as I had planned to replace the mechanical drive with an SSD. But unfortunately it turned out that there is no way to disable the iSSD in the UEFI, or an update to bypass the iSSD cache in the UEFI at boot. Worse still, the iSSD is soldered to the motherboard, meaning the entire mainboard will need replacing.
No User-Serviceable Parts
Key components in traditional notebooks and PCs can be removed from their sockets in the case of a fault, but that's not the case with most tablets and Ultrabooks. But one of the key attractions of the UX32VD is that the hard drive and battery are replaceable, and there's a slot that can be used to add memory.
As an IT pro who has always been able to fix these kinds of problems, I now find myself at the mercy of Asus support, which informs me it could take up to one month before I see my Ultrabook again. And then I have to wonder, is it going to be reliable when I get it back? Reliability becomes doubly important if a tablet or Ultrabook is going to be your main workhorse, so make sure you check out the manufacturer's reputation and service options when purchasing a device.