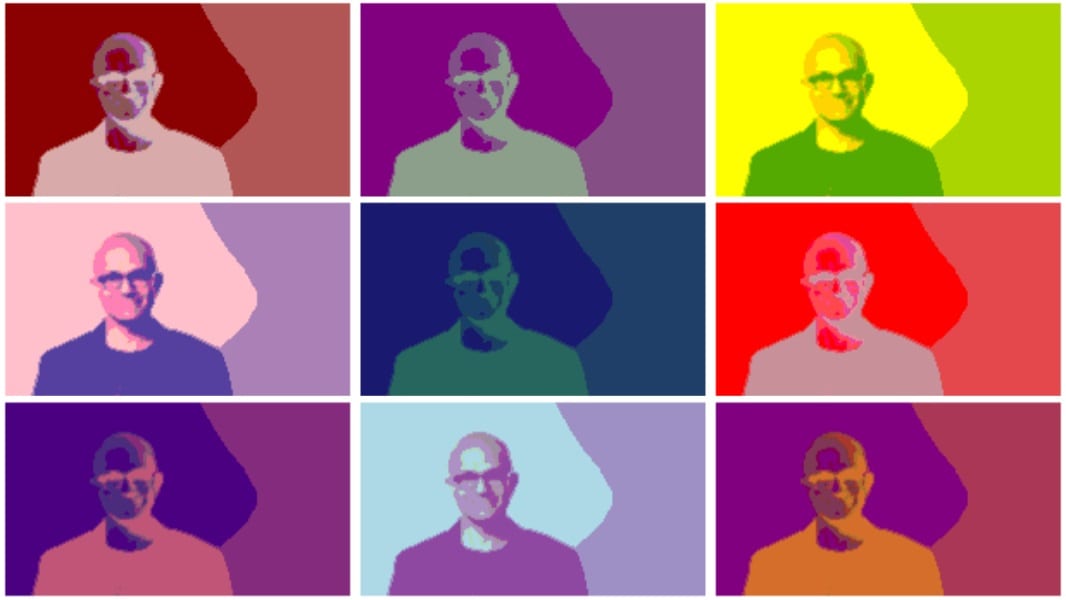 Because it's the most wonderful time of the quarter, this edition of Short Takes looks more closely at Microsoft's latest blockbuster quarterly earnings report, in which the firm posted a net income of $13.9 billion on revenues of $37.2 billion.
Note: This past week, Microsoft announced its earnings for the quarter ending September 30. It was, as I wrote at the time, a monster quarter for the software giant, which posted a net income of $13.9 billion on revenues of $37.2 billion. And while most of this week's Short Takes will focus on a deeper dive into those earnings, Microsoft wasn't the only Big Tech company to announce blockbuster earnings this week. Here's a quick rundown:
Amazon: Net income of $6.3 billion on revenues of $96.15 billion(!). More info here.
Apple: Net income of $12.7 billion on revenues of $64.7 billion. More info here.
Facebook: Net income of $7.85 billion on revenues of $21.47 billion.
Google: Net income of $7 billion on revenues of $40.5 billion. More info here.
OK, let's take a closer look at Microsoft's earnings.
Business unit breakdown
It wasn't that long ago that Microsoft's three top-level business units—Intelligent Cloud, Productivity and Business Processes, and More Personal Computing—were each delivering roughly the same $11 billion in revenues were quarter. But as you might expect, those first two business units, which are both largely cloud-based, are starting to pull away. This quarter, Intelligent Cloud (driven by Azure) was Microsoft's biggest business with $13 billion in revenues and 20 percent growth year-over-year (YOY). Productivity and Business Processes (Microsoft 365/Office) came in second with $12.3 billion in revenues and 11 percent growth YOY. And More Personal Computing (Windows, Xbox, Surface) pulled up the rear with $11.8 billion in revenues and 6 percent growth. I think what we're seeing here is the sustainable, long-term growth attributable to Microsoft's cloud efforts colliding a bit with the eventual and inevitable downturn in COVID-based spending on PCs and video games, though those latter businesses are still experiencing higher-than-usual sales because of our current work-from-home and learn-from-home requirements.
"Microsoft is forcing people to use its latest browser even if they don't want to"
This is the worst thing that's happened this year.
Repeat after me, Commercial Cloud is not a Microsoft business
I kind of hammer on this every quarter, but Microsoft talks up something called "Commercial Cloud" each quarter, as if it were some cohesive product that it sells to business customers. It's not: Commercial Cloud is a non-transparently, cherry-picked collection of Microsoft commercial (i.e. not consumer) businesses that are actually spread across all three of the firm's real business units (but mostly from Intelligent Cloud and Productivity and Business Processes). The makeup of these businesses can and does change from quarter to quarter, because Microsoft is trying to present the best possible face to the world and show that it is competing well against Amazon, the cloud market leader. On that note, Commercial Cloud delivered $15.2 billion in revenues this past quarter, and apparently, it grew by an incredible 31 percent! This growth was driven by "annuity sales motion" and "an increase in the number of larger, longer-term Azure contracts." What increase? Sorry, Microsoft has no comment on actual numbers.
"Microsoft's first 'vertical cloud,' the Microsoft Cloud for Healthcare, is now generally available"
I prefer my clouds to be horizontal.
Office continues strong growth with both commercial customers and consumers
Office, which is now part of the broader Microsoft 365 organization within Productivity and Business Processes, predictably saw some big gains in the quarter: Total revenues were up 11 percent YOY, with revenues from commercial customers up 9 percent and consumer revenues up 13 percent. Office 365 commercial seats grew 15 percent YOY, and Microsoft now has 45.3 million Microsoft 365 consumer subscribers, up 27.3 percent from 35.6 million subscribers one year ago. Speaking of Microsoft 365, Microsoft Teams now has more than 115 million daily active users. That's up from 75 million back in early May.
"How to get Microsoft Office suite apps on Android"
Does this really confuse anybody?
LinkedIn is still a thing
Microsoft's $26 billion acquisition of LinkedIn still confuses most onlookers, especially given how little integration we see between this service and the Microsoft 365 stable of products. But LinkedIn saw a bit of growth this quarter, too, with revenues up 16 percent and record levels of engagement: Active sessions grew 31 percent in the quarter YOY, no doubt because so many of us are looking for jobs. "LinkedIn is where more than 722 million professionals go to connect with their communities, learn new skills, and find new opportunities," Microsoft CEO Satya Nadella said in a post-earnings conference call. "More professionals are turning to LinkedIn Learning to increase their knowledge capital, watching more than a million hours of content each week, more than double the amount a year ago. Three people are hired every minute on LinkedIn, and new features make it easier for nearly 40 million job seekers to indicate they're looking for their next opportunity."
"Connect with Cowboys quarterback Ben DiNucci on LinkedIn"
Now, that's a job I'm qualified for!
Azure revenues actually grew YOY for the first time in a while
Azure was the primary revenue driver for Microsoft's Intelligent Cloud business, with 48 percent growth, the first time we've seen growth exceed the year-ago quarter in a few years. But Azure wasn't the only star in this business: Enterprise Mobility—what we used to think of as "Intune"—saw its installed base jump 27 percent YOY to 152 million seats.
"Azure Space: Powering innovation on Earth and beyond"
This is where Azure jumps the shark.
On-prem server products, predictably, are starting to fade
While Microsoft's Server and products and clouds services business (part of Intelligent Cloud) grew 22 percent YOY, it was all because of Azure: Server products revenue actually declined 1 percent in the quarter, YOY, no doubt because the world is relying more and more on cloud services thanks to the pandemic. A year ago, this business grew 14 percent, so it's possible that COVID-19 has accelerated a trend that was always going to happen eventually.
"Microsoft is letting more employees work from home permanently"
No, it isn't.
Windows sees mixed results with businesses and consumers
Like many other Microsoft businesses Windows benefitted this year from COVID-19, but this quarter took a weird turn: Windows Pro revenues from PC makers fell a dramatic 22 percent, while Windows non-Pro (Home) revenues grew and even more dramatic 31 percent. I attribute this to the shift to back-to-school PC sales, whereas customers were looking more for work-from-home PCs earlier in the year. That said, strong Microsoft 365 growth (which you'll recall Windows 10 is part of) helped Windows commercial products and services grow 13 percent overall. "Windows 10 monthly active devices are up double digits year-over-year, across commercial, consumer, and education," Mr. Nadella said of this business. "Overall Windows OEM [PC maker] revenue declined 5 percent, better than expected," Microsoft CFO Amy Hood said, indicating that the change was due to a bump a year ago when Windows 7 support ended.
"Satya Nadella says Microsoft is doubling down on Windows"
Satya Nadella says a lot of things.
Surface revenue jumped 37 percent, but with an asterisk
Surface is a strange little business, but it's also erratic from a release schedule perspective, making it hard to compare quarterly sales YOY. And we saw that this quarter: Surface revenues grew 37 percent YOY to $1.5 billion, though Microsoft credited this gain on YOY "differences in product launch timing and channel purchasing," plus temporary PC demand, somewhat undercutting the success. But this quarter could be interesting since Surface just missed a $2 billion quarter a year ago. Microsoft said only that this quarter's revenue should be "relatively unchanged," YOY, and "impacted by the year-over-year timing differences of product lifecycle transitions noted earlier."
"Microsoft's dual-screen Surface Duo is on sale for $1,200 ($200 off)"
So it's still $300 too expensive then.
Xbox revenue saw strong gains ahead of new console launches
And then there's Xbox. What are we to make of Xbox? In the quarter ahead of its fourth major console generation launch cycle, one would expect revenues to be way down, but it's 2020 and people have been stuck at home all year, and video game sales are through the roof. So Xbox posted 30 percent revenue growth in the quarter, thanks to Xbox content and services. To put this in perspective, Xbox posted 0 percent revenue growth in the year-ago quarter. So that's what a pandemic can do, though engagement was "at a slightly lower rate than last quarter." "Three billion consumers look to gaming for entertainment, community, and achievement, and our ambition is to empower each of them, wherever they play," Mr. Nadella said. Unfortunately, most of those people are not on Xbox, of course. But Xbox Game Pass does have over 15 million subscribers now. And growth should be 20 percent in the current quarter. Speaking of which…
"Microsoft made an Xbox Series X fridge that it's giving away"
Man, Microsoft can't sell anything with the word Xbox on it!
To the future
Looking ahead, Ms. Hood said that the current quarter would see "increased usage" across commercial, though "a declining expiry base will impact growth." Long-term Azure contracts were described as "unpredictable," though Commercial Cloud is expected to see more growth. "We expect some benefit from continued consumer PC market growth, though at a more moderated growth rate than last quarter given the traditionally high volume of PCs sold every Q2," she said. But "a strong prior year comparable that included the end of support for Windows 7 and Windows Server 2008, as well as transactional strength in Japan across our Office businesses, will also impact growth rates." In other words, I guess we'll have to wait and see.
"Microsoft's search revenue decline could spell bad news for Google"
We've got them right where we want them!