Microsoft is set to introduce a new algorithmic newsfeed on the Search page of its Outlook mobile apps. The new search experience will allow enterprise customers to stay updated with upcoming meetings, documents, news posts from Yammer and SharePoint, as well as other useful content (via Thurrott).
According to Microsoft, the new feature will also notify users about task suggestions from their coworkers. Users will also be able to catch up on the recordings of important meetings they might have missed. This newsfeed will provide surface content that's personalized for every user, building on what the Search tab on Outlook Mobile already provides.
"The new feed allows new and existing content to be intermingled and ranked by what is currently the most important insight for the user. The ranking is personal and adopts to the usage patterns of each user by customizing the content types that the user is most interested in," the company explained on the Microsoft 365 Admin Center.
Once the feature rolls out, the Outlook mobile app will allow users to switch between the existing sections experience and the new newsfeed. To do this, users will need to click on the toggle button available in the top right-hand corner of the Search page. However, Microsoft plans to remove the section toggle from the app at some point in the future.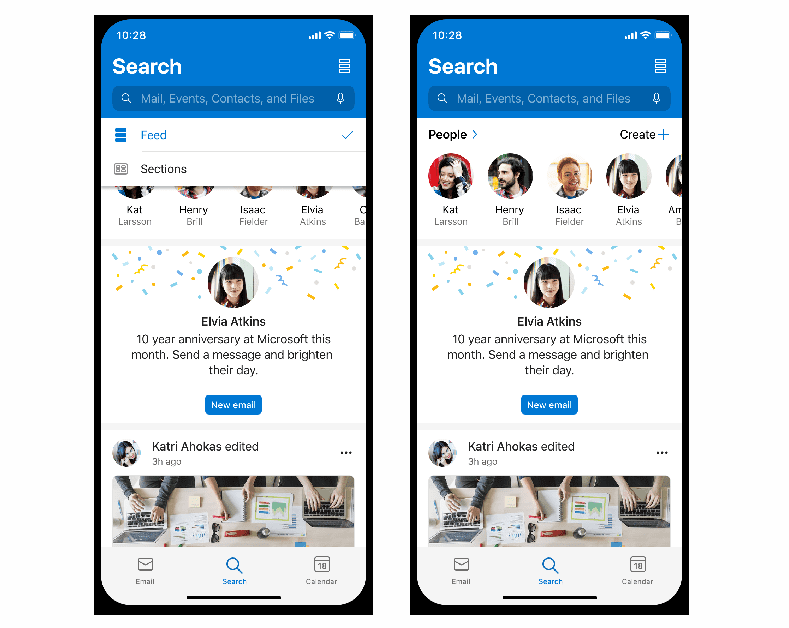 "The section toggle is a temporary feature that will be removed when all the content available in the sections today can be found elsewhere in the OM app, either in the feed or in other features," Microsoft added.
Admins can turn off the Algorithmic Newsfeed in Outlook
It is important to note that the new algorithmic newsfeed is an enterprise-only feature, and it won't be available for personal and GCC accounts. Moreover, people who have added multiple accounts to the app will only see organizational content from their primary enterprise account.
Microsoft plans to begin rolling out the new newsfeed experience to iOS and Android users in mid-June, and it should become generally available by early August. However, it will be up to the IT Pros to disable this feature for all end-users via the existing Discover feature in MDM.
Let us know in the comments if you think this new feature will help to stay on top of activities happening across your organization.