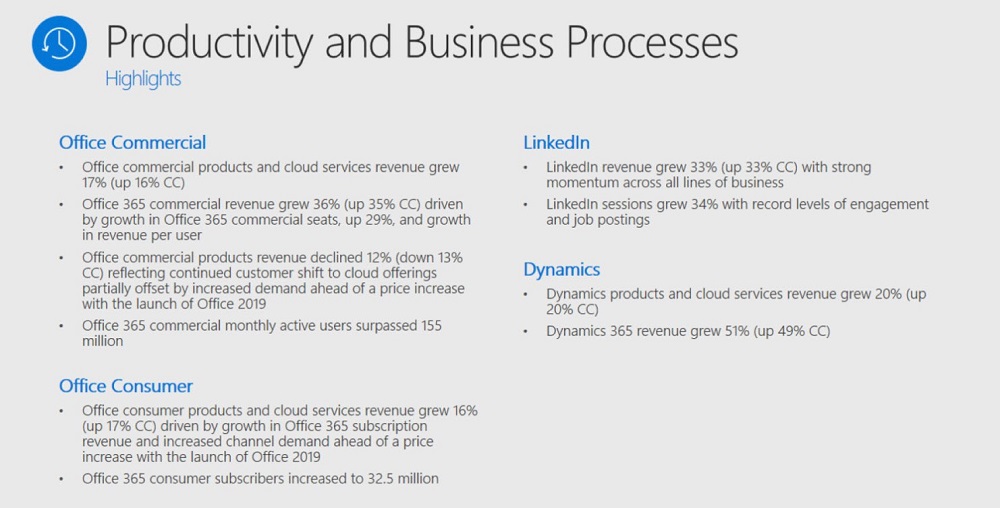 Three Million Plus Added Per Month
Microsoft reported its Q1 FY19 results on October 24 and noted that Office 365 now has more than 155 million monthly active users (MAU). To put this in context, that's a growth of over three million users per month since the last time Microsoft supplied a number for Office 365 in April. Table 1 lists the growth in users since November 2015.
| | | |
| --- | --- | --- |
| Date | Microsoft official number for active Office 365 users | Monthly growth over previous number |
| November 2015 | 60 million | N/A |
| April 2016 | 70 million | 2 million/month |
| October 2016 | 85 million | 2.5 million/month |
| April 2017 | Over 100 million | 2.5 million/month |
| October 2017 | 120 million | 3.33 million/month |
| April 2018 | 135 million | 2.5 million/month |
| October 2018 | 155 million | 3.33 million/month |
Table 1: Growth in Office 365 monthly active users
Given this pace, it's likely that Office 365 will get to around 165 million users by the end calendar 2018 and head towards 185 million users by the end of Microsoft's FY19 next June.
More E5
The 29% growth in seats was accompanied by a 35% growth (in constant currency) in Office 365 revenues. This shows that Microsoft is successful in extracting more revenue per month from its users and is probably due to a higher mix of E5 licenses compared to the lower-cost E1/E3 or even frontline (F1) licenses. There's no surprise here because Microsoft has steadily been stuffing Office 365 E5 with a range of new features and functionality to attract customers to upgrade.
Microsoft didn't give any financial data about how Microsoft 365 is doing so we don't know if it is affecting how customers buy.
Still Movement
The growth in Office 365 numbers is fueled by migration from on-premises servers like Exchange and SharePoint, new customer wins, plus the impact of new applications like Teams. At Ignite 2018, Microsoft said that Teams is its fastest-ever application in terms of growth. Teams might have an installed base of over 30 million if you accept Microsoft's data from Ignite presentations, where it said that 329,000 organizations now use Teams, with 60 of those organizations (tenants) having more than 10,000 users and one (Accenture) over 108,000 users.
Going forward, migration from its on-premises servers is likely to have less of an influence over the growth in Office 365 numbers. Those who wanted to move workloads to the cloud have done so and the migration from this point involves the larger or more complex organizations that have been waiting for new features like multi-geo capabilities (for multiple applications) or for Microsoft to deploy in-country datacenters. The on-premises community has new servers like Exchange 2019 that they can run for many years to come, so there is less pressure to move to the cloud. All of this means that generating new popular applications for Office 365 is important for its continuing success.
MAU is Imperfect
Microsoft's definition of a monthly active Office 365 is imperfect. It's someone who has a license and signs-on at least once a month to do something like send an email or upload a document. In the minds of most Office 365 administrators, this is hardly the definition of what they would consider an active user to be. It's more like a partially frozen user.
However, when you track numbers, you can only use the data supplied by a vendor. Microsoft isn't going to share its commercial secrets if not required to by law, such as the data it must report to the SEC, so we must make do with what Microsoft tells us.
Onward and Upward
The continuing strength of Office 365 isn't a surprise. The only question is for how long Microsoft can keep on adding three million new users per month. I suspect that won't be for a few years to come.
Follow Tony on Twitter @12Knocksinna.
Want to know more about how to manage Office 365? Find what you need to know in "Office 365 for IT Pros", the most comprehensive eBook covering all aspects of Office 365. Available in PDF and EPUB formats (suitable for iBooks) or for Amazon Kindle.