Executive Moves and an Interesting Purchase
Two interesting developments in the world of Office 365 happened on October 21. First, ex-Microsoft CVP Javier Soltero announced on Twitter that he has joined Google as Vice President for G Suite (Figure 1). The second is that Microsoft bought Mover "to speed migration to Microsoft 365."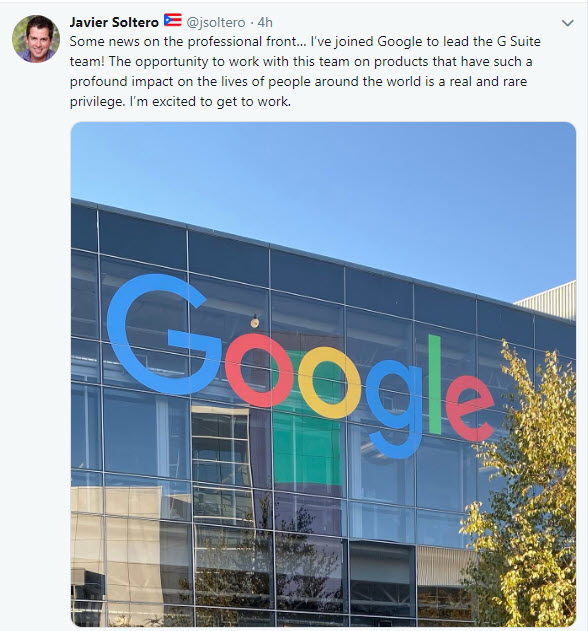 Resetting G Suite
Five or so years ago, G Suite was running high and winning deals against Office 365. Now, the situation is very different, and I don't hear of so much success for G Suite, especially in large enterprises.
There are many reasons why this might be the case. My theory is that Microsoft has upped their game considerably while Google's offerings are largely the same. New applications like Teams, Planner, and Stream have been added to Office 365 while Exchange Online and SharePoint Online, the bedrock applications have continued to improve. OneDrive for Business replaced the old unreliable Groove synchronization engine with something that actually works. And equally important, the Azure ecosystem has developed enormously, especially in the range of functionality that's now available around Azure Active Directory.
It's also the case that Microsoft's clients are so much better today than they were five years ago. The new OWA is snappy and smart, the Teams browser interface is the same as the desktop, and even the much-derided SharePoint browser interface is acceptable (and often hidden from view by Teams). The mobile clients for Office 365 applications are highly usable and full of features, a huge factor in a world where people perceive technology through the lens of mobile apps.
Office 365 has its problems, many of which I have described in articles here. But the simple fact is that overall, the suite has improved and evolved and is a more comprehensible and cohesive offering now than it was. Part of the responsibility for moving Office 365 forward lies at the feet of Javier Soltero, who came into Microsoft through the Acompli purchase, and moved on to stamp his mark on the entire Outlook client family before going to lead Cortana, his last job at Microsoft.
I'm pretty sure that Soltero's success with Outlook attracted Google. Replacing the OWA for Devices strategy with the Acompli-based Outlook mobile was an easy win, but achieving coherence and commonality across mobile, desktop, and browser clients on multiple platforms is evidence of what a new driven leader can do once they've had the chance to take a hard look at an existing offering. And that's probably just what G Suite needs now if it is not to lose further ground to Office 365. The fact that Soltero knows how Office development works is also an advantage, even if he hasn't worked in Microsoft since late 2018. All in all, this seems like an excellent hire for Google.
Mover and SharePoint Online
Also on October 21, Microsoft announced the acquisition of Mover. Microsoft says that they bought Mover to expand the coverage of sources for ingestion of files into SharePoint Online and OneDrive for Business. Mover's web site proclaims their ability to "migrate to Office 365 from almost anywhere" through connectors that link a source like Box, Dropbox, Amazon S3, or even Google Drive to SharePoint Online or OneDrive for Business.
Microsoft offers a free migration tool to move files from SharePoint on-premises servers or file servers into SharePoint Online, and I guess we will have to wait a couple of weeks until the Microsoft Ignite conference to hear what plans they have for pricing the Mover connectors after the acquisition is complete.
Microsoft has other programs to import third-party data into Office 365, mostly to allow the range of Office 365 compliance features to be applied to that data. Unlike the Mover acquisition, which aims to import information from live repositories where they can be worked on in SharePoint Online or OneDrive for Business, programs that import information for compliance purposes are often for archival access only. This acquisition is all about eliminating a reason why potential customers can't move to Office 365, and it seems like an intelligent move (no pun intended).
Change, Always Change
One thing you can be guaranteed of in the world of cloud services is constant change. Yesterday, we saw a personnel change that should lead to extra competition for Office 365, and that's always a good thing for customers. The other change reduces friction for migration projects, hopefully at reduced cost. Time will tell on both fronts.