Microsoft has been working on its web-based One Outlook app for Windows and macOS for over a year now. This new Outlook client, also called Project Monarch, leaked online last year, and Windows Central is now reporting that its pre-release version works with commercial accounts (work and school).
Earlier today, Twitter user @FireCubeStudios also shared four screenshots of the app running on a Windows 11 PC. The One Outlook email client is pretty much identical to the current version of Outlook on the web, but it comes with a couple of notable changes and improvements. For starters, the first boot experience prompts users to import their settings from the classic Outlook desktop app.
The new One Outlook client introduces more action buttons on the ribbon menu, with "Home" and "View" tabs. Just like the Outlook Web app, the Settings panel allows users to choose a theme and enable dark mode, focused inbox, a reading pane, conversation view, and desktop notifications. There is also an option to customize the display density to fit more content on the screen.
Last but not least, Microsoft has also integrated the Windows controls (such as minimize, restore, and close) into the title bar of the app. The "New email" button now features a dropdown menu that lets users create a new message, group, and event in a separate window.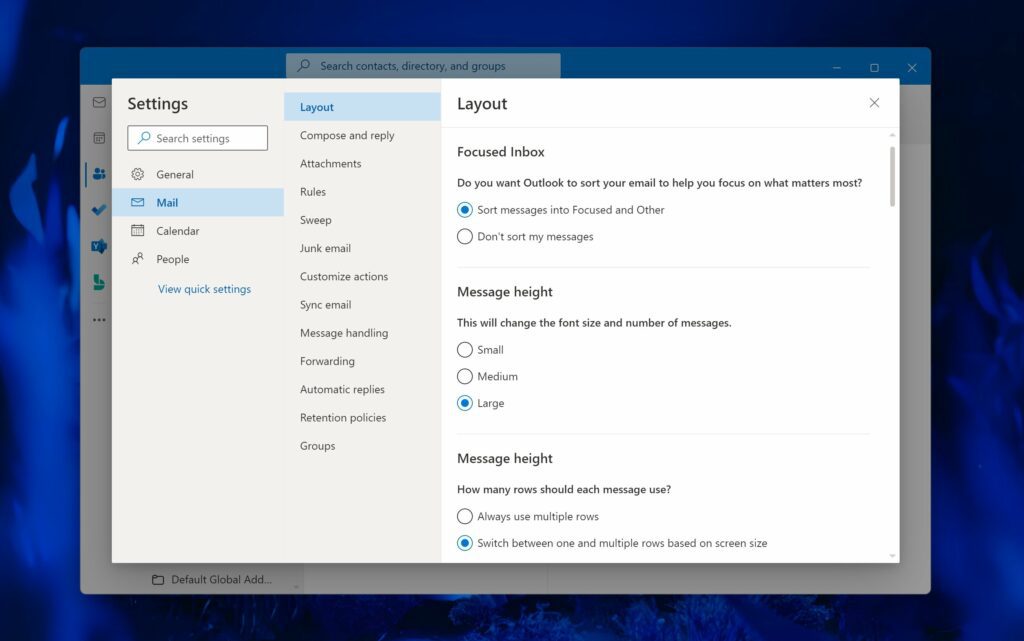 One Outlook doesn't support personal accounts
Overall, the One Outlook client doesn't bring any major changes, but it feels much faster than the classic Outlook experience. Currently, the app doesn't allow users to switch between multiple accounts, but we hope that this capability will be available soon.
As of this writing, new Outlook requires Microsoft 365/Office 365 business and education accounts to be used, and it doesn't support personal accounts. The client is reportedly in its final development stages, and it has been tested internally with Microsoft's employees for months.
The rumors suggest that the new web-based client might eventually replace the existing versions of Outlook for Windows and Mac. However, it will be interesting to see how the company plans to make this transition, particularly in enterprise environments.