Microsoft has released new updates to improve the Quick Assist experience on Windows 10 and Windows 11. This release also addresses an issue that previously prevented some enterprise customers from installing the app from the Microsoft Store.
Quick Assist is a remote access tool that allows users to connect two Windows 10 or Windows 11 devices over the internet. The app helps IT admins take full control of the client's PC to diagnose technical issues and fix them.
For instance, administrators can uninstall a troublesome hardware driver and run an anti-malware program. It's also possible to demonstrate to the other person how to perform a particular task.
Microsoft announced in June that Quick Assist is available to download from the Microsoft Store. This means that Quick Assist is no longer available as a native app on Windows 10 and 11. It comes pre-installed with Windows PCs and receives updates via Microsoft Store. However, this change prevented some users with managed devices from downloading Quick Assist due to the lack of organizational permissions.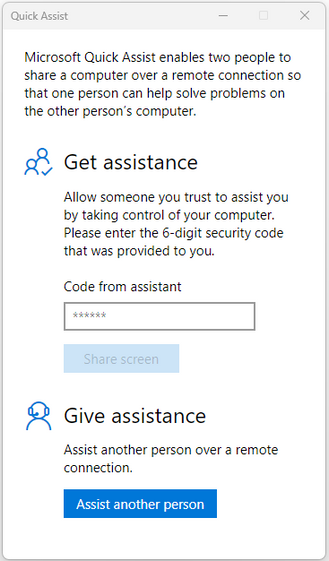 Microsoft's Quick Assist app now available on all Windows PCs
Fortunately, Microsoft has decided to address this problem with the December 2022 and January 2023 Windows quality updates. The Quick Assist app is now available for all devices running Windows 11 version 21H2 and Windows 10 version 20H2, 21H1, 21H2, and 22H2. The company plans to support the original Quick Assist app until these Windows versions reach end of support.
"After you install the update, the original version of Quick Assist will have the same functionality that's in the Store app version. We'll release similar updates for Windows 10 Enterprise 2019 Long Term Servicing Channel (LTSC) and Windows 10 Enterprise 2016 LTSC in the January 2023 quality update," the company explained.
If you haven't done it yet, you can head over to the Microsoft Store to download Quick Assist. However, the app now requires users to have Microsoft Edge WebView2, which is already installed on all PCs running Windows 11 and the Microsoft Edge browser. Moreover, the latest updates also ensure that Windows opens the correct version of the app with the Quick Assist keyboard shortcut.