10 Things I Learned at Microsoft TechEd 2013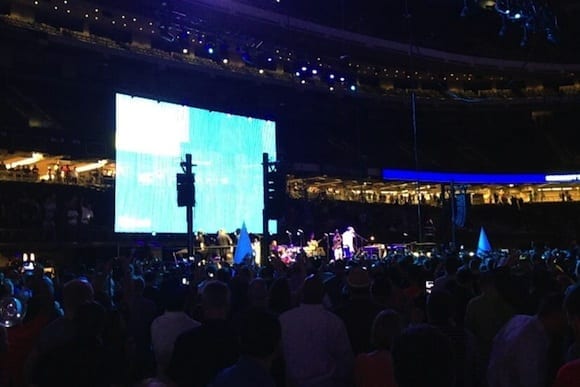 1. Microsoft goes all-in on the cloud
Now that Microsoft TechEd 2013 is in the history books, it's a good time to review some show highlights. The single biggest takeaway was this: Microsoft is focusing considerable energy on building out the "Cloud OS" vision that they've been talking about for the last year or so, and all of the Microsoft product updates announced at TechEd 2013 — including Windows Server 2012 R2, Microsoft System Center 2012 R2, SQL Server 2014, and the upcoming updates to Windows Intune — have extensive cloud-friendly feature sets that make it easier for admins to build their own private clouds, help service providers spin up hosted clouds, or facilitate the utilization of Microsoft's Windows Azure public cloud services.
Microsoft is doing the hard, complex work of building an integrated, cloud-enabled IT environment from the endpoint to the server room and then into the public cloud. It's not an easy task, but Microsoft has been laying the groundwork, raising the scaffolding, and pouring the concrete that will eventually make their Cloud OS vision a tangible reality.
Microsoft executives have repeatedly said that the company's trifecta of expertise in the realms of on-premise customer IT, service provider hosted clouds, and public cloud services and infrastructure (Xbox Live and Azure, anyone?) put them in a unique position. Hyperbole aside, it may soon become increasingly difficult for Microsoft competitors to dispute that argument. Look for more thoughts on the conference from me and other Petri authors next week.
2. Drew Brees likes the Samsung Surface tablet
The closing party for Microsoft TechEd is always an interesting thing to watch, and TechEd attendees were pleasantly surprised when New Orleans Saints quarterback Drew Brees took the stage to address attendees. In addition to being selected for the NFL Pro Bowl an amazing seven times, Brees is a SuperBowl champion and MVP. He's also a genuinely nice guy with a foundation (The Brees Dream Foundation) that helps improve conditions for cancer patients. So we can all cut Brees slack for initially referring to the Surface tablet as a Samsung while talking to attendees at the Best of TechEd party. The mistake is more a testament to Microsoft's marketing misfires for the Surface, ranging from customer confusion over the Surface RT and Surface Pro to sluggish sales, which gives me a nice segue into…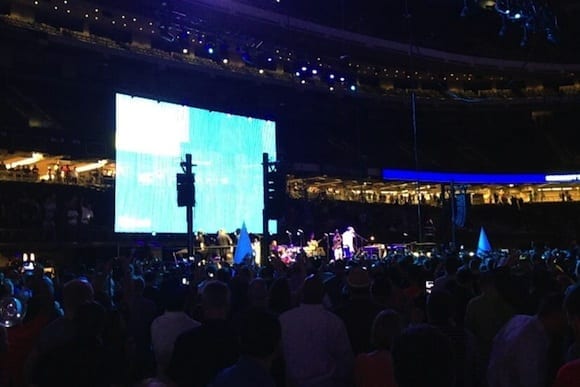 Drew Brees likes Samsu…erm, the Surface tablet at the TechEd 2013 closing party. (Photo courtesy Microsoft Exchange MVP Jeff Guillet – @expta)
3. The Surface Store frenzy
…the amazing offer for TechEd attendees that allowed them to purchase the Surface RT for $99 and the Surface Pro for $399.99. The line to the Microsoft Office store on the TechEd floor snaked around the conference floor on the first few days of the show, with a two- to three-hour wait in line not uncommon. Despite the long lines, Microsoft claimed they had enough for everyone.
This makes me think that Microsoft has more than enough Surface units on hand everywhere, hence the fire sale for attendees and a current mainstream Microsoft promotion that offers a free touch or type cover (a $100 value) with the purchase of a Surface RT. Various sources are also hinting that some new Surface devices will be shown later this month at the BUILD conference, news that adds even more credence to the idea that Microsoft is trying to work through existing Surface inventory before updated Surface devices are announced. More for the Surface grist mill: One TechEd attendee told me that while waiting in line for a Surface, he was approached by Microsoft reps that offered him the chance to preview an updated Surface device in lieu of buying one from the TechEd Microsoft store. You can read more about the Surface by checking out our in-depth Surface Pro and Surface RT reviews.
4. PowerShell is big and getting bigger
It's clear from the new feature lists of all of Microsoft's announced products and updates that PowerShell is here to stay. PowerShell is more capable and powerful than ever before, and the latest R2 releases of Windows Server 2012 and System Center 2012 will continue that trend. While PowerShell has steadily grown from a limited administrative accessory to an invaluable, immensely powerful management tool, one TechEd attendee I spoke with wasn't so thrilled about the rise of PowerShell. "It's great that it's so powerful, but I really would just rather use the GUI," he said. "I'm a Windows admin, and if I wanted to spend all my time at the command line I would have been a UNIX admin."
5. Innovation thrives at the TechEd TechExpo
While Microsoft was showing substantial updates to many of their key server and tools products during TechEd, there was plenty of innovation happening elsewhere at the show. One of the most impressive demos was FatCloud's FatDB technology, which extends the usefulness of SQL Server by combining the power of SQL Server to NoSQL, allowing DBAs to take advantage of NoSQL's strengths in low cost and scalability and combine them with with the familiarity of SQL Server. For example, DBAs could use FatDB to integrate data stored in a relational database with external cloud-based data sources. Given that recent licensing changes have made SQL Server cost-prohibitive for some organizations, FatCloud's approach could provide the best of both worlds: keeping costs and expenses low while adding needed capability.
FatCloud's FatDB leverages the power of SQL Server with NoSQL.
6. Tina Turner still has it
In addition to New Orleans Saints quarterback Drew Brees, the other surprise of the night at the closing TechEd party was an appearance by Tina Turner. Turner sang and danced to a few songs from her world-famous song catalog, and even danced with a handful of TechEd attendees on stage. At the tender age of 73, Turner showed the assembled throng of IT professionals how to swing and gyrate. In an industry where pale, pasty, and overweight tend to be far too common physical characteristics — and I'm not entirely excluding myself from that admonition — it was refreshing to see someone like Turner show us all that it's never too late to get moving and make a difference.
7. Swag: Win big, win often
In addition to the more questionable tactics employed by TechEd vendors to get attendees to visit their booths, one of the time-honored ways to get foot traffic is to offer something to attendees for free. Amidst all the branded pens, stress balls, T-shirts, USB sticks, and other more common freebies, some vendors stepped up their game by offering expensive big-ticket items as prizes. Many vendors were giving out free Surface tablets to lucky attendees, but others offered more, such as SharePoint vendor AvePoint — offered up a Ducati Monster 696 motorcycle, a bike that retails at a price point just a few hundred dollars south of $10,000. Given that you're likely only competing with a few hundred (or few thousand, tops) people who take the time to enter the contest, your odds in winning big items like this at TechEd are much greater than many other types of contests. Editor types like me are precluded from entering things like this for obvious conflict of interest reasons, but that means that IT pros who attend TechEd have even less competition for big prizes.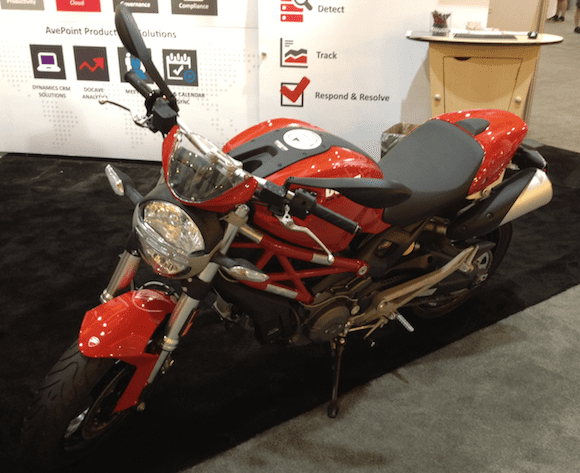 Looking to ride home from TechEd on a $10,000 motorcycle? If you won AvePoint's contest, you could have.
8. Networking matters
Sure, TechEd is a wonderful show for attending sessions, getting lab time with new Microsoft products, and generally learning all there is to know about the latest and greatest from Microsoft. Perhaps even more valuable is the opportunity to meet and greet with some brilliant people and learn from them. I got the chance to spend some time in the TechEd press room with Microsoft-watching superstars Mary Jo Foley and Paul Thurrott, and then spent some time chatting with IT technical experts like Mark Minasi, Michael Otey, and Steven Bink. Let's not forget the opportunity you may get to hear sessions from (and possibly rub elbows with) the likes of Microsoft experts like Brad Anderson, Mark Russinovich, and Jeffrey Snover. TechEd comes but once a year, but it's an invaluable opportunity for anyone in IT to learn more about their industry and get to meet and learn from people with far more experience and knowledge.
9. Being engaged is a must
There are some huge, foundational changes happening in the IT industry these days, from the advent of cloud computing to the influx of mobile devices in the enterprise. Microsoft is radically revamping and upgrading entire product families to meet the new realities of enterprise and consumer IT, and even more big changes and developments are on the horizon. If there's ever been a time where IT pros and system administrators should be switched on and engaged with what is going on in their industry, this is it. I've spoken with several hiring managers who've said that IT pros with hands-on experience managing cloud services and mobile devices are in high demand. The writing is on the wall: IT staff who embrace the cloud, learn to manage mobile devices, and bone up on the latest IT security skills will be well positioned for the career changes to come.
10. Missed TechEd? Watch the recap in your jammies
If you couldn't make TechEd this year, you can still catch up on all of the news and information from the show. We've posted some news about TechEd 2013 in general, as well as articles on what's new in Windows Server 2012 R2, Windows Server 2012 R2 Hyper-V, and SQL Server 2014. You can also catch Brad Anderson's James Bondian TechEd 2013 keynote online, as well view an impressive number of TechEd 2013 sessions online, all from the comfort of your own PC or mobile device.
Did you attend TechEd 2013 in New Orleans? I'd love to hear what you thought of the show. Just drop me an email or reach out to me on Google+ or Twitter.