Microsoft has partnered with Stripe, PayPal, and GoDaddy to launch a new Payments app for Microsoft Teams. The app allows small businesses in the US and Canada to accept payments for webinars, one-on-one sessions, classes, appointments, and events within Teams meetings.
"We have partnered with leading players in the payments space to combine the core collaboration capabilities in Teams with powerful commerce features in this first-of-its-kind app. With a mutual focus on helping SMBs prosper, we are excited to partner with GoDaddy, PayPal, and Stripe to make it even easier for customers to interact with you and help you get paid faster," said Brenna Robinson, GM of Microsoft 365, Small and Medium Business.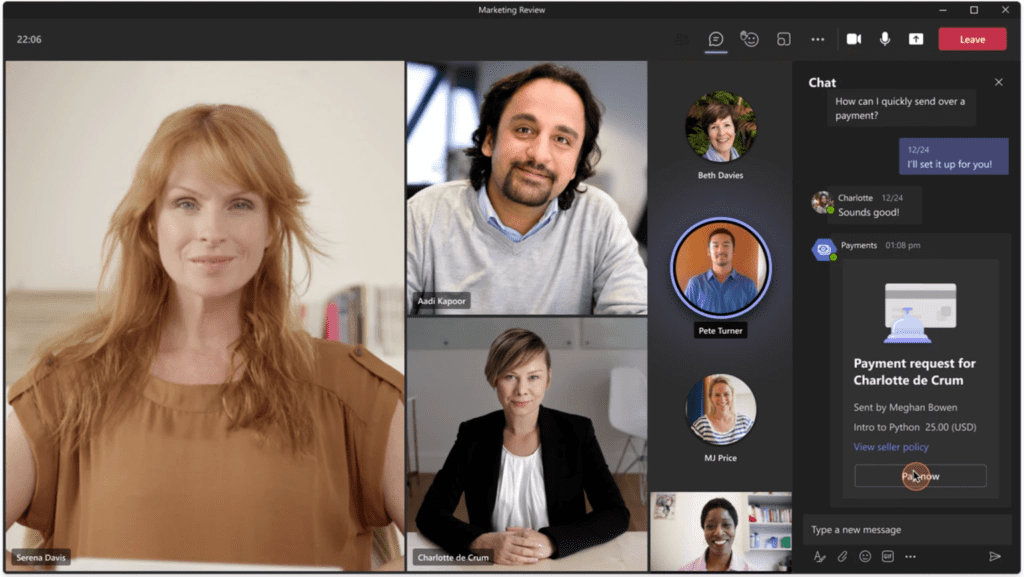 Microsoft mentioned that the new Payments app is aimed at 11 million small businesses that use Microsoft Teams. This app could be useful for various professionals such as consultants, teachers, and real estate agents.
Microsoft's new Payments app is available to download from Microsoft's AppSource repository. Once installed, customers can configure the app to connect with any third-party payment provider. Then, users can send payment requests, and customers can use their digital wallet, debit or credit card, or other methods to send money. It's also possible to track received and outstanding payments in Microsoft Teams.
Microsoft Teams Payments app to get integration with GoDaddy
The new Payments app is available for free in public preview for Teams Essentials ($4 per month) and Microsoft 365 business (from $6 per month) subscribers based in the US and Canada. As of this writing, the Payments app only supports PayPal and Stripe, with GoDabby integration coming in the near future.
Microsoft has teamed up with Small Business Association to celebrate National Small Business Week (NSBW) in the United States. As a part of the celebration, Microsoft is offering a 15 percent discount for the first full year of Microsoft 365 Business and Microsoft 365 Business Standard subscriptions. However, the limited-time offer is only valid for purchases made through Microsoft's official website.