Microsoft has unveiled a bunch of Microsoft 365 updates at its annual Inspire partner conference, which just kicked off this morning. Microsoft Teams is also getting several capabilities to make hybrid meetings more engaging, productive & inclusive, and one of the major highlights is a new collaboration feature called Excel Live.
As you may recall, Microsoft introduced a Live Share feature back in May, allowing attendees to edit, create, or watch content simultaneously during Teams meetings. With Excel Live, meeting participants can now collaborate on workbooks with their colleagues. Developers and ISVs can use preview extensions available for the Teams Client SDK to develop apps with the new capabilities.
Video Clip
Microsoft Teams is also getting a new Video Clip feature that enables users to record, send and view short videos from desktop or mobile. The new video creation tool will let enterprise users quickly capture videos to convey important messages in Teams chats to the recipient with a single click. It can help to reduce meeting fatigue caused by back-to-back meetings.
Microsoft Teams Connect Shared Channels
Microsoft is also announcing today the general availability of Teams Connect Shared Channels. For those unfamiliar, Shared Channels enable users to work together with internal and external partners without switching tenants. Users can schedule a meeting, chat, share & co-author files, and collaborate on apps.
Collaborative Annotations
The collaborative annotations feature in Teams, which launched in preview last month, is now generally available for everyone. Powered by Microsoft Whiteboard, the feature allows participants to react, draw or type on shared meeting content. This release aims to enhance the collaboration experience on designs and presentations.
Enhance Webinar experience in Microsoft Teams
In Microsoft Teams, a new webinar registration experience enables organizers to showcase their brand and customize settings specific to each event. This update will be available in public preview in August. The webinar feature is also getting support for multiple co-organizers and a structured Q/A experience later this month.
Viva Engage
Microsoft Teams is getting a new Viva Engage app that helps companies build connections and communities. The app lets managers announce organizational news, share business insights, respond to questions and engage employees in two-way conversations.
Storyline and Stories
Microsoft has released a new Stories feature that enables employees to create short videos and photos and post them to their Storyline. With Storylines and Stories, users can share ideas & expertise, celebrate milestones, discuss interests, and connect with coworkers across the organization. The Storyline content will be available in Microsoft Viva, Teams, Outlook, and Yammer.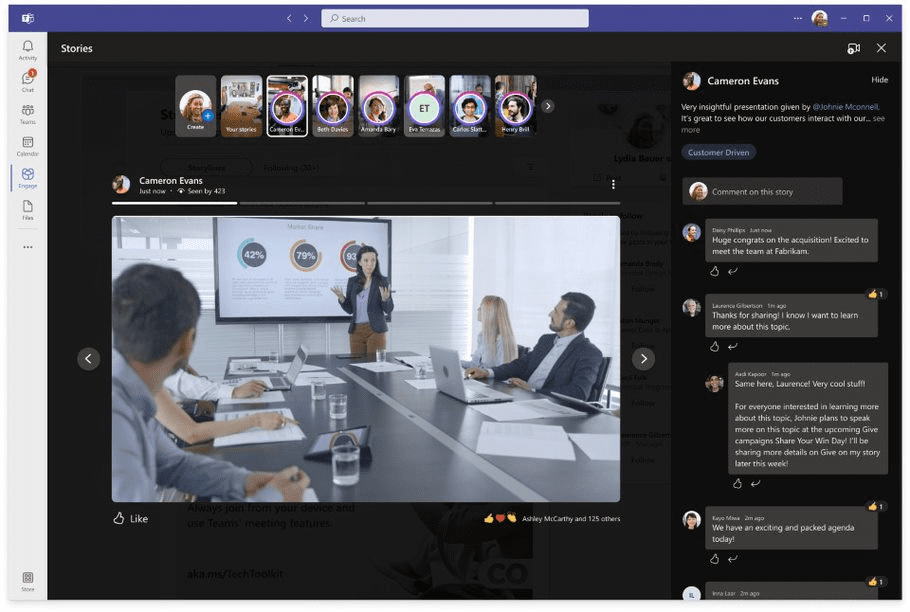 Last but not least, Viva Goals will be generally available next month. This new Viva module aims to help teams and individuals better align with strategic business goals. Viva Goals is currently available in public preview and will be available for all customers on August 1, 2022.