Microsoft unveiled its plans to retire the old Exchange Admin Center (EAC) in 2021. The company has announced that the new EAC has reached feature parity with the classic portal, which will be fully retired on June 20, 2023.
Microsoft announced the general availability of its new EAC back in April 2021. Since then, the company has released several new features to offer a more secure and faster management experience for organizations. These include a personalized dashboard, reports, insights, a support assistant, a global search option, quick access to Azure Cloud Shell, OWA mailbox policies, and role assignment policies.
Furthermore, Microsoft introduced support for various types of migrations in the new EAC. These include automation support for G-Suite/Google Workspace migrations and cross-tenant migrations that could be useful in acquisition and merger scenarios. Microsoft also added a redesigned Settings page that should make it easier to manage Exchange Online settings.
"In September 2021, we announced that the classic EAC would be deprecated for customers in our WW cloud in September 2022. Our customers gave us lots of feedback on the new design, performance of the new portal, and feature parity, so we took some additional time to address their feedback," the Exchange team explained.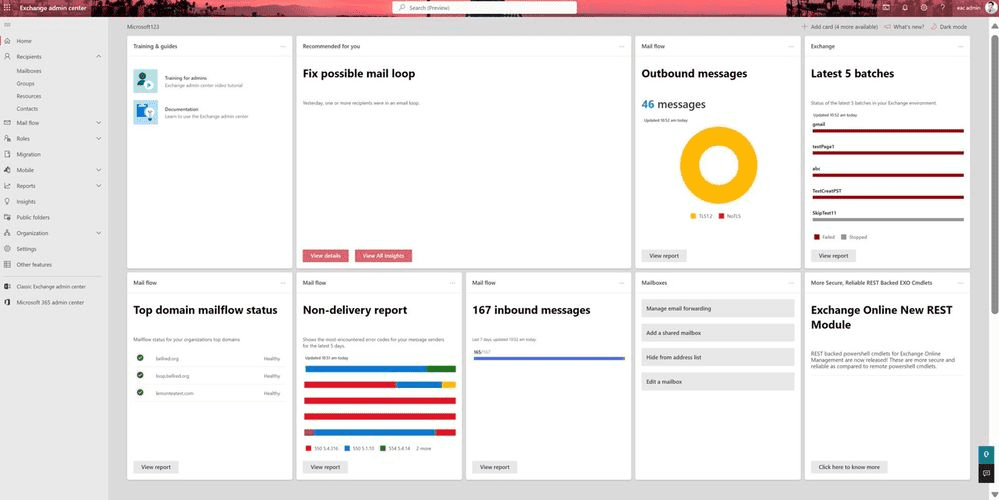 New Exchange Admin Center (EAC) Limitations
Microsoft notes that customers can access the new Exchange Admin Center here. However, the company confirmed that it lacks UI support for add-ins and auditing reports. The company recommends IT admins to use alternative workarounds via PowerShell. We invite you to check out this support page for more details about new features in the Exchange admin center.