Microsoft has launched a public preview of Arc-enabled Azure Stack HCI. The Redmond giant says that the new integration enables customers to manage Linux or Windows virtual machines (VMs) on Azure Stack HCI via Azure Arc.
For those unfamiliar, Azure Arc is a multi-cloud management service that enables customers to use Azure services with Azure VM workloads. Moreover, the Azure Stack HCI solution integrates hybrid infrastructure with Azure services, and lets organizations run virtualized Linux and Windows workloads.
With this new integration, enterprise admins can now use Azure Resource Manager templates for virtual machine (VM) CRUD. It should help them automate the deployment of edge infrastructure running on Azure Stack HCI. There is also a new ARM projections feature that lets users delegate VM CRUD permissions to employees or groups within the organization.
"Azure Arc integration also makes Azure Stack HCI and the virtual machines on it, first class entities in Azure with ARM projections. That means, these entities can have role-based access natively through ARM which allows for self-service in VM provisioning," the company explained.
Additionally, the Arc-enabled Azure Stack HCI service brings the ability to put "Locks & Tags" on virtual machines with organizational policies.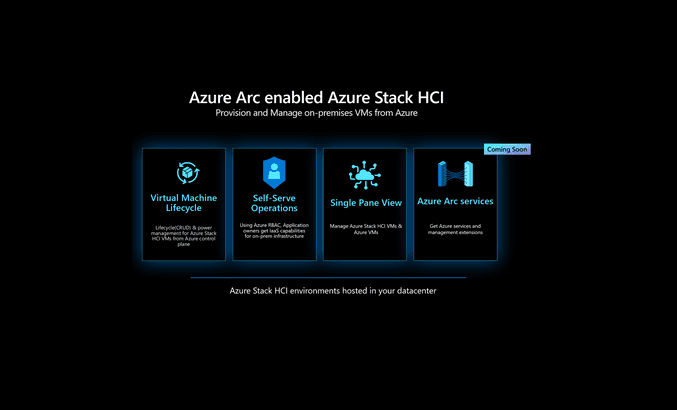 How to enable Azure Arc-based VM operations
Microsoft outlines the steps enterprise admins can follow to enable Azure Arc in order to manage VMs in their Azure Stack HCI clusters.
First up, head to the Windows Admin Center and set up an Azure Arc Resource Bridge on the Azure Stack HCI cluster.
Create a VM cluster extension and then create a custom location for the Azure Stack HCI cluster.
Finally, create virtual network projections for VM network interfaces and create OS gallery images for provisioning VMs via the Azure portal.
Microsoft is also working to add support for VM extensions on Azure Stack HCI in the coming months. This new capability should help IT Admins with post-deployment configuration and service integration. If you're interested, we invite you to check out Microsoft's support page to learn more.